In the solar year, Capricorn symbolizes the time of the sunrise and of the awakening. The winter solstice at the beginning of Capricorn stands for the birth of the sun god and it is the actual Christmas. When entering Capricorn, the sun comes into the fifth house, counted from Virgo, the house of the progeny; therefore, it is described as the Son of the Virgin. Capricorn is also called the mount of initiation. The brilliant five-pointed star is a symbol of the light of the super-soul, which lifts us out of matter. The red sky in the morning stands for the flame of the higher mind.
The mystic animal of Capricorn with the head of a goat and the body of a fish or a crocodile is, in Eastern symbolism, the vehicle of Varuna – the Lord of the hidden etheric potencies of space.
The picture shows the figure of the goat-fish in the ethers of space, created with the help of a drawing by Zacharias Bornmann (1596). I designed the lower part of the picture with photos of the Swiss Mount Jungfrau and of a sunrise over India as well as with a pentagram – symbol of the enlightened mind. In the top left you can see the glyph of Capricorn and in the top right the outline of the constellation of the sign.
See more pictures on the site with my paintings. If you want to print the image, you can download the file in medium and high resolution format.
The different zodiacal signs are clustered in groups – you can see here all my Capricorn paintings.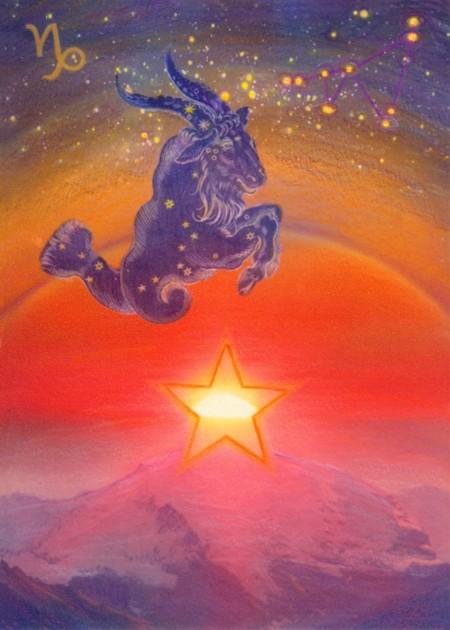 September 2019, pencils and photo work