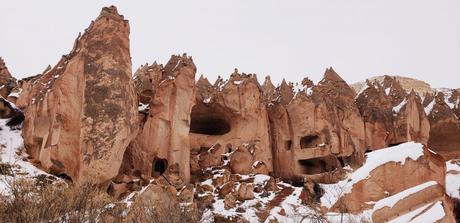 "You should also go see Cappadocia while you're here. It is very beautiful and unique too," recommends Yucel Ikiler. As a life long local, he would know. And if there is one thing I've learned in my travels, it's to listen to advice from locals. Cappadocia is only an hour drive from the Ercyies ski resort, where we have been skiing for the last few days. And it turns out to be even more beautiful in winter, when the orange-red rocks are covered by magical blankets of white snow. If ever there was a setting for a fairy tale, it has to be Cappadocia in winter.
I am here as part of a tour with Flo Tours, a tour operator offering customized small group tours to Turkey as well as other central Asian regions.
The region has two things going for it - an incredible landscape complemented by an equally incredible history of human habitation. Created from the soft lava soil of Mount Ercyies, the entire region is marked by thousands of fairy chimneys and stone formations that pock the rocky landscape. For millennia, cave dwellers have made this region their homes, carving habitations into abstract chimney formations. Here, one can visit the remnants of entire cave cities, some of which were still inhabited as recently as the 1950s.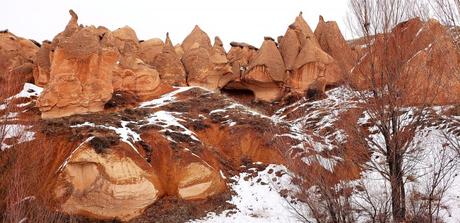 Turkey today is so indelibly intertwined with Islam, it's hard to believe that its inhabitants ever were anything but Muslim. But a trip to Cappadocia quickly corrects that wild misconception. (And is this not precisely why we travel, after all?) Turkey, in fact, was instrumental to the early growth of Christianity and remained a foundational pillar of the religion for over a millennium after Christ. Some of the oldest and most important early monasteries can be visited here.
But Cappadocia is more than just ancient shrines and religious sanctuaries. Entire cave cities are open to the public, with chokingly narrow tunnels that bore deep underground. Visitors encounter chamber after chamber in a subterranean maze that takes your breath away. Did these cities really house hundreds and thousands of people? Unbelievable.
Cappadocia means "beautiful horses" and derives its name from its ancient role as suppliers of horses to the Roman army. Even today, abundant herds of wild horses roam the region. If you're lucky, you might spot a herd.
Here are five favorite activities to check out in Cappadocia:
Visit the underground cave city of Derinkuyu, where you can visit 7-story below-ground apartments, so long as you don't mind tight spaces.
50% of the world's hot air balloons fly over Cappadocia on any given day. This is definitely a tourist favorite.
See some of the oldest and most important churches of early Christianity, including the church of John the Baptist. Many of the ancient frescoes painted inside these churches are still in surprisingly good condition, while others have been vandalized over the centuries and millennia.
The foods and culture of the region are legendary. In the olden days, merchants brought silk from China to be woven here into exquisite carpets. You can still see this handcraft for yourself at the Gallery Cappadocia in Goreme. And you'll be greeted with a hot cup of sweet apple tea.
The hair museum in Avanos! Named as one of the most bizarre museums in the world, the hair museum has been collecting hair samples from visitors for the past 40 years and now boasts a collection of over 16,000 hair locks inside its caves. Want to add yours? Come check it out.
And where do you spend the night once you've finished your extensive daily sightseeing, have gorged yourself with deliciously spiced foods, and topped off with fine local Turkish wine? In a cave hotel, of course! There are plenty of them around, providing you with your own high-end caving experience at a very reasonable price. We stayed at the beautiful Acropolis Cave Hotel in Ürgüp and I would stay there again in a heartbeat.
The concept of 'cultural skiing' may seem odd at first, but here in central Turkey, it seems to make sense. If you're interested, check out FloTours to learn about their custom tours to Turkey.