Capillus low-level laser therapy aims to reduce hair shrinkage while simultaneously promoting hair growth and thickness. The Capillus system is lightweight and portable, and it can be worn while working, driving, or engaging in other activities. During a treatment session, wearers may experience a small warming sensation. When the treatment period is over, the Capillus hat is removed and normal daily activities can resume. Here is a complete comparison of Capillus 82 vs 272:
To see effects, therapy must be repeated on a regular basis. The Capillus system is unobtrusive, like a baseball hat. Depending on the Capillus system (Capillus 82, Capillus 202, or Pro), from 82-272 laser diodes are used to stimulate the hair follicles and help in treating androgenetic alopecia. 
This low-level laser light stimulates capillary blood flow to the skin's dermis, which helps to delay and even reverse by treating hair loss. According to Capillus's review, it is not suggested for pregnant women, epileptics, or individuals who are photosensitive to light. Capillus is not suggested for people who have reversible hair loss due to drugs or stress.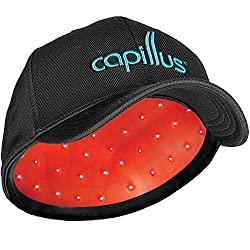 Capillus 82 is a laser diode-based cap that aids in the treatment of hair loss. This hat is designed to be comfortable and safe, and it is a completely non-surgical laser approach for slowing down future androgenetic alopecia and even increasing the odds of hair regeneration. These caps' bio-stimulating lasers boost capillary blood flow to the skin's dermis.
This technique guarantees that genetic hair loss is reduced and that new hair grows from the scalp. The CapillusUltra (previously known as the Capillus82) laser hair growth therapy cap may be ideal for you if thinning hair and hair loss runs in your family. With a total energy output of 410 mW, the flexible fitting CapillusUltra can easily treat your scalp in the time it takes to enjoy your morning coffee.
Buy Now on Amazon
Capillus 272 (CapilluPro)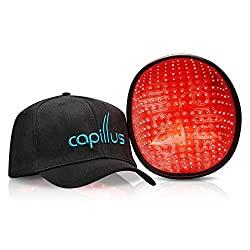 Capillus 272 is a high-tech cap that offers maximum coverage and quick results. It is equipped with 272 laser diodes that aid in hair growth. These caps' bio-stimulating lasers boost capillary blood flow to the skin's dermis. Hereditary hair loss is halted, and new hair is regrown from the scalp as a result of this process. For typical hair loss, the Capillus 272 Laser Device contains too many diodes to be useful.
Furthermore, when used according to the manufacturer's instructions, it might cause dramatic and unneeded shedding (30 minutes every other day). There are no clinical studies that prove that the additional 48 lasers produce a better effect. This, in my opinion, is simply a marketing ploy to dupe naive buyers into believing that the Capillus272 device is more valuable than other devices at the same price point.
The key to attaining amazing outcomes with LLLT for the typical individual is to use the correct laser, for the right situation, with the right treatment regimen, not more diodes. 
Buy Now on Amazon
Table of Comparison: Capullis 82 vs 272
Features Capillus 82 Capillus 272
No. of Laser diodes 82 272
Price point Less expensive More expensive
Warranty limit 1 year 3 years
FDA approved  Yes  Yes
Differences between Capillus 82 vs 272
The differences to be noticed in Capillus 82 and 272 are;
Price point
Capillus 82 was created at an inexpensive price to assist men and women in preventing the progression of hair loss as compared to Capillus 272. You have three price points to pick from, based on how much money you want to invest and how much you can afford to pay. 
Warranty time
 Capillus 82 comes with a 1-year warranty whereas Capillus 272 comes with 3 years warranty. The AC adapter and battery pack are both covered by a one-year limited guarantee. 
Laser diodes
Capillus 82 comes with 82 5mW laser diodes while the Capillus 272 comes with 272 5 mW laser diodes.
Side effects
There is excellent coverage across your entire head, and there is no arm fatigue as with laser combs. It is safe and effective to use, with no known negative effects, and studies show that after 17 weeks, you have more hair than you did before.
Similarities between Capillus 82 vs 272
The main similarities between Capillus 82 and 272 are given below;
Time usage
The devices, Capillus272, and Capillus82 are designed to be used for 30 minutes every other day. The outcomes differ depending on the patient's individuality and follicular system. Capillus 272 and Capillus 82 should be used consistently because results have begun to emerge after 2 to 4 months of regular use.
Battery pack
Three laser diode-based systems with mobile battery packs are available. It's powered by rechargeable Lithium-Ion batteries that don't suffer from the memory effect. The battery packs come with an ac adapter and are extremely portable and do not cause discomfort to the user when worn.
Safety level
Capillus 272 and Capillus 82 have undergone extensive testing and research. They are prescribed by an international network of qualified physicians. Each user is given a specific hair loss diagnosis and is referred to a physician. The physician will instruct the user on proper usage to guarantee the greatest potential outcome and a healthier, fuller head of hair. 
FDA approved
This laser hair regrowth cap has been FDA approved and clinically evaluated for treating hereditary hair loss, which is needed by law and is advised by particular professional doctors. 
Customer care service
They offer a specialized customer support team situated in the United States that is available to answer any questions you may have. It is simple to put on, unobtrusive and made of natural fabric, similar to that of a traditional cap, so your appearance when wearing it is much more authentic.
Conclusion
According to some research, it's efficient on its own in stimulating the growth of new hair on the scalp. Laser cap therapy has the advantages of being safe, effective, non-invasive, and painless. However, it has the disadvantages of being time-consuming and costly. In just six minutes a day, the Capillus device claims that their low-level laser caps may effectively cure hair loss while simultaneously increasing hair counts.
To sum up, it is totally based upon your pattern of baldness and your hair type, that selects which laser treatment would be best for them and of course, this must be consulted to a popper physician for the proper use and for better results.