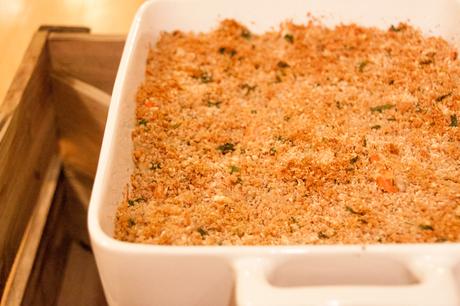 At one of my favorite restaurants in SF, Nopa, they serve the most delicious baked white beans, topped with feta, herbs and breadcrumbs. It comes warm and sizzling in a skillet: crispy from the breadcrumbs, creamy from the beans, and with a little bit of bite from the feta.
Since we're far far away from Nopa now, I was determined to try to recreate their "Wood Baked Giant White Beans" at home.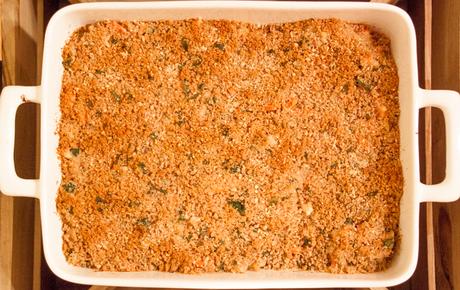 And when I came across this recipe from Vegetarian Times, I knew I had found the inspiration I was looking for! You can make it with dried beans but I chose to do it with canned to save on time - it still tasted delicious.
You can use any kind of cheese you like for this, I chose Parmesan because I absolutely love the way it tastes when it's baked in the oven. This recipe makes 12 enormous servings, and it also freezes really well so you can always make a big batch and freeze half of it for another day.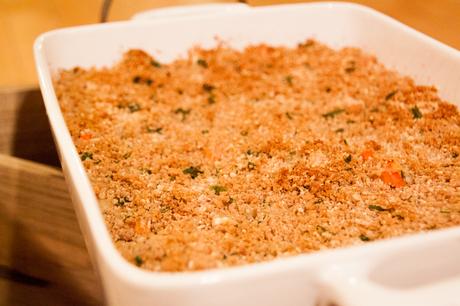 The husband loved this recipe and I thought it completely took me back to eating those giant white beans at Nopa.
The Ingredients
Adapted from Vegetarian Times
3 (15oz) cans cannellini beans
1.5 tbsp chopped fresh thyme
3 tbsp chopped fresh parsley, divided
1 large red onion, diced (2 cups)
½ large or 1 medium fennel bulb, bulb quartered and diced (2 cups)
8 cloves garlic minced
1 tbsp extra virgin olive oil
2 cups diced carrots
1.25 cups coarsely grated Parmesan cheese, divided
1/2 cup fresh whole wheat panko breadcrumbs
salt & pepper to taste
1.5-2 cups broth
1/4 tsp crushed red pepper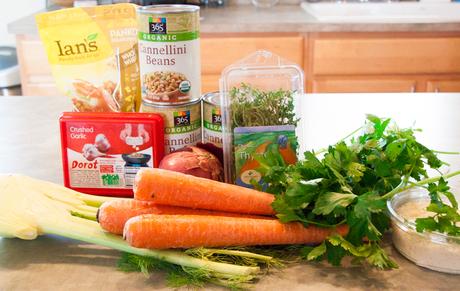 The Directions
Step 1: Chop all of your veggies. Saute the onion, garlic, carrots, fennel, thyme and 1 tbsp parsley in a large pan with 1 tsp extra virgin olive oil.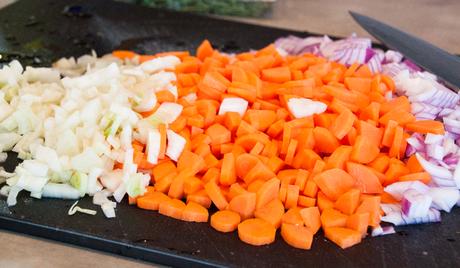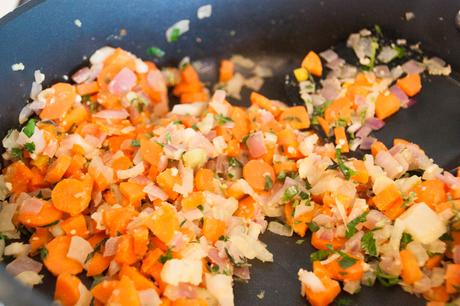 Step 2: Add the beans, thyme, 1/2 cup cheese, 1.5-2 cups broth (if needed), crushed red pepper, and salt and pepper to taste.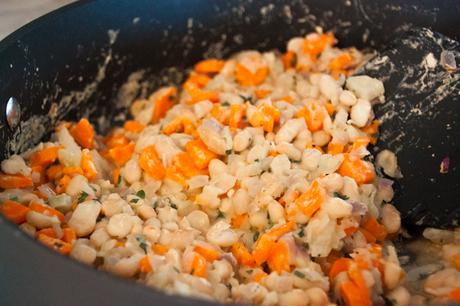 Step 3: Let the mixture cook for 10-15 minutes until warmed through. Meanwhile, combine breadcrumbs, remaining chopped parsley, and remaining cheese in small bowl. Drizzle remaining 1 tbsp olive oil into crumb mixture, and combine to moisten breadcrumbs.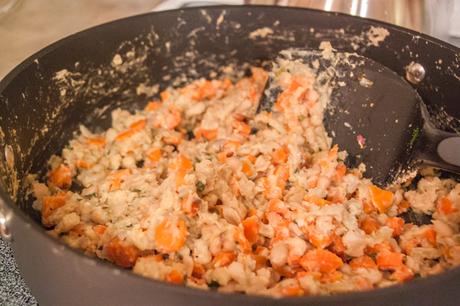 Step 4: Spray an oven safe casserole dish with olive oil cooking spray. Pour mixture into the dish.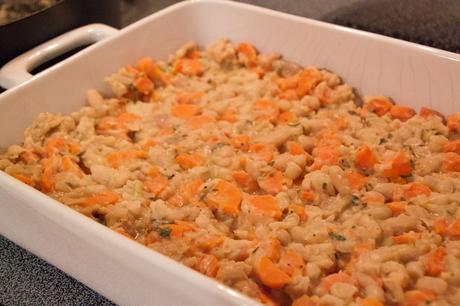 Step 5: Sprinkle breadcrumbs over the top of the casserole and bake in a 400 degree oven, uncovered for 15-20 minutes until the breadcrumbs have browned.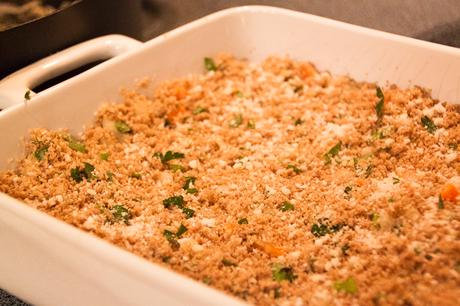 When it's done, it will look like this: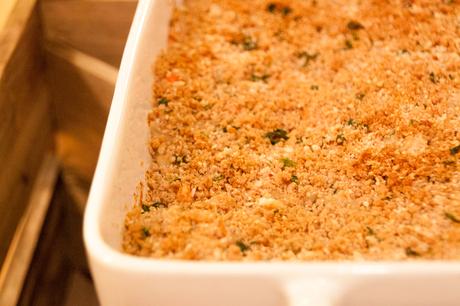 How good does that look? And the best part is: you can enjoy a huge serving of this for only about 200 calories. It will keep you full and satisfied forever - and it will feel totally decadent but it is so good for you! (shhh don't tell anyone

).
I hope you like this dish as much as we did!
Ingredients
Directions
Notes