Following my recent trip to London, I am finally ready to start sharing my photos with you. Tonight I have photos from a lovely evening event that we attended at the diptyque candle shop on Brook Street. I will save Borough Market and the Covent Garden Flower Market for another day.
About two weeks ago I was packing for a two day trip to London with a couple of friends to visit Borough Market and the Covent Garden Flower Market. After our morning journey to London we went straight to Borough Market for lunch at a sushi restaurant. Whilst I usually associate sushi with fish, we included a number of vegetable options in our order including the most delicious pumpkin and feta cheese fritter – I am going to try to create a similar version of these myself using filo pastry before my pumpkins collapse. After a quick look around Borough Market and knowing that we would be returning the next morning to shop, we headed to the tube and made our way to Regent's Street. We were on our way to a lovely flowery event being held at the dipstick candle shop in Brook Street. On route we managed to take in a few shops including the uber trendy Anthropology and one of my most favorite London stores – Liberty's.
For those of you who have not come across diptique before, this french candle company make the Rolls Royce of candles – beautifully scented, beautifully presented and with a very long burn time, these are candles to aspire too.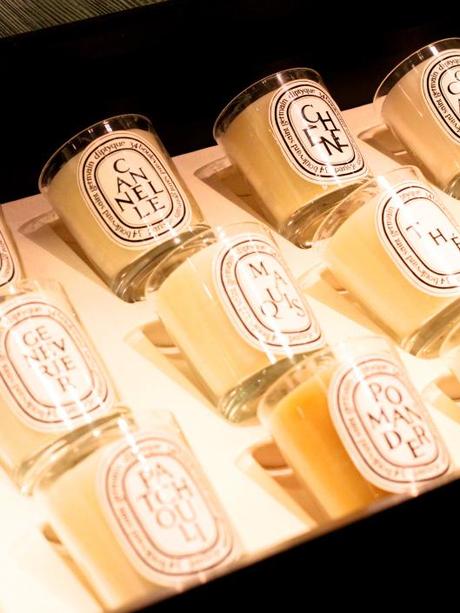 I have to start by saying that we were incredibly lucky to be invited to this event – an evening of fragrance and flowers in a beautiful candle shop!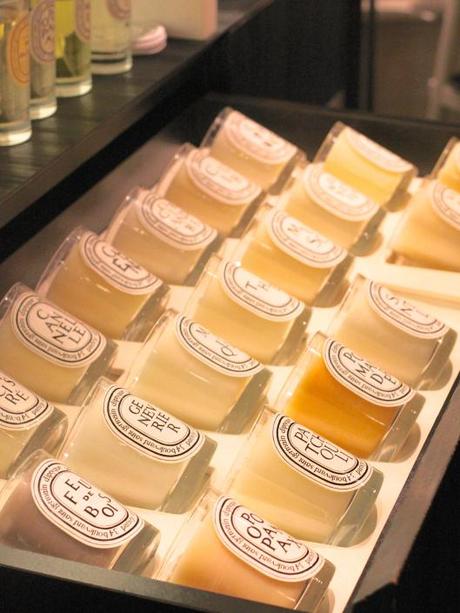 Organised by the lovely Adrian Miller-Yache, the evening was an opportunity to puruse the beautifully displayed shop and watch two very talented florists create gorgeous bouquets, whilst drinking bubbly and eating canapés and chocolates – what more could a country girl want on a night out in London?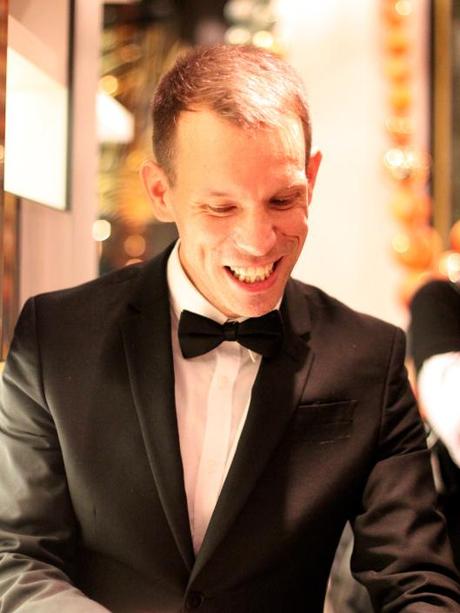 Diptique are the makers of fabulously perfumed candles which come in not just the usual floral fragrances, but also names such as the evocative Feu de Bois. It really did smell like burning logs. Diptique also make soaps and perfumes, including a lovely old fashioned roll on scent bottle which reminded me of a roll on perfume my grandmother always carried in her handbag.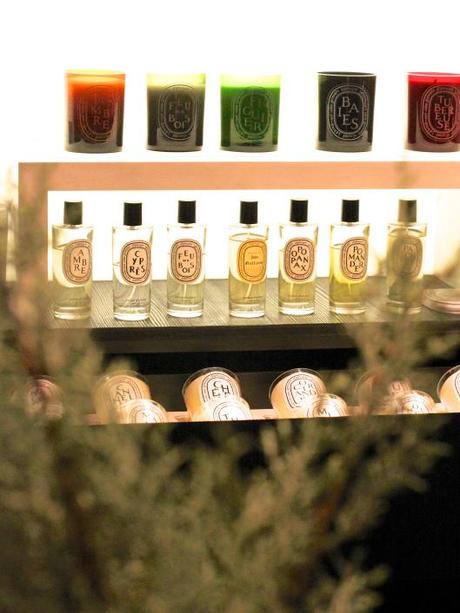 Adrian began our evening by talking about mixing candle scents – a concept I had not come across before. Rather than just choosing one scent for a room, Adrian suggested burning two complimentary scents such as Feu de Bois and Myrrhe – when he wafted the two candles together it truly smelt delicious! He also gave us some tips on looking after large candles. I always have a problem with the wick deteriorating and disappearing into the wax making my large candles unusable. Adrian explained that it is important to blow candles out after they have been burning for a while and re cut the wick to keep it burning efficiently. The candle can then be relit or left for another time. I wish someone had told me this before – it would have saved many a candle being scrapped after losing the wick!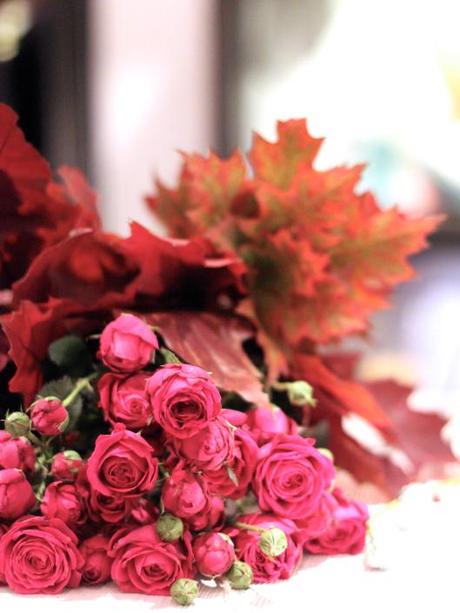 After the talk about scent and candles, the evening moved on to flower arranging. Diptique had organised for Phillo Flowers from Notting Hill to provide a flower arranging demonstration and the shop was full of lovely scented flowers just waiting to be arranged! Below is a rose that smelt divine – I think it was called Norma Jean.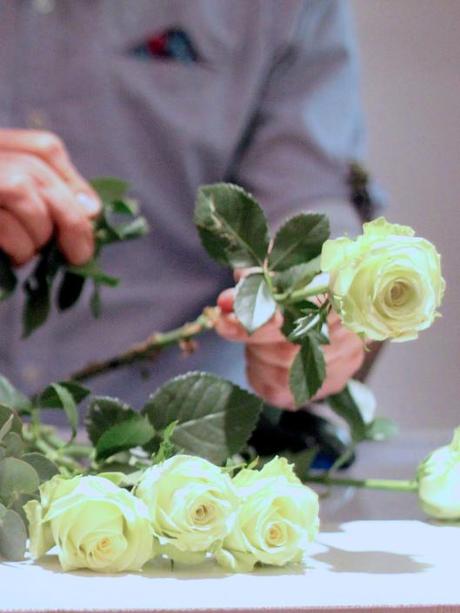 The florists demonstrated the technique for making a hand tied bouquet – I know that many of us who take part in "In A Vase On Monday' have been struggling with this for our Monday vases! In summary the technique is to start with a few stems placed at an angle and held loosely between finger and thumb. Additional stems are then added at the same angle and the bouquet is turned by a quarter every two or three stems. This is much easier to watch than to explain!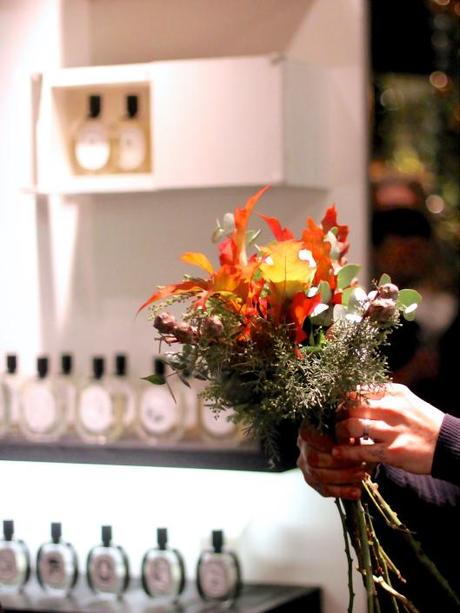 It is important to balance the bouquet by distributing the different materials evenly and checking regularly from above that all looks well.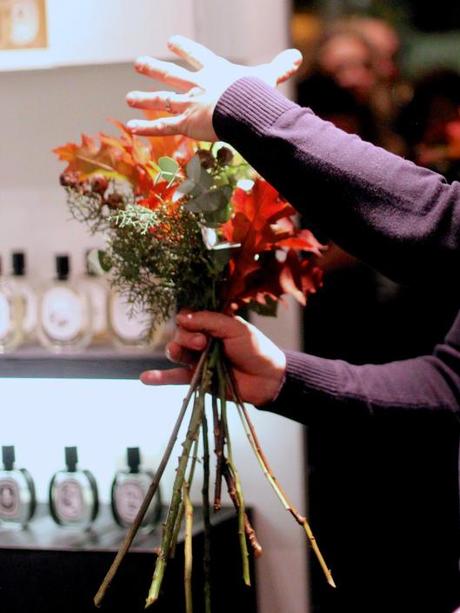 Once finished and tied the stems of the bouquet should form a lovely spiral, which can be trimmed so that the bouquet will stand up on its own base.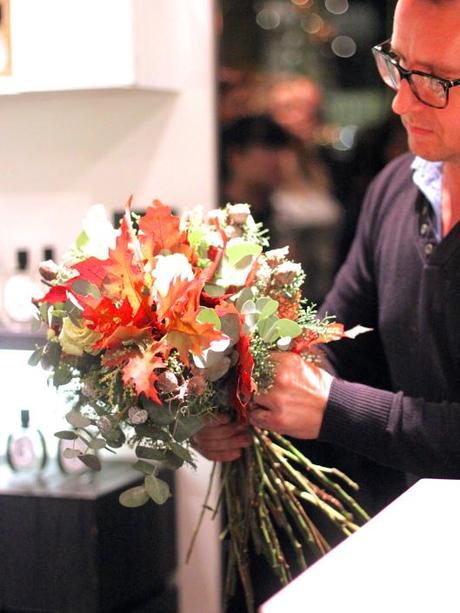 I was inspired by their use of autumn leaves in the arrangements – this added lovely texture and a very autumnal feel to the bouquets.
The second bouquet contained more greys and dark pinks, but still worked well with the autumn leaf color.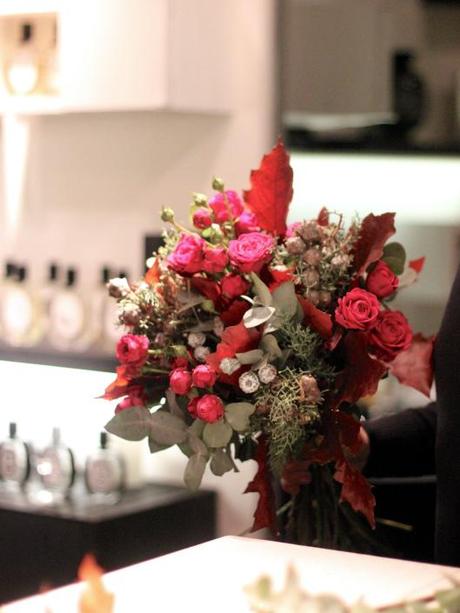 Finally they made a beautiful bouquet with these exquisite spray roses. I showed these drying in this weeks "In A Vase On Monday".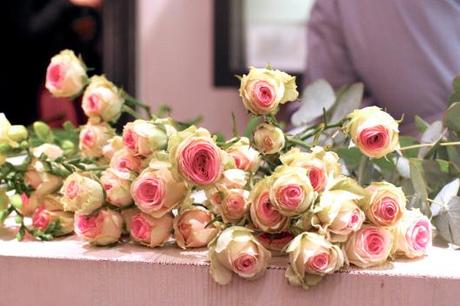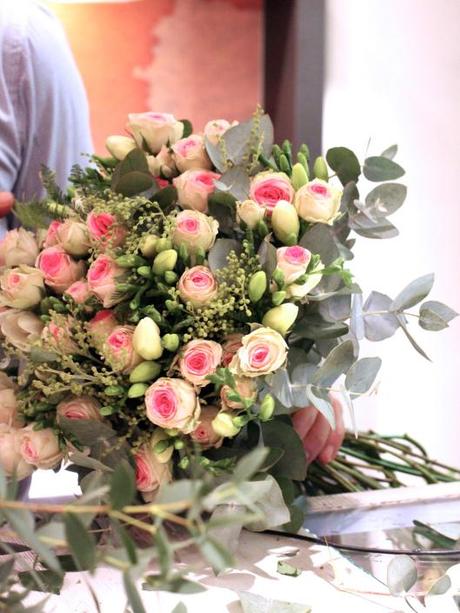 As they worked they handed out the stunning arrangements, now wrapped in cellophane and flower bags, to the guests – every guest took home one of these beautiful bouquets along with a diptique goodie bag including a small candle and fragrance samples. My friends and I were truly amazed to receive three large bouquets – we needed to take a taxi back to our accommodation as these were far to beautiful to risk taking on the tube.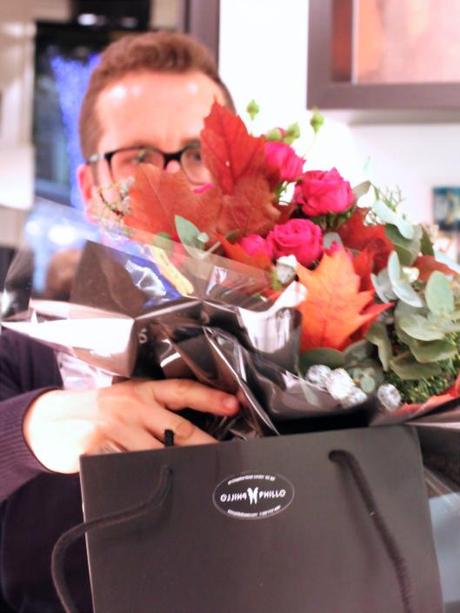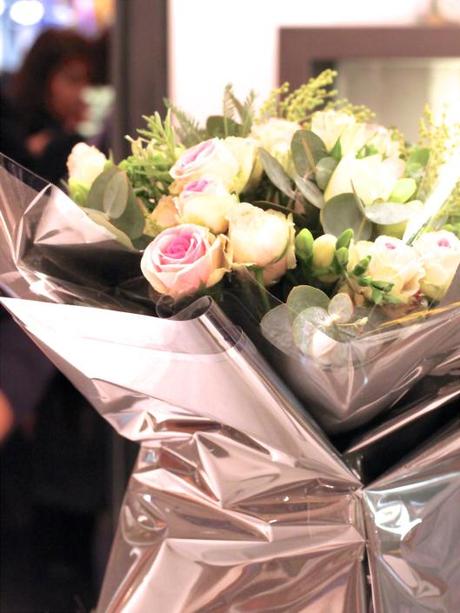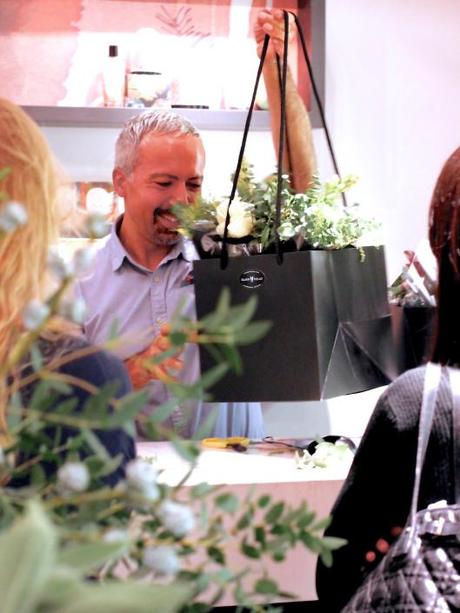 You can find out more about Phillo Flowers on their website. It was amazing to see how quickly they could create these beautiful bouquets – I would have been lucky to finish one in the time available!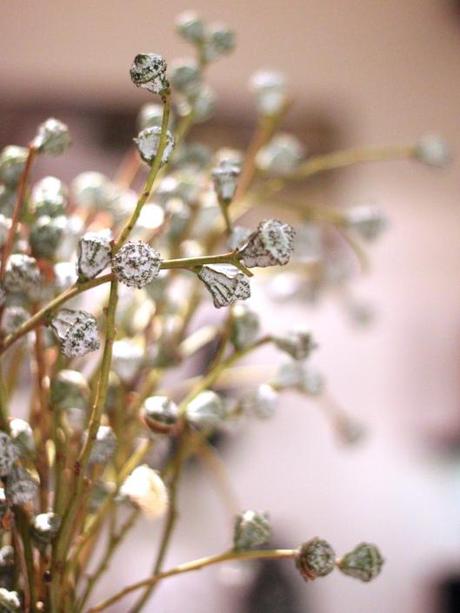 As I explained above I will post separately about Borough Market and the Covent Garden Flower Market. In the meantime I was intrigued by the lovely foliage in the photo above, which was used in the bouquets. It was not something I had come across before – I would be interested to know if anyone else recognises this/has used it themselves, before I reveal its identity next week.
Finally I need to say a big thank you to Adrian at diptique and to Phillo Flowers for treating us to such a special event – it really did put a smile on our faces!! Do take a look at the diptique website – they have lots of lovely ideas for Christmas presents. I will certainly be putting one of these candles on my Christmas wish list!