Malignant, malevolent, invasive: cancer
It has happened again, and to my daughter.  And it is breast cancer.  And how will she choose to deal with it during the normal course of Stages of Grief ?
Denial (this isn't happening to me!)

Anger (why is this happening to me?)

Bargaining (I promise I'll be a better person if...)

Depression (I don't care anymore)

Acceptance (I'm ready for whatever comes)
She could be stuck and stay angry and depressed.  But knowing her, she will not.
Allow me to give you a background for Julie.  This is a picture of my daughter and me in her first week of  life, along with a little social history: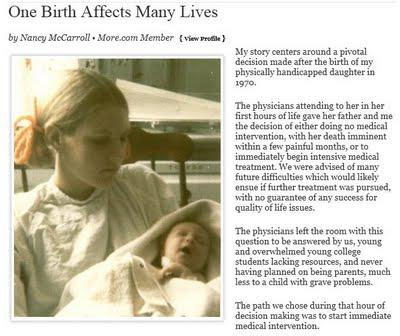 (the rest of the story can be read at More Magazine by clicking on this link)
Daughter Julie has been dealing with this latest diagnosis of an advanced breast cancer for about a month.  She has a myriad of medical complications to go along with this recent diagnosis.  But she has taken on this current medical problem with her usual courage and a complete lack of self pity.
So when I dare to complain, I remind myself to look to my exceptional daughter and her life.  How can one not marvel at her successes and her positive outlook?  And how could I think of ranting my despair from petty disillusionments or physical pains? 
God unceasingly reminds me of Julie, my role model for serene acceptance of what life throws at her.  I am blessed because she blesses.
There are things that we don't
want to happen but have to accept,
things we don't want to know but have to learn,
and people we can't live without but have to let go.
~ Author Unknown