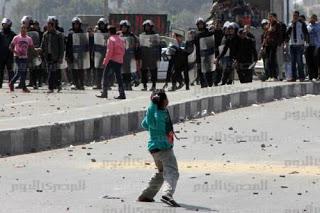 Violent clashes going on between central security forces and dozens of protesters at Kasr al-Nil bridge, Cairo, 11 March 2013. Photo Credit Hazem Abdel Hamid of the Egypt Independent.
Three topics are heatedly being discussed right now in Egypt: the cancelled parliamentary elections, steps towards economic reform, and police protests throughout the country.
A top court cancelled parliamentary elections scheduled for April referencing confusion regarding election laws in the new constitution and political instability across the country. This decision launches Egypt's political transition back into legal limbo, leaving the upper house (the Shura) as the temporary legislature. The street violence since late January and the anticipation of more violence add to the doubts about feasibility of holding a vote in certain parts of the country. Further, the National Salvation Front has declared it would boycott any lection, demanding the restoration of stability and the overhaul of Egypt's new Constitution (NYT-Kirkpatrick). Cairo University professor, Mustafa Kamel al-Sayyed explained that the decision to cancel the April legislative polls looks bad for Morsy. "It is a bad decision for the president and bolsters the feeling that his decisions are never thought out and that his advisers are not competent." Other analysts offered similar sentiments that this is just another sign that Morsy's presidency is failing (Daily-Star).
After months of teetering towards economic collapse, with soaring unemployment, a gaping budget deficit, and steep declines in the currency's value (The Egyptian Pound) , Egypt is starting to get serious about economic reform. US Secretary of State John Kerry visited Egypt at the beginning of March and urged that the country needs to institute economic reforms and satisfy the conditions the International Monetary Fund (IMF) has set. IMF has agreed to give Egypt a loan for $4.8 billion if arrangements are met. Further, the U.S. and the
European Union
have stated they are prepared to provide substantial assistance if there is an agreement made between Egypt and IMF (NYT-Gordon). With agreements yet to be made, IMF offered Egypt a $750 million rescue credit, which it rejected. Egyptian Finance Minister El-Morsi Hegazy claimed that since the country has started implementing a full economic reform program, it was entitled to the larger loan by the IMF, not an emergency loan. He assures the country that talks will continue throughout this month (Aljazeera).
The police force was widely regarded to be the underpinning of former President Hosni Mubarak. The post-Revolution police force has continuously been accused of not reforming and cases have been cited throughout the country which accuse the police of being even worse since the 2011 revolution. Human rights groups accuse the police of acting like armed gangs, laying down collective punishment. Ahmed Helmy, Egypt's deputy Minster of Interior, denies all claims of police abuse and states there is no evidence of such occurrences, just political conflicts (NPR).
Since January 6
th
, over 70 people have been killed during protests, which investigations are currently underway. Similarly, 16 policeman have been killed and almost a thousand injured in encounters with anti-regime protestor. Several police departments and security camps throughout the country staged strikes, demanding better arms to defend themselves as well as an end to the politicization of the force (Egypt Independent).
~WMB with assistance from Jillian Underwood