Hitting the ground running, I was about to do that Manchester night out the right way! Would my night along Manchester's Canal Street bring any big drag energy? Being the first night out without any COVID restrictions in place, I decided not to be chained to the timings of any reservations. Being the eve of my 31st birthday, it wouldn't be a lockdown milestone like 2020!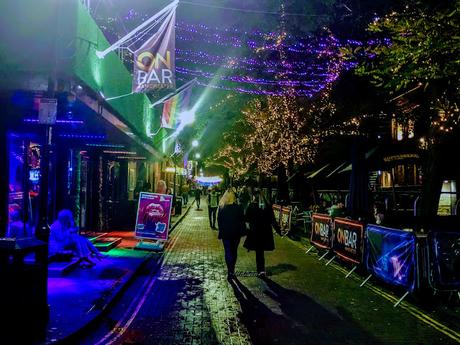 Coming on through, I was not ready for Canal Street to open my eyes to what an actual night-out looked like! It was like looking into the unknown because it had almost been 2 whole years since a restriction free night-out had happened for me. Heading out around 9 p.m. had me on another hype, real quick I noticed that people were looking like they had been drinking hard already! For me I was about to start my night whilst others were about to be put to bed, lord have mercy, please! Being some years since that 2014 night-out had taken place, maybe I was thinking Canal Street would have the same energy? I was about to find out something very different but that was the whole joy about that post-lockdown restriction free night-out. Of course, being sober during that early twilight period really didn't help me, it amplified the level of drunkenness! Feeling very much in need of an alcoholic libation, Churchills ended up being my first port of call. No, I was not ready! I was about to be brought back down to reality and then some! Oh, M! 
Let me keep this real quick, I have never downed two pints so fast in my whole life! Even as the drink hit me, I still felt as if my environment could have been in a parallel universe! Not pointing my noise up in the air at all, I felt mad respect for those international nights out that I had had before the pandemic. Manchester, you may have been read but being out of the house and on the town for my birthday had to be done regardless! Vacating Churchills, I wanted to try another venue because the night was very young at that point! On Bar, why the attitude? Not accepting single entry, they gave me a sense of shade for some reason? Protecting my energy, I took my money and patronage to another venue real quick. Now, that was a choice. Club Tropicana, now those drinks were definitely not free! Being back out in the public during that Saturday night had me observing like nobody's business because there's nothing as Queer As Folk!' I appreciated the music, I did have a little dance but Manchester was on something extra! Did she just clapback?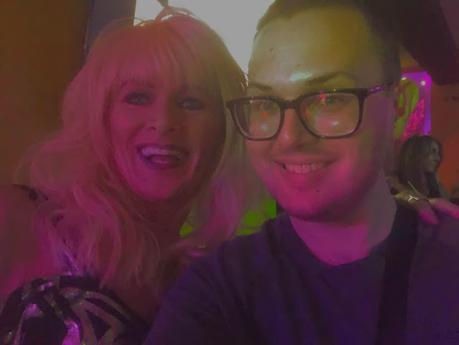 Allow me to explain myself because I chose to miss out on a potential Canadian AllStar with a valid reason. Canada's Tynomi Banks had her performance at New York, New York and I almost booked a ticket but if truth be told, being bound to a time and ticket wasn't the mood for that birthday night-out. For me, during past nights out in China I have been fortunate to see stellar drag unexpectedly, those venues aren't on the main 'drag' and for that the formality of a ticketed event wasn't my vibe. In between bar hopping, I saw many a queen work the doors along Canal Street as the trade passed by. Maybe it was the drink making me think those thoughts, but how massively that show called 'RuPaul's Drag Race UK' has changed the stakes for those 'Local Queens'. I absolutely wondered what those MCR queens think of those Ru-Girls? The bar has been set high, I'm sure it's the same for many professions? Bar Pop did have a show, that 11 p.m. curtain call could have been on my radar but I didn't want to be bound to a ticket or time. OK?
Throwing no intentional shade towards any of the live performances or performers in Manchester that night, I moved onto Bar Pop for a drink or two. Of course, they played a bit of Cheryl and you already know I wanted to give some 'Pick 'n' Mix' chest pumping because during my previous nocturnal outing which was back in May 2021, Boris had banned me from dancing! Now, I am by no means in training because that Manchester night-out was a one time 'club-thing', let's just say I made the most of it. I had some kind of 'musical dysphoria' because for the last 20 months I have been at home being my own 'DJ', that was something else to consider. Usually in Birmingham I choose to live my nighttime fantasy at the Village Inn. Manchester was another animal entirely! Footloose and fancy free, MCR still had that vibe because after 2020s kitchen birthday drink-up, I was thankful! Oh Manchester, how I felt as if I was looking into a whole different world, sure they were getting life that night! Such fascinating people watching!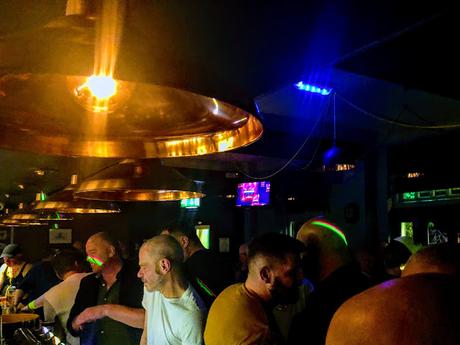 As the Midnight hour neared, I made my way from Bar Pop to 'The Rembrandt' also along Canal Street. I chose Rembrandt Bar to have that birthday drink, for me I am less used to seeing a mix of the genders in Gay spaces. In REM Bar the clientele served 100% MEN with only one woman in view, I don't need to prove anything because I have become used to Gay venues naturally being predominantly male in China. The mixed vibe in the other venues in Manchester had me feeling different. I really liked the atmosphere in REM Bar because of that strong male presence, the world turns differently for us all. Sure, back in the Middle Kingdom in those Gay spaces, there's no danger any Heterosexual men would be confusing things, halting any prospect of a female kiss chase. As the clock chimed, the 14th of November had arrived, as I had my pint of Manchester Craft Lager in my hand it was a cause for celebration. Read whatever you want into my male stance because I get it, in the UK there's been a lot of progression, I know my XY vibe. 
I was definitely not looking for any birthday candy, absolutely not because I'm keeping that department under review until I return to another part of the world. Manchester's Canal Street had served several venues to me and honestly speaking it was an eyeopening experience for many reasons. The nightlife in Manchester along Canal Street served me a different vibe than it had done before, having traveled to far-flung places where I have experienced such international nights, the cobbles of Canal Street acted as some kind of culture shock! The difference was staggering to see, I had to keep those Beijing and Seoul comparisons away from that 2021 birthday night-out. For me, being out and about for that 31st birthday had me feeling grateful to not be stuck in the house under lockdown constraints. Observing those partygoers gave me life, it was like being a teacher once again but the view was a dance-floor not a classroom. Manchester saved me, giving me life to see value that 'After Hours' moment! Yes, M!
Keep That Same Energy! 
Joseph Harrison