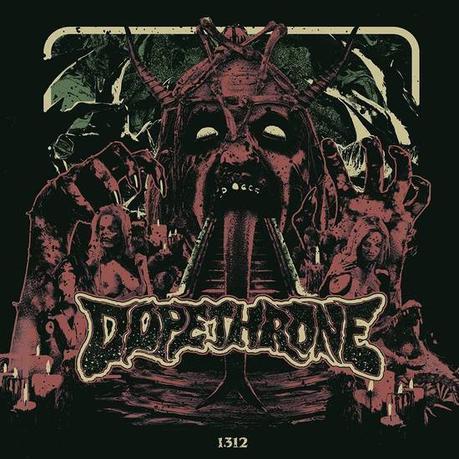 Montréal's sludge blues trio DOPETHRONE hit hard once again, with the 100% free release of their new EP "1312" on Riff Dealer Records. This 3-track joint also comes with the intoxicating video for "Shot Down".
Download Dopethrone's new EP "1312" FOR FREE Watch the #NSFW video for "Shot Down" here
DOPETHRONE's new EP "1312" was written and recorded in the winter of 2015, and serves as a transition between the band's largely acclaimed fourth album "Hochelaga" and their next full-length. The video for "Shot Down" features live footage and behind the scenes from the many festivals and clubs they have played in Europe and the U.S this year.
DOPETHRONE "1312" out now on Riff Dealer Records Available on free download // Vinyl & CD coming soon...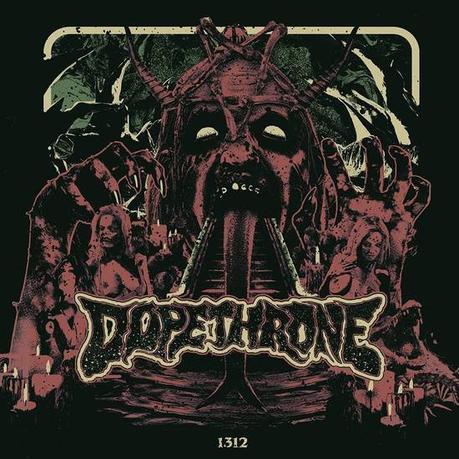 TRACKLISTING: 1. Shot Down 2. Drifter 3. Skag Reek - Artwork by Alexandre Goulet -
The riff comes in many forms. Sometimes it's clean, catchy and elegant. Sometimes it's filthy, grimy and about as elegant as a sledgehammer to the sternum. DOPETHRONE is the latter. This D.I.Y trio from Hochelaga, Montreal's trashiest ghetto, wallows in smoke, demons, death, the occult and enough psychotropic drugs to send both Hunter S. Thomspson and William Burroughs on one hell of a trip. Delivering some of the filthiest, most skull-crushing riffs drenched in distortion and fuzz, they encompass the bleakness of black metal, the steadfastness of New Orleans-style sludge with a heavier-than-thou doom mentality. Riffage is thick, punishing, suffocating and destructive and demonic vocals are harsh, visceral and animal-like for tunes dripping with pervasive THC. DOPETHRONE take over doom and view it through a crusty lens, and that perspective rise the genre to new heights of sonic filth.
After three records that have knocked out all sludge and doom fans across the globe, Canada's insane weed-laden trio DOPETHRONE returned in 2015 with their fourth album "Hochelaga" - named after the band's dodgy neighbourhood in Montréal. "Hochelaga" is simply their most infectious effort to date, which has been widely acclaimed by the international critic. Despite a severe leg injury for guitarist/vocalist Vince that led the band to cancel many shows, 2016 has been a very productive year for the band, who released a split record with US doom merchants Fister and the "1312" EP, as well as bringing their dirty grooves to many European and North America cities through an extensive summer and fall tour.
DOPETHRONE LINKS Facebook⎪Bandcamp

⎪

Instagram