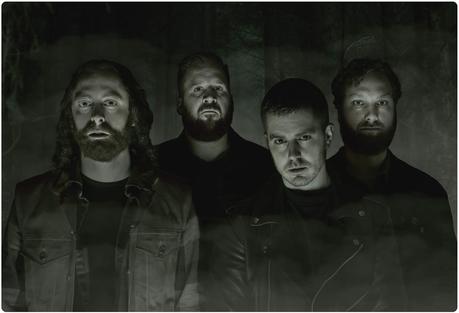 New Album 'Here Before' Out Sept 27th via Grand Hand Records
Canadian Tour Dates w/ Black Mastiff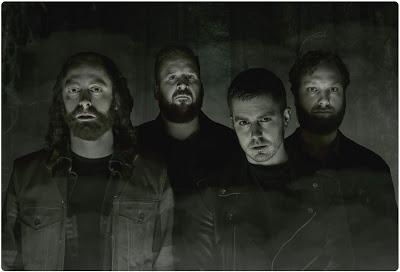 L-R - Devin 'Darty' Purdy - Guitar, Richard Hepp - Bass, Josh Sandulak - Vocals, Brett Whittingham - Drums Photo credit:Mario Montes
Chron Goblin are back at it this week releasing the second single 'Oblivion' from their upcoming album "Here Before" Scheduled to be unveiled on September 27, 2019 via Grand Hand Records.
Fuzzy distortion and smooth bass lines await fans of stoner metal in this slick and dirty track that will get your insides buzzing. CHRON GOBLIN noted in Kerrang as one of "The 20 Canadian bands you need to know right now" they bring an exciting energy that can be felt throughout the album and witness at one of their live gigs. Band comments:
"'Oblivion' was one of the first songs we had finished for the new album. This track feels like a transition from our previous album Backwater into the style and sounds that we leaned on in writing Here Before. It's got a nice blend of heavy riffage and groove but with lots of space and room for vocals to breathe.We've been playing this track live a fair amount recently, often opening with it or at least early in the set."
Rock and sludge combine into a mix that set CHRON GOBLIN apart from other bands in the genre and after 10 years, they have perfected their craft releases tunes that have been enjoyed around the world. Fans of Red Fang, Kyuss, and Orange Goblin, take note! This is your new favorite band.
The second single 'Oblivion' can be heard via DOPE Magazine HERE.
Album pre-order is available on Bandcamp

here

.
In additional news, CHRON GOBLIN will be hitting the road to promote the new album for the "Tourgether At Last" with label mates Edmonton's BLACK MASTIFF. The Canadian tour will be kicking off in Lethbridge, AB on October 10th and head east towards Montreal, QC to then circle back out west to wrap up on October 25th in Edmonton, AB.
The band adds:
"We're super psyched to hit the road with longtime pals and new label mates Black Mastiff on our dual album release Canadian tour! We're really looking forward to rolling out east and playing a bunch of tunes from our new album 'Here Before'. Black Mastiff and Chron Goblin Tourgether at Last!!"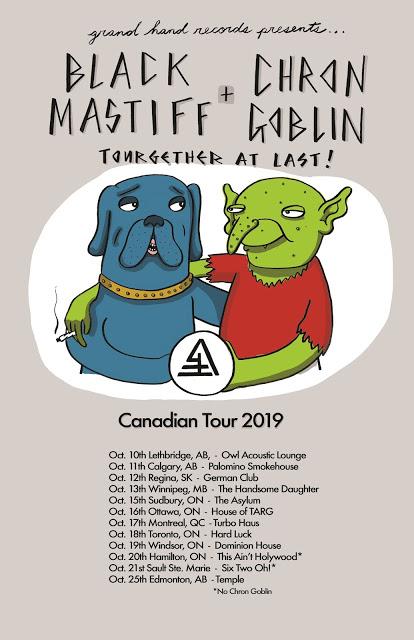 Canadian Tour Dates: Chron Goblin + Black Mastiff 'Tourgether At Last' October 10 - Lethbridge, AB - Owl Acoustic Lounge October 11 - Calgary, AB - The Palomino Smokehouse October 12 - Regina, SK - The German Club October 13 - Winnipeg, MB - The Handsome Daughter October 15 - Sudbury, ON - The Asylum October 16 - Ottawa, ON - House of Targ October 17 - Montreal, QC - Turbo Haus October 18 - Toronto, ON - Hard Luck October 19 - Windsor, ON - Dominion House October 20 - Hamilton, ON - This Ain't Hollywood * October 21 - Sault Ste. Marie, ON - Six Two Oh! * October 25 - Edmonton, AB - Temple *= Black Mastiff Only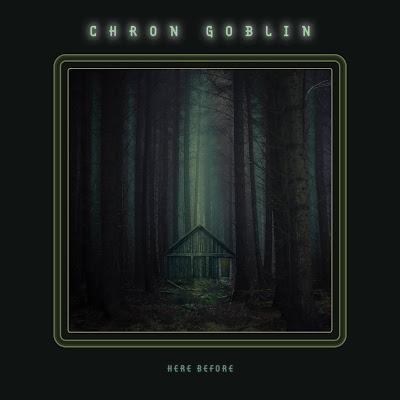 Track Listing: 1. Aurora (0:22) 2. Oblivion (4:16) 3. Giving In To Fun (3:37) 4. Out Of My Mind (3:49) 5. Ghost (6:04) 6. War (3:51) 7. Giant (4:40) 8. Slipping Under (4:43) 9. Little Too Late (4:46) 10. Waiting (3:53) 11. Afterglow (1:52) Album Length: 41:57
Line Up: Josh Sandulak (vocals) Brett Whittingham (drums) Richard Hepp (bass) Devin 'Darty' Purdy (guitar)
More info:

ChronGoblin.com

Facebook

Instagram

Twitter


Bio:
From the dusty coulees of Alberta's Badlands to the jagged peaks of the snow-capped Rockies, the musical entity known as Chron Goblin is a true force of nature. Yet there's simply no reckoning the immensity of the sound that these hard rockin' Calgarians are capable of generating once they hit the stage boards. Grind-ing it out in the trenches and pits of venues and festivals across North America and Europe since 2009, the fuzz clad foursome knows no bounds when it comes to laying down the rugged riffage and cranking up the volume on a sweet Southern rock-tinged blues-metal breakdown. Surrender to the smoke show, heed the call of the Chron and inhale the melodious commotion churned up by the Goblins. The botanically-infused gin in your work-a-day tonic, Chron Goblin will obliterate those vexing worries and liberate your immortal soul.
Recorded in July 2018 at Juno Award Winning OCL Studios, 'Here Before' is the fourth full-length album from Chron Goblin and will be released and distributed by Grand Hand Records. Produced, recorded and mixed by Josh Rob Gwilliam (Michael Bernard Fitzgerald, Ghosts of Modern Man), Here Before demonstrates a new maturity in songwriting and production for the band. From the propulsive singles of 'Slipping Under' and 'Ghost'; mixed by Mike Fraser (AC/DC, Metallica, Corrosion of Conformity), to the hypnotic riffs of 'Oblivion' - Chron Goblin has created an intoxicating collection of rock n' roll.
(Bio written by Christine Leonard)
"What the band have in spades that sets them apart from the usual weed-worshipping crew is energy, giving even their stonier material enough oomph to keep them from lethargically ripping off Sabbath. " - Kerrang Magazine
" Fun, fast, and surprisingly slick" - VICE/ Noisey
"These guys caught my ear right away because in the local market there are precious few bands playing this style of hard Rocking Metal. Sonically this has groove, rock and some sludge written all over it. A certain sense of fun pervades all the tracks, energy creativity and a spirit of rock and roll." -Metal-Rules.com
"It is no wonder why so many respected bands have took them under their wing. This is a band to keep your eyes firmly locked on" - The Sludgelord
"The band's love of the riff is highly in evidence, wrapped around a classic rock sensibility that, for once, sits well with the more obvious stoner and desert rock influences upon which the band have historically built their reputation." - Ghost Cult Magazine
"While too many fuzz bands forget either how to be heavy or how to have fun, Chron Goblin shows a near mastery of these important concepts " - New Noise Magazine