There are many fashion-related taboos - or at least topics that are quite controversial - and long trousers with open shoes are definitely one of them. For some reason, many people believe that one should not really wear this kind of combo. However, things are a bit nuanced and the answer is that you can actually wear sandals with long pants, if you follow some simple guidelines.
The main thing to watch out for is that the entire vibe of the outfit should be casual. Even if you are really well put together, you should absolutely not wear sandals with dress pants. Maybe this is why so many people are reluctant to this combination - because they think that you would wear sandals with dress pants. And, we've seen it before: men in suits thinking that they will look summery and relaxed if they wear sandals. Basically, if you can add a tie to your outfit, you should probably not wear sandals.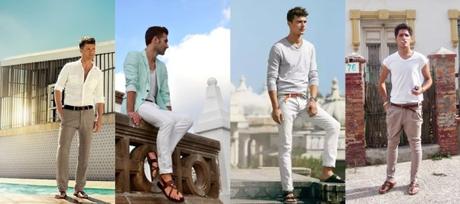 This being said, there are many ways you can go about wearing sandals with long pants. Think of all the types of pants that do go with sandals, from chinos to khakis and even jeans!
In terms of shirts, pretty much anything goes with casual pants and sandals - think classic t-shirts, casual shirts, polo shirts and other styles - as long as they are not too dressy.
What also needs to be mentioned is that it is obvious that sandals should only be worn in casual contexts, but this does not mean that they are exclusive for daytime. For example, a beach party or an informal get-together at night can be an excellent place to sport some sandals (with long pants) too.
And, of course, there is no doubt that you shouldn't really wear sandals with socks!
Last, but certainly not least, when you are wearing sandals, you must always remember to take good care of your feet in advance: make sure they are clean, moist and that your nails are impeccable.
So, in short, it can be said that men can wear sandals with long pants during the summer if they keep it casual and well put-together. After all, it's summer - musty sneakers and boots can now stay in the closet.
Fraquoh and Franchomme
Further reading:
3 Things to Look Out For When Buying Sandals How to Dress Up Casual Pants
P.S. We want to hear from you! Do you wear sandals with long pants? What type of pants do you wear them with? Is this combination still considered a no-go? Share your feedback, questions or thoughts in the comments below! For more articles on style, fashion tips and cultural insights, you can subscribe to Attire Club via e-mail or follow us on Facebook, Twitter or Instagram!