Check out the guys playing the giant xylophone at Kikorongo!
"Community tourism" bundles up a diverse range of activities – and can be great fun! – as a lucky group of us found out on a three-day UCOTA / Pearls of Uganda trip in and around Queen Elizabeth National Park recently.
Community tourism offers you the chance to find out first-hand what it's like to farm your land (with the constant threat from hungry elephants) or to farm salt as people have done for 10,000 years on a crater lake (not a job for the squeamish).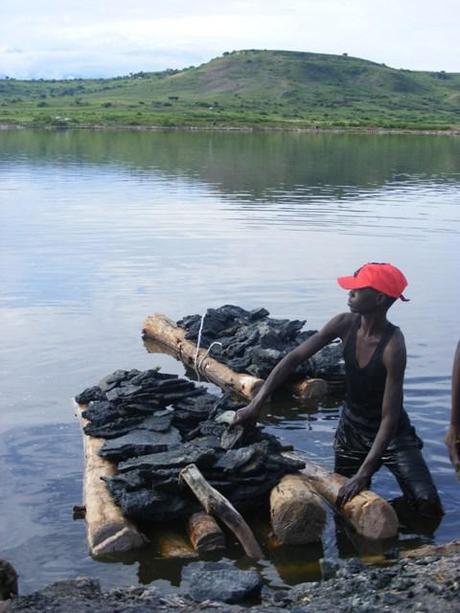 Harvesting salt in Lake Katwe - and I complain about my job sometimes? A full post about this incredibly tough lifestyle to follow ...
Watch a clip of the Women's Dance Group at Kikorongo, Queen Elizabeth National Park, Uganda
After the dance display at Kikorongo, I got a chance to try my hand at playing the enormous wooden xylophone. Admittedly, I was pretty rubbish.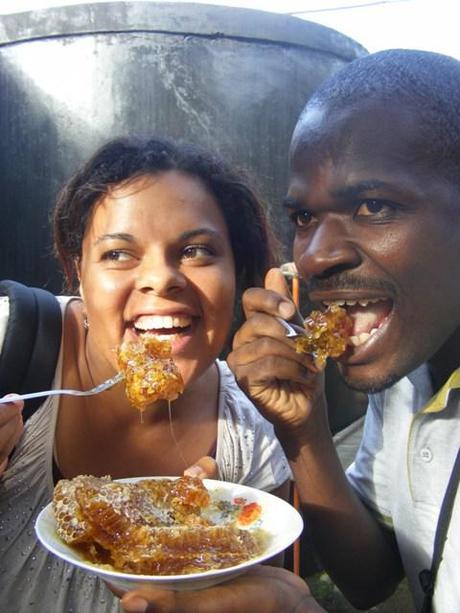 Honey never tasted so good!
Like bees around the proverbial pot of honey, we couldn't wait to dive into the fresh honeycomb at the BBC (Bunyangabu Beekeeping Cooperative). We wolfed down big dessertspoons of it, spitting out the waxy residue "like chewing gum." The BBC is a training centre for would-be beekeepers. They also process and sell the finished products (honey, candles and Propolis).
Community tourism is a learning experience too. Did you know you can wash your clothes with the flesh of a pawpaw? Or that locally grown flowers can produce red, green, yellow, orange, blue, maroon and brown colour dyes?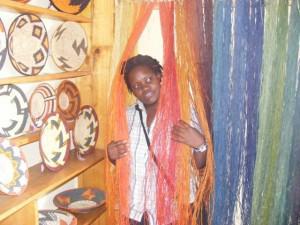 Cissy poses amongst the multicoloured raffia - used to weave baskets at Rubona Basket Weavers' Assoc
At the Foundation for Youth Development Agro-Tour in Kichwamba, the very knowledgable Benjamin pointed out the Trees of the Gods and the medicinal uses of the various plants and trees, as he took us all on a walk through the banana plantation.
Did you know that the Neem tree can treat an astounding 135 diseases? (I wish I had one in my compound – they even deter mosquitoes and insects!) Tawny Prinia, Northern Bishop and African Blue Flycatchers were a few of the birds we saw (apparently there are 250 species along Kyambura escarpment).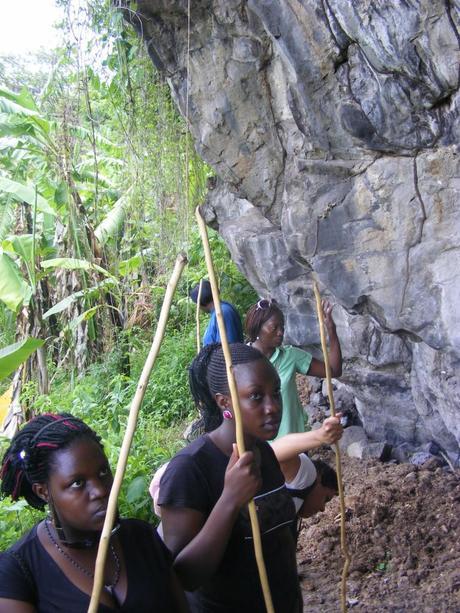 A serious moment! At the cave of the God of the Hunters, Kichwamba. Note the pile of elephant dung!
Midway on our walk, we paused to pay our respects to the God of the Hunters at the cave, as Benjamin talked about hunting rituals and the importance of totems to conservation.
Time was too short to cut herbs and bathe in the river running through the cave below the wonderful Nyanz'ibiri 'Between Two Lakes' Community Eco-campsite  – next time! – and perhaps then Felex, I really will sleep in the beautiful Banyaruguru hut!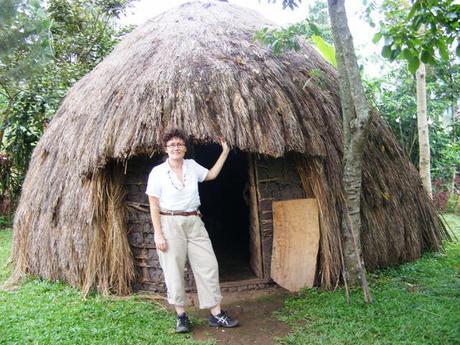 A very frumpy-looking Muzungu checking out the traditional accommodation option (hey we'd been on the road 3 days, ok?!)
To find out more about these and many other fascinating days out, visit the UCOTA / Pearls of Uganda web sites or contact Pearl of Africa Tours and Travel [email protected]