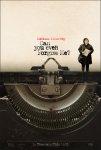 Lee Israel is struggling to survive in life, she had a best-selling book in the New York Times list but she hasn't grown from the biographies she likes to write. When she finds an old letter and realises they are worth money she turns her talent to forging letters from famous writers.
You cannot help but feel sorry for Lee Israel as nothing is going right for her or her cat. The only thing she seems to love in the world, her agent doesn't really want to know her and does not help in any way when it comes to what she wants to write next. The biography of Fanny Brice is what she would love to get published. One afternoon she meets Jack Hock in a bar and they have met before. A rather unlikely friendship occurs between the pair, Jack a openingly gay man is exactly what Lee needs right now even if she doesn't realise it.
The letter writing starts when she realises that she can make some money and very quickly. Her cat is sick and she cannot afford to pay, also being well behind in her rent. This is a quick fix to her problems but she gets rather carried away, she keeps getting away with it so continues to sell these letters she has typed. Using biographies and real letters to become the person it is from. Managing to fool a lot of collectors in the process. Purchasing many different typewriters as well for the different time periods she was going back into, along with many different methods to make the letters look a lot older than they actually were.
The small part of a potential relationship with Anna was interesting but not something that we get to know too much about and in-depth. Considering her actions and the deceit I don't suppose Anna would really have wanted to talk to Lee. We also get one small moment of the only relationship she believes she tried with.
I thought this film was just delightful and that was mainly due to the incredible performances from Melissa McCarthy and Richard E. Grant. They work so well together and bring out amazing performance. I hope this will change how some people view McCarthy as she really shows that she can do serious acting roles as well. Grant is terrific as usual and I am pleased that I watched Withnail and I last week as one of the lines surely is homage to that film? I am pleased the pair have been nominated for many different awards as it really is well and truly deserved.
Along with this we get some truly amazing shots of New York City, I do love it when a film is set in that great city as we do get some great shots. This was all happening in 1991 so we get to travel back in time as well. Although I don't feel that is really that long ago in all honesty, but what an amazing event to have occurred. I felt the court scene was very emotional along with the final scene with Jack. I think it just shows that no matter how much someone says they love being alone that is just not true, you always need at least one person.