Did you read the news yesterday on AT&T and how they will slow down service for "unlimited data" subscribers after they reach 3 gigabytes of usage within a billing cycle?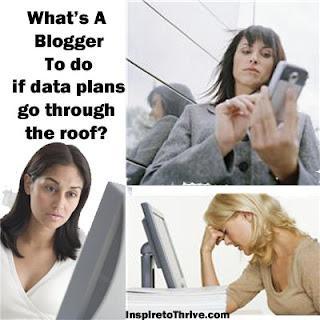 I use my smartphone a lot - not with AT&T but will the other cell phone companies follow suit and slow our data transmission down? I glanced at how much data I use - it was high. According to the 2011 Nielson study the average smartphone user consumes about 435 megabytes of data each month. Mine was almost double. 
I have so many apps on the smartphone that I use on my lunch hour and anytime I'm waiting somewhere. Which ones are causing the most usage?
Facebook
Twitter
G+
Stumple Upon
Foursquare
WordPress
Blogger
Hootsuite
GetGlue
Yahoo Mail
GMail
Quora
I see that we will have two choices if our bills go up or service is slowed way down: 
Don't use as much or
Make money from blogging to pay or it. 
I read in Europe and other countries the cell phone companies now charge for those who use Facebook and Twitter and that you get a separate plan for just those two alone. You would not have access to any other internet. That would not work for bloggers who like to make comments and read other blogs. And what if you just wanted to check out the weather forecast, traffic report, check out pricing of a product or the ballgame score? 
What is your plan for the future cost of technology?