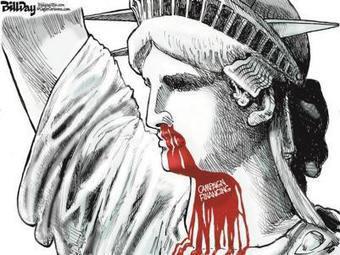 Like you, I'm tired of the constant battle with ill-informed politicians who claim all sorts of nonsense reasons for the bad environmental decisions they make in the name of so-called 'democracy'. The flesh of my right hand is sore from the constant fist-bashing of tables as I let loose yet another diatribe concerning why our politicians are corrupt whores for sale to the highest bidder. My teeth are becoming worn from the nights of grinding as I lay awake contemplating why we as a society are taking more steps backward than forward.

Yes, we have politicians today claiming that "coal is good for humanity" and that climate change is a "hoax" designed by communists to disrupt society. They spew all sorts of nonsense in public about how they are making their decisions to approve yet another coal mine, limit renewable energy investments or allow continued deforestation because "it's good for the economy". All these despite the overwhelming evidence to the contrary.
Sourced through Scoop.it from: conservationbytes.com
Perhaps we have to require teachers to start teaching independent thought in elementary schools and continue on through secondary school with increasingly blunt exposures of politicians and government.