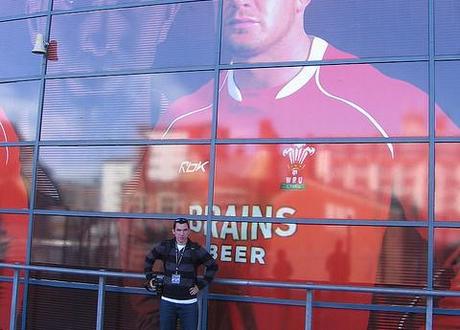 An average Welshman is ten times bigger than a normal human being. Does that mean that Wales can beat France in the Rugby on Saturday? Photo Credit: umbrellasheep http://www.flickr.com/photos/umbrellasheep/555903012/sizes/z/in/photostream/
After England and Scotland's ignominious losses at this year's Rugby World Cup in New Zealand, the only team Britons have left to support is Wales. Maybe as a way of trying to erase the memory of the England team's embarrassing gaffes, even David Cameron is flying the Welsh flag above Downing Street tomorrow as Wales and France clash in the Semi-Final. In recent memory not the strongest of sides, the Welsh squad's success so far puts it in line to be the most successful Welsh rugby team in history, and would go a long way towards healing the wounds of their poor performance at the 2007 Rugby World Cup.
Historically, Wales have been a bit better than France  in their 88 Rugby Union matches since 1908, winning 43 times, losing 42 and drawing 3. But many are asking whether all this might be false hope — can the Welsh actually win their game against the French? And if they do, how would they fare at the final? Here's what the leading sporting commentators have to say:
Wales stands to beat the French and cause more than a bit of trouble for whoever they face at the final. The team under coach Warren Gatland are playing incredibly well and will almost certainly beat France with their solid defense. That's at least what Graham Jenkins at ESPN Scrum reckoned. He said that the team's playing "with confidence, pace, skill, intelligence and enviable cohesion" and argued that "this is a unified and efficient team if ever there was one." Still, he said, the French have a way of "surprising fans and making fools of so-called experts."
Wales will win if the game is properly refereed. That's how veteran Saracens coach Brenden Venter saw it in The Daily Telegraph. He called the French side "the least disciplined" of the teams left at the World Cup and argued that French Rugby officials possess on a "very thin knowledge" of Rugby's rules. He predicted that the French referee of the match, Alain Rolland, could show his "authoritarian" side and referee well or be cowed by the pressure and let the French get away with breaking the rules.
The Welsh Rugby Union (WRU) trusted in Gatland and he delivered. The WRU's decision not to fire the team's coach in the run-up to the World Cup (when they were coming under sustained fire for losses) was a wise one, praised Paul Rees from The Guardian's The Sport Blog. "It would be no surprise if Wales beat France to reach the final", he gushed, for Gatland has been "the smartest coach of the tournament." And if they do lose, he says, it'll be "through no fault of Gatland."
The last time they met — Wales versus France at the 2011 Six Nations:

More on Eccer

Liverpool pushes TV breakaway deal, Manchester United and Chelsea not onside
Business + Baseball = Moneyball
David Haye to retire from Boxing
More rugby »