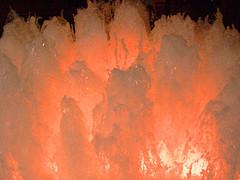 photo : Darwin Bell
There's a Spa in Styria with an interesting and intriguing connection to most ancient history. It's a place for those with an interest in more than just physical health, but mental health too. And we must ask can the Dead Sea salt they use in the spa really cure psychosis?
Friedensreich Hundertwasser
The Austrian artist (deceased), Friedensreich Hundertwasser – whose work was heavily influenced by his travels around the world – turned his attentions in his later years to architectural design. He described himself as:
a healer of ailing architecture
Hunterwassern's work was characterised by flowing lines and a total avoidance of anything linear or traditional. He was – putting it bluntly – an unusual man, whose creations challenge the conventional concepts of how a healthy building (or work of art) might look. A good example, is the Rogner Bad Blumau Spa and hotel complex in Austria.
Rogner Bad Blumau
Set a short distance from Graz, the capital of the Federal State of Styria, Rogner Bad Blumau is the amusement park of the spa scene. With winding pathways lined by horoscope-telling trees (for example, March is a willow tree denoting sensitivity and imagination) the Rogner Bad Blumau is a veritable sensory experience designed for self-indulgence. Not a place to take the kids!
This super Styrian spa has a curative lake fed from 2 natural volcanic hot water springs. These thermal waters are a characteristic of the Steiermark province. Other features of the spa include:
wave pools that rival the Irish Sea for ebb and flow
creeks that meander between outside and inside without you having to leave the water
relaxation beds with luxurious canopies that would fit nicely into a Sultan's palace
soft and sensuous textures
fluffy white towels and robes
soothing baths with sensual oils
treats to tempt your taste buds
11 different indoor and outdoor pools
specialist massage and wellness services to pamper your mind, body and soul.
Probably one of the best experiences the spa has to offer is from twilight on, when you can relax in the Dead Sea salt waters of the heated outdoor lake. Let gravity take over and float, as you gaze towards the heavens and see the brightest stars in the darkest skies you can imagine.
Maybe the most unusual thing you will find at this Styrian spa, is the architectural design – it's the work of the artist, Friedensreich Hundertwasser. The walls are a marvellous mix of colour and texture. They wander and curve, not go in straight lines. The roof is covered with grass. Shapes are curvaceous and lighting subtle. The overall effect is that you are somewhere very different from the usual clinical coolness of a wellness centre.
Herod the Great and the Dead Sea
In around 4BC, Herod the great – a depressive who suffered paranoia and murdered his own family along with many Rabbis – bathed regularly in the Dead Sea. That's the deepest saline lake in the world and is below sea level. It's the earth's lowest elevation of land and might reasonably be considered the first wellness resort in the world!
Herod was plagued throughout his life with health problems, but the one he suffered before his death was described:
Herod's final illness – sometimes named as "Herod's Evil" – was excrutiating
Commentators have noted that the ailment suffered by Herod was probably scabies, a serious skin infection parasites burrowing under the skin and laying their eggs. Although opinion is divided, many sufferers have noted that a saline solution brings rapid relief from the intense itching and discomfort these bugs cause. As saline solution gets under the skin, it kills the eggs and any live parasites that are around.
Were scabies the source of Herod's psychosis?
Could Herod's Evil have been a parasitic plague and his visits to the Dead Sea an attempt to rid himself of these pesky problems?
Who knows – but it's interesting to note that Herod was also renowned for his colossal building projects. A connection perhaps with Friedensreich Hundertwasser, who also believed in the importance of buildings?
Chalet Lowonahill is an all-season, rustic style holiday home in Styria. It's an ideal place for you to discover the delights of the 9 provinces of Austria. To find out more, simply click here.