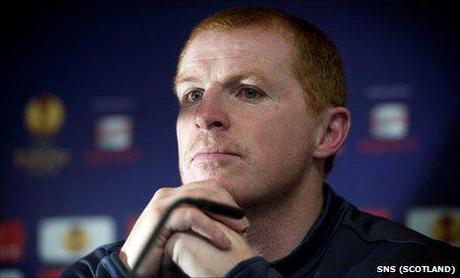 Neil Lennon deep in thought prior to tonight's match
Neil Lennon http://twitter.com/#!/OfficialNeil has already admitted Celtic have been handed a get out of jail free card and to make the most out of this Europa League while they are still in it. Following Sion's reulctanct acceptance that they probably won't be lining up in Madrid tonight, a confident Hoops side should take to the field with a new gusto and enthusiasm following the four nil demolition and classy display against Motherwell at the weekend.
One notable absentee tonight from that game is left back, El Kaddouri who shone in the position currently left by long-term absentee Emilio Izzaguire – (I genuinely am struggling to come to terms with the fact he is banned for a red card for a game which technically never occurred>>>!!)hopefully this reshuffle will not see the bald-headed Swedish calamity slotting back in to the back four. Celtic captain Scott Brown and striker Anthony Stokes did not travel with the rest of the squad to rest ahead of Sunday's trip to Taxman Towers. We can therefore hope that the commanding midfield quartet from that game is again restored – many tweets were already bemoaning the fact that Brown would be coming back for one of the crunch ties due to the fluency and excellent shape the middle of the park possesses when he is absent.  Ki Sueng-Yeung has been excellent for a year and a half and his goal threat from midfield is something the team has been missing since a certain Bulgarian was roaming from box to box – away from home in Europe, a player with his calibre of striking ability is something not to take for granted.
I can't remember Celtic being in a position where they were so fortunate to be handed a second chance – from the confidence sapping defeat in Switzerland which sent a lot of fans into uproar – myself included – they have now been given an opportunity to show the fans how far they have come under the stewardship of Lenny and his backroom staff and what the future can hold.  If I was pulling on the Hoops tonight I would feel a lot less nervous than I was before the 2nd leg qualifier, as we are now in the group until mid December and no courts in the land (not even Scottish ones) can remove us until that final game in Italy. It is arguably the hardest group in the Europa League this year but we should have no fear, so the three other teams should be wary of Celtic in these encounters. A young developing team, albeit perhaps not as experienced, but with plenty of fire and exuberance this expedition could be a worthwhile development for the club.
One final note about the game should be the year and age we are in – it was over 35 years ago when Celtic and Atletico Madrid locked horns in a European Cup semi final war at Celtic Park. Three of the Spanish side were dismissed but they amazingly held out to take a goalless draw in Scotland and finished the job back in the Spanish capital. This week,Billy McNeill, Celtic ambassador & captain at the time, has labelled the side "scum" – he may have been taken out of context or misquoted but as such a figure in Celtic's history I feel he should keep his mouth closed for the benefit of the game and not get Celtic embroiled in a sideshow which detracts them the job in hand.  Hopefully tonight it's "Barcelona, Atletico Madrid – who the f*** you trying to kid!"