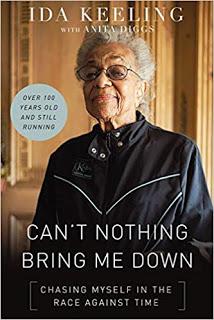 Published 27 February 2018.
I like to read about mature athletes, but usually I just read news stories.
I was delighted to read runner Ida Keeling's autobiography,
Can't Nothing Bring Me Down: Chasing Myself in the Race against Time
(2018).
Keeling, born in 1915, writes from the perspective of a centenarian. She was raised by parents who immigrated to New York from the Caribbean.
She worked in factories while raising four children. For the more part, she was a single mother. Later in life, she worked in the records department of the Harlem Hospital.
Not only does she describe her own experiences. She's a witness to larger cultural, political, and historical forces. For example, she describes the Great Depression, World War II, Civil Rights, and Vietnam. She also responds to the election of Obama to the presidency.
For the more part, her book is an individual journey of a woman who overcame the hardships of poverty, prejudice, sexism, single motherhood, loss of two of her children to street violence. 
Keeling credits God for all good things in her life, but I also note her character. She's determined, hardworking, temperate and responsible. It's these qualities that help her succeed as a mature athlete.
After the death of both of her sons, Keeling--understandably--fell into a depression. One of her daughters encouraged her mother to take up running. Keeling threw all her energies into that endeavor and went on to break records. 
Keeling is inspiring not just for running races at 103 plus. (She will turn 103 on May 15, 2019). She's inspiring because she overcame a lot of obstacles by her faith, industry and determination.
Related:
Mature Athletes
Books about Aging