One of my friends, artist and designer Deb Ammerman, had an interesting idea for me last week:  she suggested I try something out in photoshop before painting it, in order to see how it would look. She sent me an image of Tic-Tac Five, the painting I've been struggling with lately, to show me how it would appear with the middle section painted a darker green: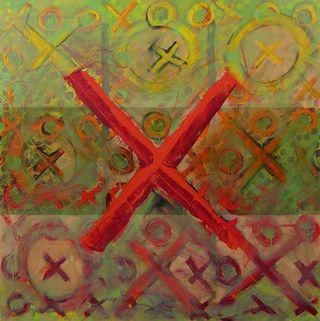 Tic Tac 5
photoshopped
I liked this effect and thought I'd give it a try, since I was still not happy with the current state of this painting.  So I painted the middle section a darker green, painting around the red X in the center and some of the other x's and o's. 
Then the bottom of the painting looked too light, so I mixed a medium green and painted that section.  Well, naturally, then the top third didn't seem right, so I mixed a light yellow-green and painted over that one. 
The point is, when we do something to one section of a canvas, we often need to change some other part of it.  The second point is that what we do with actual paint may not come off looking the same as a photoshopped image. 
This was a very interesting excercize, and I'm glad I tried it.  Here's the final result: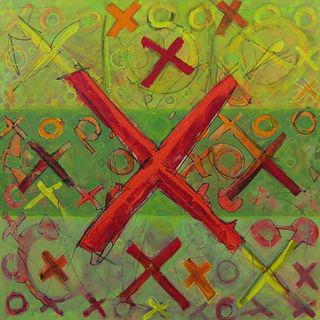 Tic Tac Five, 44" x 44" acrylic on canvas.
Have you ever used photoshop to help you decide what to do with a painting you're working on?