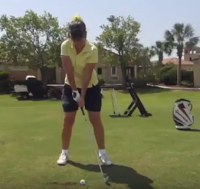 I am a proponent of professional golf instruction - meeting with a teacher and getting help with your game works for golfers from beginners through to the best in the world (even Tiger Woods needs an instructor).
But, what differences does a face-to-face experience offer vs a magazine article ....or, can we essentially learn proper technique either way?

With more and more posting golf blogs, articles from renowned players and teachers, and videos, it would seem that an online tutorial can also help your game, however...
A teaching pro is right in front of you, showing you how to execute a shot. In stark contrast, golf tips we receive from PGA Tour pros who tell us via magazine article or show us what to do via youtube video cannot give us any feedback.
Justin Rose in a recent blog, offers how to pull off certain shots as well as recovery techniques for an amateur who has been playing the game for a while and who understands course management and shot making but may confuse the beginner.
In other words, not all learning methods are best for every student.
Tips such as golf etiquette and understanding overall swing concepts are fine to learn from an established online source but, after you have gotten to the next level, it might be better to incorporate lessons if you are to improve in this game.
Two-way communication is essential in golf training - an instructor will watch your swing, talk to you to determine the source of the problem and may add the latest technology to the mix in order to show you where you need help. It's like when you are sick - if it's just the sniffles you may choose to take basic cold medicine but, at that point do you choose to visit the doctor?
My golf blog tip of the week? Take tips from magazines and videos with a grain of salt - you have to know when to take advice and when to get advice in person.
Do you take online golf tips with a grain of salt? Let us know which pro rely on for advice in the comments section of this golf blog and on Twitter @Golf4Beginners.