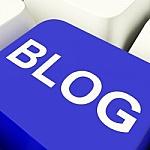 Is One Blog Enough For You?
Before 2013 I started a file of all the blogs I write to get organized and didn't realize how many blogs I had until I did put it in writing.  It got me thinking: How many blogs make for one blog too many?
Do you also count blogs you guest post for? What about other writing you may do on the outside to promote your website?
Does there come a point when you should ditch some of your blogs to focus on just one or a couple? That's my next decision.
The Advantages of Several Blogs:

Linking – The obvious advantage is linking opportunities from one blog to another.

Never Get Bored – Sometimes I would get bored always blogging on the same topic. By having a variety of blogs, one does not get bored. Never again will you be bored if you have more than one blog!

More Connections – You can connect with more people when you blog in a different niche. I've met so many more people since I started this blog.
 The Disadvantage of Several Blogs:
Focus – You could lose focus on one of your niches. If you spend time on one niche more than another you could lose some of your focus.

Commenting – It is harder to comment on each niche daily or weekly sometimes. It requires more reading.
Maintenance – Maintaining one blog is a lot of work as many of you may know. Imagine doing that times 2 or 3 or more.
Posts – You will post less on one blog if you have several blogs.
There are many bloggers who have more than just one blog that they manage. Some do it with great success and post reguarly on each of the blogs.
Bloggers who have more than just 1 blog:
Ms Ilene –

Basic Blog Tips

is Ms Ileane main's blog but she recently started  another for podcasting

Ms Ileane Speak. I have learned a lot reading Ms Ileane's blogs over the past 2 years. I asked Ms. Ileane about her dual blogs and she admitted she is addicted to blogging! You can read more about her multiple blogs at her post on her new blogger blog.  She also said "the 2 brands did not mesh together seamlessly." Something to consider when deciding on a single blog or having multiple blogs.
Mitch Mitchell – I've known Mitch from his

I'm Just Sharing

blog but he has several others including

SEO Excellence 

and

Top Finance Blog

to name a few of Mitch's.   
Here is Mitch's take on multiple blogs: "Blogging is a good way to keep in touch with people, get your views out, and show your proficiency. But there is one thing I'd caution against, which is not to start one if you don't think you can sustain it. Nothing worse than going to someone's blog and seeing that they haven't written anything in a year." Excellent point Mitch!
Samantha Gluck – Samantha has 2 blogs

MedTopicWriter

and

FreeLanceWritingDreams

. I asked Samantha how she does it with her 2 blogs:
"To manage 2 properly, you've got to hone your time management skills. I do it w/a editorial calendar, mind mapping, & prayer." 
Brenda Pace – I met Brenda early on blogging with PibblesnMe about her adventures with her dog Titan and a whole lot more.  Brenda now has MyGirlyParts, "real talk for real women. " Ladies, a must read blog!   Brenda admitted to me "It's a lot of work!" She is right. 
Sharon Greenthal –

Empty House Full Mind

and she blogs for the

Huffington Post. A blog I just  found after seeing her on the Huffington Post recently.
Holly Jahangiri

 - Holly is everywhere! Her personal blog is Jahan Girl.us  I met Holly on  the Blog Engage platform. She has been a professional writer for 20 years and man can she write! She also writes for Race to the Hugo Award. 
Do you have more than one blog? If you do how do you manage the multiple blogs at once?
Can you think of more advantages or disadvantages of multiple blogs?