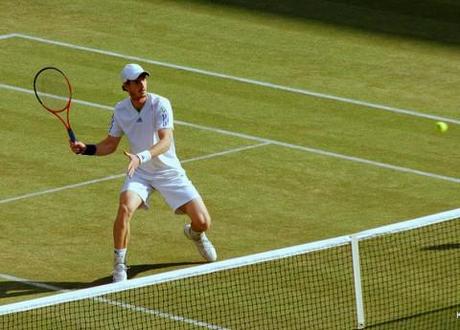 Andy Murray. Photo credit: Carine06 http://flic.kr/p/bQ79Tr
The background
The news of the England football team's elimination from the 2012 European Championships has been largely greeted with a no-real-surprises-there-then shrug. That's because most sensible football fans never really thought Roy Hodgson's team had a realistic hope of progressing beyond the last eight. With the Three Lions out of the Euros, sports fans attention has rapidly switched to the Wimbledon tennis championships which got under way 25 June in south London.
One of Rafael Nadal, Novak Djokovic or Roger Federer – the so-called Big Three – is widely expected to win the men's singles trophy. But there are high hopes that British hope Andy Murray, the fourth seed, can progress deep into the tournament. Murray begins his campaign on Centre Court tonight when he plays a tough opening match against former world number three Nikolay Davydenko. Murray's reached the Wimbledon semi-finals on three previous occasions. A Murray Wimbledon win would go a long way to cheering up British sports fans. But can it happen?
Murray can generate same level of national interest at England football
At The Telegraph, Jim White said that "nothing brings us together round the box as a nation like another England defeat in another penalty shoot-out" and noted that an "astonishing" 23 million, nearly half the population of England, tuned in to watch England crash out on penalties yet again. "Well, almost nothing," reminded White. "Should he get there, Andy Murray in a grinding, marathon Wimbledon semi-final will send huge numbers of viewers scuttling to the box."
Wimbledon has started, summer's here
"The sound of beautiful Russian girls yelping and grunting in a leafy south London suburb is a sign that summer is taking its normal course and that Wimbledon has started," said an Express editorial which said that "for a day or two the thunderous tribal chants of Euro 2012 football fans will recede in our minds as we wait to see what British hope Andy Murray will achieve this year. Best of luck to him and… you know… no pressure."
Murray can come through a tough draw to reach semis again
He has a difficult draw, but "is more than equipped to deal with it and his grass-court experience and excellent return game should help him – a few nerve-wracking classics along the way – to a fourth successive semi-final," predicted BBC tennis correspondent Jonathan Overend, who did warn that "Davydenko is a tricky enough first-round draw before you find all the big men and big hitters in Murray's difficult section. Karlovic, Anderson, Cilic, Raonic, Roddick, Del Potro. All these guys are in Murray's quarter and I haven't even mentioned Dimitrov or Baghdatis."
If he wants to win a Grand Slam Murray must get selfish
Murray "needs to change his mind-set and deal better with the psychological aspects of the game" if he is to win Wimbledon, or any other Grand Slam for that matter, wrote ex-player Greg Rusedski at The Guardian. "My advice for him is: don't listen to what the media is saying about you, don't read the newspapers and don't turn on the TV – well, except maybe to watch the football. It's vital to shut yourself off from the hype and criticism. You have to put yourself in a bubble during these two weeks because everybody wants a piece of you. That's where Murray has to get a little bit selfish if he's to win a major."
Less pressure on Murray could see him blossom
"If lowered expectations led to a relatively stress-free Euros for Steven Gerrard and the rest of the England football squad, perhaps the same will be true for Andy Murray," suggested Simon Briggs on The Telegraph. "Like our footballers, Murray appears to have reached the point where no one takes him seriously as a potential champion. So could this work to his advantage? It already seems that his personal media circus is a little less all-consuming this year, which could help him conserve more energy into the second week," said Briggs. Murray's Grand Slam record over the past 18 months is "hardly a disaster" reminded Briggs: one final, four semi-finals and one quarter-final in six attempts.