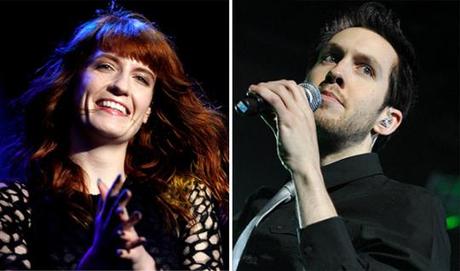 Image from http://buzzworthy.mtv.com
The collaboration serves as the fifth single from Harris' upcoming album.
Just days after Calvin Harris announced his upcoming album will be titled 18 Months, his collaboration with Florence + the Machine has been unveiled. The last of five promotional singles, "Sweet Nothing" will be released on October 14. Following close behind is the release of Harris' third full-length album, which will be out on October 29.
While Harris is currently touring Europe in support of 18 Months, Florence Welch has decided to take a step back out of the limelight. After the tour supporting her last studio album, Ceremonials, came to a close, Welch announced her decision to take a year-long hiatus from music.
"The record company have put no pressure on me for the next album," Welch recently told Style magazine. "They've said I can have as long as I want."
Given that, fans of Florence + the Machine have to prepare themselves- this collaboration is the last you'll hear of Welch for the next twelve months.
"Sweet Nothing" premiered on BBC's Radio 1 yesterday, absolutely surpassing my expectations. Classic, heart-driven lyrics are layered over an infectious beat that won't let you go.
This isn't the first time Harris and Welch have worked together. Harris remixed Florence + the Machine song ""Spectrum (Say My Name)," which was featured on the 2012's Spectrum EP. The remix reached number one on the UK Singles chart.
Check out Harris and Welch's collaborative effort "Sweet Nothing" below.