Çalış is known for its Sunday market, a center of activity for locals and tourists alike. Bazar, meaning market brings a whole host of delights into one tented area. I've been to this market for the last eleven years so I should know how to secure a bargain! Are you ready to barter for your best price?!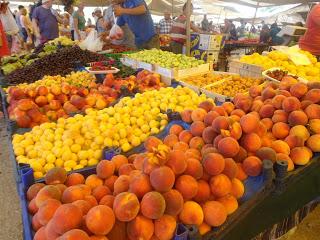 Turkey produces the freshest fruit and vegetables I have ever seen, my opinion completely but our supermarkets in England cannot compare to the produce that has been captured to the left. Each Sunday the same top quality fruit and vegetables can be seen, displayed in such a manner its almost like looking at a rainbow. So, there's no excuse not to buy some beautiful peaches or even some greens for the perfect Sunday roast dinner. I always like to pick up a few fresh goods such as; some figs and pomegranates because there are no pesticides used to cultivate these healthy treats! 
I would definitely say that a visit to 

Çalış's Sunday market makes or breaks ones holiday experience. 
Being a faithful holidaymaker to Turkey more specifically
 the 
Çalış Beach area means I should know how the heat beats down on the tented areas of the market. If you miss anything from the Sunday market in 
Çalış don't stress as there is another market identical to 
Çalış's in the nearby city of Fethiye, just take the local bus to reach the market where you will find the same delights if not more!

Feeling hungry? Çalış Sunday market always has a number of makeshift kebab and borek restaurants for all to enjoy. Over the years I have been very adventurous with my food, trying dishes that would probably turn your stomachs. I beg you that the heat of the day will make you want to stop for a ice cold drink and even a kebab or borek. Talking about out of the ordinary foods; I once tried 
Kokoreç, which is Lambs Intestines served in a half bread pitta with salad. I must admit I really enjoyed the taste of the 
Kokoreç, yes it was a daring choice compared to the traditional Turkish chicken kebab but I always want to try something new no matter what the taste! 
If my dining choices aren't to your taste then you could definitely sample a Turkish pancake (Borek) there are many sweet and savoury toppings to choose from! Not forgetting the world famous chicken Kebab as this tasty Turkish snack is super delicious! If your feeling brave then choose a carton of Ayran (Yoghurt Drink) to rehydrate yourself, but beware this drink has an acquired taste. 
Forget Primark and all the other high street brands because 

Çalı

ş's Sunday market has everything you need. From Nike trainers to Ralph Lauren shirts, everything is all genuine if you really do believe so! This is Turkey so I hope you all understand that its all counterfeit but thats how its done here. I suppose the variety of items that are on sale rival any store in the United Kingdom or wherever else in the developed world. Over the years I have secured a series of bargains from Prada look leather shoes and Abercrombie and Fitch look t-shirts, read between the lines because there is no way I would ever be able to afford the real deal! Well not just yet!
This year everyone has been on a whole new hype, grab yourself a pair of Dr.Dre Beats headphones for around £15.00! I will probably only buy a pair of Louis Vuitton look leather shoes this year as I already know what's sold at this market, eleven years in the making I know. The quality of the products on sale is surprisingly
 high, well Topshop have a string of factories in Turkey so I guess the proof is in the clothing? 
Now, where's my Turkish Delight?! 

Çalış's Sunday market has a wide selection of fresh Turkish Delight to buy. I really like Turkish Delight but have passed the hype of buying copious amount like I did during my first summers in Turkey. If you have never tried Turkish Delight I'm sure you're going to love it! If you aren't just satisfied with Turkish Delight then these sweet stalls sell a wide range of nuts and other sweet treats. With all this talk of Turkish Delight I might go to 
Çalış market this Sunday to buy something sweet! 
Be sure for what price you are buying these products for as a deal has to be struck with a clear agreement. Who knows your holiday in Turkey might see you find another Turkish Delight? Believe me I know a few people who have been lucky in that department! 
Çalış Sunday market is a must visit, I guess that I will miss this part of coming to Turkey but things have to change every once in awhile? If you're staying in the Çalış Beach area then get yourselves down to the market! 
Here's to Turkish Delight, Kebabs and Bartering! 
Joseph Harrison