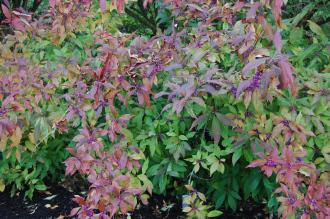 Callicarpa japonica (16/11/2013, Kew Gardens, London)
Position: Full sun to dappled shade
Flowering period: Summer
Soil: Moist, well drained
Eventual Height: 2m
Eventual Spread: 2m
Hardiness: 5b, 6a, 6b, 7a, 7b, 8a, 8b
Family: Lamiaceae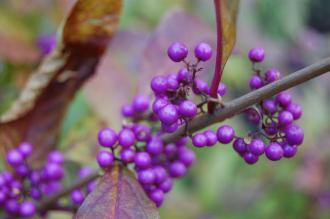 Callicarpa japonica Berries (16/11/2013, Kew Gardens, London)
Callicarpa japonica is a deciduous shrub with a rounded bushy habit. Its dark green leaves are elliptic to obovate with serrate margins, up to 12cm long and 5cm broad. Its leaves appear bronze in spring as they emerge in spring and turn purple in autumn before they fall. Its white/ pale purple flowers appear as panicles which are up to 35mm across. Its purple/ violet fruit are berries which are up to 4mm across and appear in autumn, they are not retained on the plant through the winter months. For best berry production more than one should be planted.
Callicarpa japonica, commonly known as the Japanese Beauty Berry, is native to Japan. In its native habitat it grows in mixed forests on mountain slope.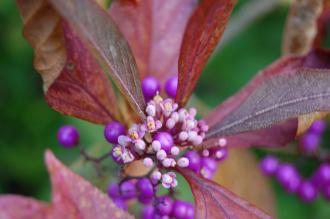 Callicarpa japonica Flowers (16/11/2013, Kew Gardens, London)
The etymological root of the binomial name Callicarpa is derived from the Greek kallos meaning 'beautiful' and karpos meaning 'fruit'. Japonica is derived from the Latin meaning 'from Japan'.
The landscape architect may find Callicarpa japonica useful as an ornamental shrub with attractive autumn leaf color and colorful winter berries. It may be used as an informal hedge plant.
Ecologically, Callicarpa japonica berries are attractive to some birds and mammals.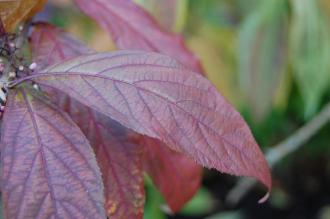 Callicarpa japonica Autumn Leaf (16/11/2013, Kew Gardens, London)
Callicarpa japonica prefers moist, fertile, well-drained soils. It tolerates most pH of soil.
Callicarpa japonica requires little maintenance. If necessary pruning should be carried out in spring.