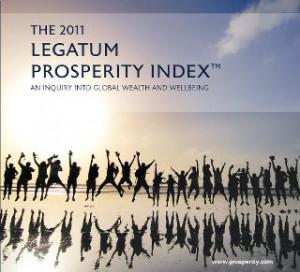 (Image: www.prosperity.com)
Despite the fact that Pakistan has the 47th largest domestic market currently valued at US$ 104 billion, Legatum Prosperity Index 2011 has given it an overall ranking of 107, ahead only of Ethiopia, Zimbabwe, and Central African Republic.
The country is suffering from massive governance issues, domestic and international debt, security and law and order issues, religious and ethnic violence, and inequality of resource allocation and distribution. One of the major reasons for this have been successive military takeovers that not only destroyed governance system in the country, but also did not allow institutional development.  As a result, Pakistan's political system
suffers from a lack of competition and low accountability (reflected in poor 98th ranking in the category of Governance), and Pakistanis are unhappy with the low levels of civil liberties afforded to them (104th in the category of Personal Freedom).
Weak performance is also evident in the Prosperity Index's low indicators in socio-economic areas. With its position as the second largest country in South Asia after India and the 6th most populous country in the world with over 180 million people, Pakistan's potential for economic growth and social progress is enormous. However, that potential still remains unrealized. Over the last few years, the country has been suffering from depressed economy with GDP growth around 2.4%, and the unstable economy causes high levels of public pessimism. According to Legatum's findings, entrepreneurship opportunities are also hampered by poor access to technology and the persistence of high inequality.
Pakistanis are looking towards the political leadership to improve governance systems in the country and address its economic and social problems. There are talks about a political change in the next general elections that are expected to be held in 2012-2013. But regardless of the electoral outcome, the winning party will have to deal with the issues highlighted by the Legatum Prosperity Index. To accomplish that, Pakistan needs better governance and a policy environment that enables inclusive economic growth and prosperity.
CIPE Pakistan has been building capacity of the Pakistani business community to advocate for business-enabling policies and significant reduction of corruption in the country, which in turn can improve opportunities for businesses to expand, generate jobs, and increase tax revenue. In this regard, Pakistan Business Council's National Business Agenda, developed by the Council with CIPE's assistance, has served as a platform for dialog between the business community and policymakers. In fact, the leading political parties are considering inclusion of the points raised in this National Business Agenda in their manifestos – something never done in Pakistan in the past.
Issues such as improvement in regulatory environment, consistence in economic policies, tax reforms, creating effective human capital, and action to improve security environment are key recommendations from the business community. If implemented, these reforms will help in improving Pakistan's position in the Legatum Index.