"Sometimes ideas, like men, jump up and say 'hello.' They introduce themselves, these ideas, with words. Are they words? These ideas speak so strangely. All that we see in this world is based on someone's ideas. Some ideas are destructive, some are constructive. Some ideas can arrive in the form of a dream. I can say it again: some ideas arrive in the form of a dream."
- words of wisdom from the Log Lady on Twin Peaks
The thing about California is that you feel like you're living in a dream, or at least I did for thirteen days. It is so unlike anything we have on the East Coast in an absolutely fantastic way. The scenery, the weather, the people, and the pace and activities of daily life make one question why one would want to live anywhere else. From this dream, I got an idea: I should live here. Based on my overall experience in the Sunshine State and a few things I learned about myself along the way I have concluded the following:
Firstly, I learned that now I know a place where the grass is really greener. Katy Perry's "California Gurls" might be pedestrian but there really must be something in the water in San Diego. I spent the first few days in Del Mar, La Jolla, Encinitas, and Pacific Beach. Words cannot do justice to the beauty of this part of the state. The beaches, the sun, the trees, the views, the mountains, everything makes you question how this is still part of the United States. Going out to dinner, shopping, and getting drinks in all of these neighborhoods feels like you should be on vacation (which I was) but people actually get to live there! They can have the ease and the beauty every single day, it's incredible. I went for long runs through the hills and along the ocean and felt overwhelmed by how picturesque this part of Southern California really is.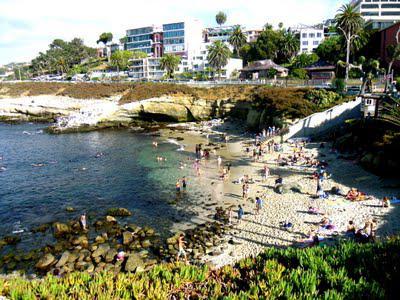 Besides the beauty, the ease, the serenity, and the immediate comfort of the San Diego area, I also learned a ton about myself. I was there specifically to spend time with my cousin, who is a specialist in just about every aspect of life, but is fantastically organized, intelligent, and skilled in job search techniques and career exploration activities. So, I learned that according to the Myers-Briggs personality type test that I am an ESFJ (extroversion, sensing, feeling, judging).
ESFJ: Warmhearted, conscientious, and cooperative. Want harmony in their environment, work with determination to establish it. Like to work with others to complete tasks accurately and on time. Loyal, follow through even in small matters. Notice what others need in their day-to-day lives and try to provide it. Want to be appreciated for who they are and for what they contribute. Yup, sounds like me.
Another personality test showed that I see myself very similarly to how others see me and how I believe others should see me. Unassuming, unselfish, agreeable, peaceful, extroverted, stimulating, enthusiastic, socially poised, impatient, restless, quick, tense, accurate, careful, thorough, and self-disciplined. Yup, sounds like me too.
I learned that my strengths lie in leadership, communication, sales, customer service, street smarts, creativity, organization, and optimism. Based on all of that, if anyone has an idea for a job or career that is fast-paced, involves working with people, highly active, creative, detail-oriented, and fabulous then by all means please let me know. Even better, if you know of a specific position available in the areas of public relations, marketing, sales, writing, human resources etc, etc....well then you just send me a quick note! Please and thank you.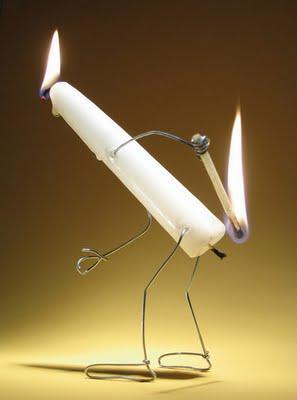 Oh, by the way, I saw my ex-boyfriend who I hadn't seen in two and a half years.
Moving on, I learned that I really effing can't stand Facebook and g.d. mobile uploads. As I'm falling in love with San Diego, I was also feeling completely left out of the Sona Saturday and Tiki Monday routine that my friends were engaging in without me. What I learned that is that if I do decide to move across the country, I will have to accept that life goes on. I will have to be prepared to see pictures and hear stories about "how absurdly drunk and ridiculous we were" or about "the funniest thing that has ever happened" even though I wasn't apart of it #WayHarshTai
I learned that LA is way more than what The Hills and the Kardashians expose us to. It's like when people watch Jersey Shore and stereotype the entire state that way except it's totally not. I saw a side of LA that I think I might have to live in for some time. I got to the top of the escalator from the metro and saw this: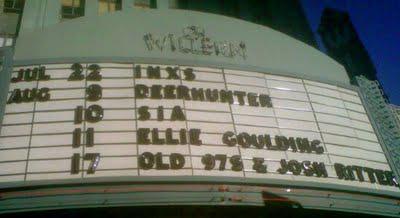 On the East Coast I would have to do some serious hunting around to see these artists but not in LA! At that moment, I knew I had come to the right place.
I walked around 3rd Street Promenade, had drinks on a rooftop bar (one of many in the area) that was part of an outdoor mall, and then went to a local spot with my newly found awesome cousin, Zoe. It was so nice to be out and about with someone my age and really see the city from a different perspective. Sitting at Library Alehouse, munching on ahi tuna and sipping local beer, the Matthew & the Atlas song that I posted in the post just before leaving for CA came on. It was awesome. No one over in New Jersey has ever even heard of the band but in LA it is playing at a bar! I melted.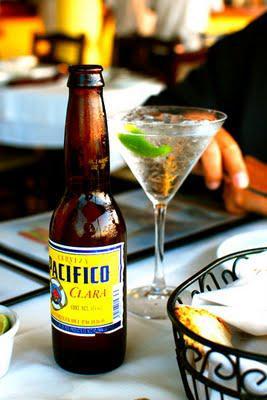 I learned that I am still not sure about having children. The four crying babies surrounding me on the airplane (no exaggeration) and the hours I spent in LA with my goddaughter showed me just how much more time I need before making that decision. Of course I have the time so I'm not worried but I have very little patience right now. Please, for the love of California, please understand that I love my cousin/goddaughter more than any other red head in the entire world but pondering whether or not I'm popping out any of my own...well, we'll just have to see 'bout that.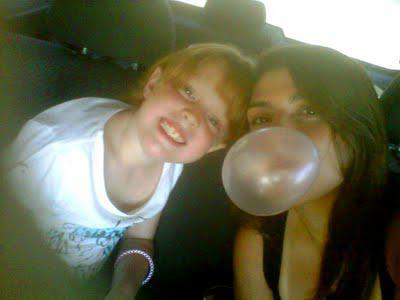 I learned that I really regret not making more time for the Santa Barbara portion of my trip. We went there for dinner one night and spent some time in "the Heavens" (don't worry if you don't get it, you don't have to) but it just wasn't enough. I would love to go back and spend some QT time with my Aunt Honey.
I learned that my brother, Mark, is the sh!t. San Francisco was the perfect way to wrap up my trip because it was all about music, non-touristy sight-seeing, booze, and food. We made our way around SF based on the best places to eat, drink, and catch glimpses of the Golden Gate Bridge. It was the first time he and I had undivided, one-on-one, bonding time and I can't wait to have more of it. I already kinda knew my sister-in-law rocked, "you think I don't like mustard?" I mean her name is Levine K, 'nuff said, but I was pleasantly surprised on how many levels my brother and I could connect on.
One favorite moment was the slightly buzzed driving tour around the city at night. Another was the time I squirted ketchup all over my food, our table, the floor, the table next to us, and all over the pissed off and staunchy teenage girl sitting at the Dipsea Cafe table across the aisle. I loved hiking through the redwoods, going to Amoeba Music on Haight Street, and discussing the debt ceiling at Alembic. I'll always remember shopping on Hayes Street, having lunch at The Ramp, and enjoying the views from Pier 39. However, I think my favorite part of the whole trip was when we got home on Sunday night. I saw the thirteen year old come out in my brother while he played DJ and educated me on rock music. We sipped vodka (and gin...or whatever else we could find) and rocked out for hours. I watched him and Levine dance around their living room and just thought, "damn, they are cool." So those were my favorite moments, oh wait, that was the whole SF trip! I loved every part of it, including the hours spent watching Twin Peaks and the long walk through the park on Monday morning with Mark.
Now that I've really spent some time in California, I understand some of my friends who are from there much better. An old co-worker, George, is such a California dude and it explains so much about his demeanor and outlook on life. I also thought about a few guys I've dated who were from CA and now I just have a better understanding of who they are. It is weird, it really is, but totally makes sense and is completely bad ass at the same time.
And although I already knew this, the concept was further developed throughout my stay in CA: great women make the world go round. My cousin Eileen is amazing. She is intelligent, caring, creative, organized, gorgeous, genuine, and fun. I can't thank her enough for passing along so much wisdom and knowledge to me. She has given me so much confidence and support that I know I could not have received in any other setting or from any other woman. She also introduced me to her friends who are successful, intelligent, and giving women. I was so grateful that they took time out to meet me and talk to me about their careers, their lives, and my future.
My Aunt Jan is loving, kind-hearted, and absolutely hilarious! Throughout my stay with her family, she and I really bonded. Unfortunately for my uncle, our side-splitting laughs were often at his expense but we really had the best time together. I spent a few hours with my Aunt Honey and left craving more. And my sister-in-law Karen is a strong, intelligent, supportive, and clever woman. I admire her work ethic and sassy, free-spirited, don't you tell me what to do attitude. I have Ya-Yas all over the country.....hot damn.
I learned that as a brunette I am a minority on the West Coast. I learned that people from California keep the visors down in their cars all the time.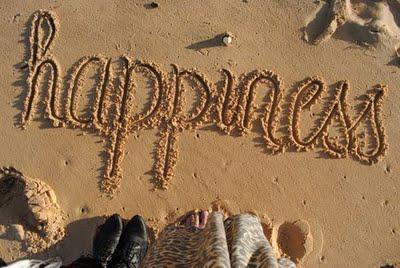 Finally, I learned that I live on the wrong coast. It's no secret that I am a happier and a more at ease person in warmer weather because I can exercise and be outside. The music that gets deep into my soul is loved and appreciated over there, not criticized for being too indie or dark. I like that over there my style will stand out for being just a tad Jersey instead of feeling like I'm always a step behind the NY trends. I learned that as much I have myself figured out, that there is so much more to learn. That being said, what better way to learn more about myself than in a new setting with new opportunities and with new people. I am thankful to have grown up in New Jersey and to have lived in Washington, DC because both locations are so much apart of who I am today. However, I do incredibly well with change so I just might have to make a big one.
Sassarella Says....California, here we (might) comebut for now, I just came to say hellooo (ya know, like ideas & men)!
"California" by Phantom Planet
"Hello" by Martin Solveig & Dragonette