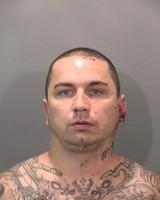 Local news reports
A 28-year-old Redding man was arrested early Sunday in the shooting death of his friend, even though he didn't fire a gun.
The victim was shot and killed early Sunday morning when his friend stirred a confrontation while looking for his ex-girlfriend in Shasta Lake, Shasta County sheriff's officials said.
But authorities make no secret they believe it was that friend, William Roy Thietje, who caused the death — not the shooter.
Thietje, 28, was arrested on suspicion of involuntary manslaughter and felony assault after he allegedly rammed his van into another parked car in a fit of anger while looking for an ex-girlfriend. That action, deputies said, prompted a homeowner in the area to shoot at the van to stop Thietje from hitting a nearby pedestrian.
"The actions by William Thietje caused the death of his friend," according to a sheriff's office news release.
I find it hard to believe that a gun owner who intervenes by "shooting at the van" is considered within his rights while the driver of that van is blamed for the killing the gun owner did.
I'm always suspicious when gun owners shoot at vehicles to stop them from running people over. That's the kind of thing Bruce Willis does in the movies. In real life, it amounts to out-of-control behavior motivated by rage or outrage.
What's your opinion?  Please leave a comment.