Photo Post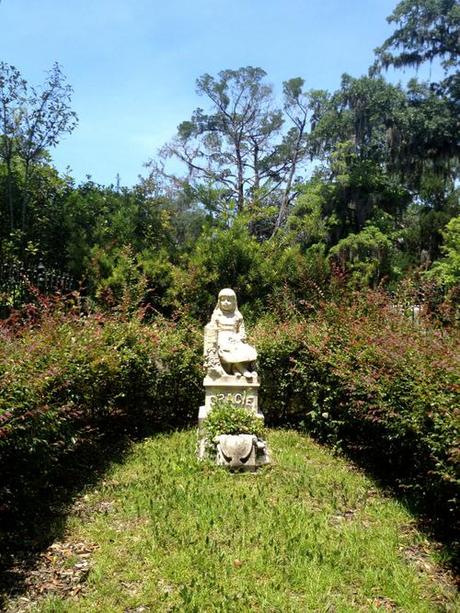 Caleb just took me to Bonaventure Cemetery, partially for the view from the bluff on which it presides, but mostly to see Gracie.
Gracie was 6 when she died, in 1890, from pneumonia. Her father owned the Pulaski House, one of the nicest hotels in Savannah.
She is memorialized by a marble statue, carved in her likeness. At night, the eyes glow red. Or so some people say.
If you speak badly of Gracie, the locals warn, she'll cause your car to crash on your way home from the cemetery.
"Glow, bitch," Caleb's friend once told her, in the witching hour. He and Caleb had stolen his father's car, and taken it to the cemetery, looking to be spooked by ghosts.
On the way home, they hit a pothole, and burst their tire. Not exactly a spectacular wreck, but uncanny nonetheless.
After we saw her statue, at high noon, I told Caleb: "I don't believe in ghosts."
Next to the gate, we stopped at the visitor center to use the bathroom. Caleb waited in the car while I ventured into the empty house.
I opened the door to the bathroom, and the hand dryer, against the wall, immediately started blowing.
All the while I was in there, it never stopped, even though I didn't go near it.
I did my business fast, and ran out to the car, tripping over my long skirt.
"I believe in ghosts now," I told Caleb, panting.