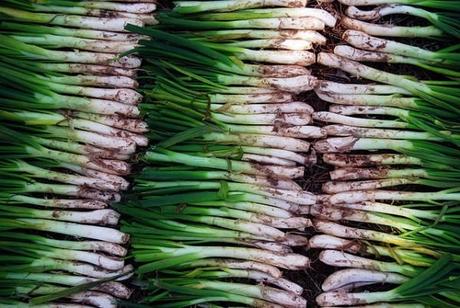 Photo courtesy of Laia Solanellas, Wikimedia Commons.
I have never eaten a calçot before.  Until recently, I had never even heard of a calçot.  For those of you who are also in the dark it's a type of green onion found in the NE corners of Spain in Catalonia.  So when Richard of Charming Villas Catalonia asked me to attend a Calçotada – a gastronomical event where huge quantities of calçots are consumed in Catalonia, I jumped at the authentic, bad breath smelling chance.   Go big or go home I say!  Or maybe that's just me talking big.
So the question is how many calçots do you think I can eat?  Calçots are milder tasting than regular onions and can be dressed up with tasty sauces making them more palatable.  There is also no time limit in this calçot eating contest.  The event is being held on Sunday, February 19th.
The person who guesses the closest will receive a $25 Amazon card and the promise that I will not breathe on them following the competition -  everyone else may not be so lucky -heehee.    To enter you must:
1)Leave your guess in the comments section below &
2)Like Monkeys, Mountains and Maultashchen on Facebook &
3)Like Charming Villas Catalonia on Facebook
Contest closes at 11:59 CET Feb 19, 2012.
The winner will be posted here and notified the week of February 20th.
This post has been submitted to WanderFood Wednesday's where you can see more food related posts.