I was a little wary on these before. Cake batter cookies... I found them on pinterest a while back and thought they would be difficult to make... cake batter is a little runny and I thought it was just a little weird. But then I found another recipe from 
Keep Calm & Carry On
 , this blog is awesome and super duper cute! So, I got this recipe from her. I looked at the ingredients and thought about it for a little bit, then I realized that mixing all these ingredients together wouldn't make them runny at all! It would make them doughy, like cookies! Perfect. I gave it a shot. I also wanted to make these because we have tons of cake mix around. 
This recipe is super simple and turns out so cute!
This is what they will look like :)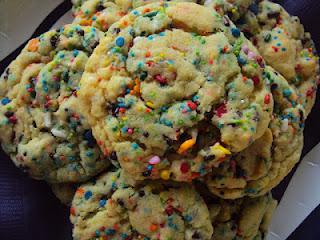 Cute huh?
Ok, let's get started!
What you will need for the cookies...
(Makes 30-32 cookies)
(Preheat oven to 350 degrees)
~1 box of vanilla / yellow cake mix (I used yellow cake mix)
~1 tsp of baking powder
~2 eggs
~1/2 cup of veggie oil
~1/2 tsp of vanilla extract
~1 cup of colorful sprinkles
~~~~~~
~~~~~~~~
~~~~~~~
~~~~~~~~~~~
Start out with the cake mix. I used Yellow cake mix from Pillsbury. I love smelling yellow cake mix. It smells like the buttercream candle from Yankee Candle. That scent... mmmm you just want to eat it! Well, with the cake mix, you actually can eat it!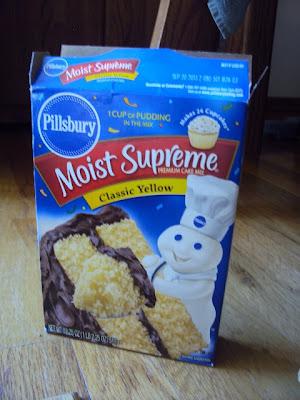 So, yes, start with the cake mix and the baking soda in one large bowl...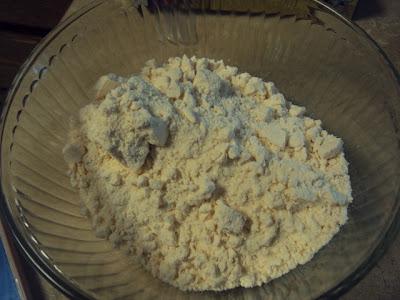 Set that bowl aside, and grab another kind of smaller bowl, and mix together the oil, eggs and vanilla. 
I used a whisk to get the egg mixture all mixed up. 
In the picture it isn't mixed...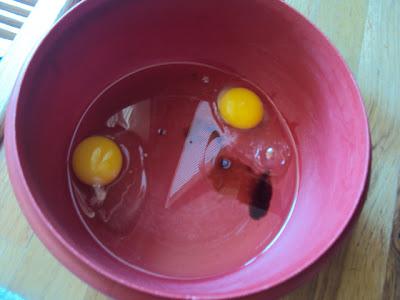 Once it is all mixed, pour the egg mixture into the bowl with cake mix and baking soda, combine the egg mixture and the cake mix mixture so it turns into a dough...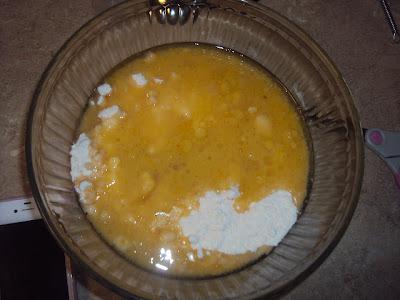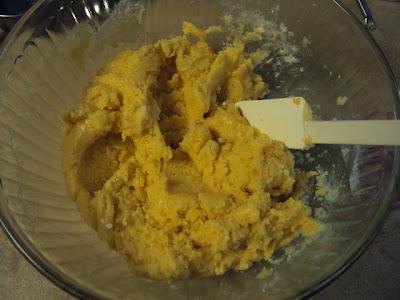 Here comes the colorful part! Get all the colorful sprinkles you have in your pantry and pour them into a 1 cup, cup. You are going to add so much color to your cake batter cookie dough! It's crazy! I had to double check the recipe and yes it ONE CUP of COLORFUL SPRINKLES! ONE CUP!
I grabbed all the colorful sprinkles we had and I combined them all into a cup. I poured the cup of sprinkles into the dough bowl and it created a sprinkle mania!
By the way... lots of pictures...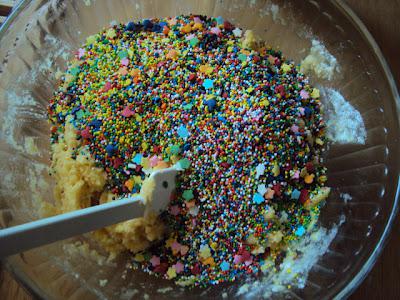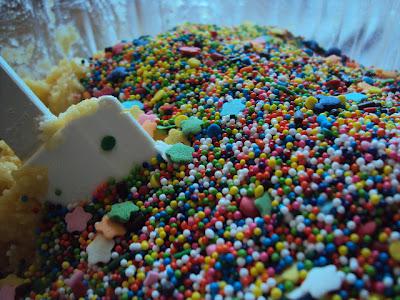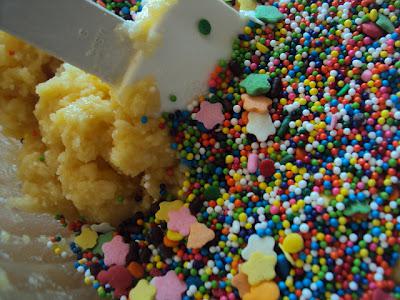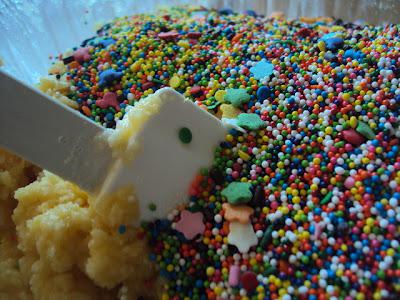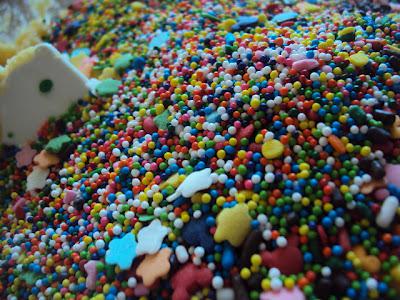 Then you mix it up! My sprinkles turned my dough a tint of green...
It looked sooo cool!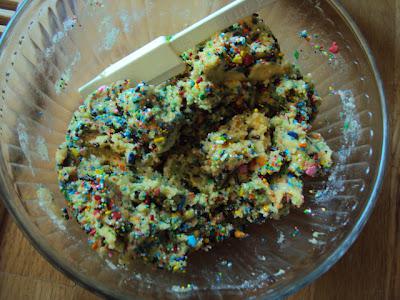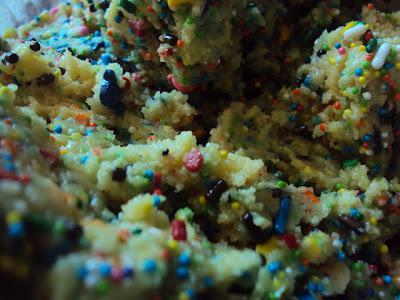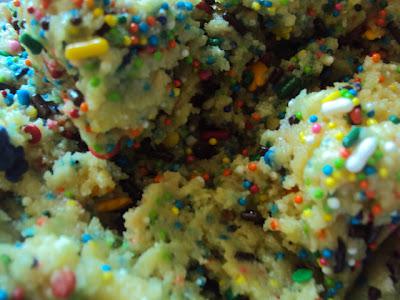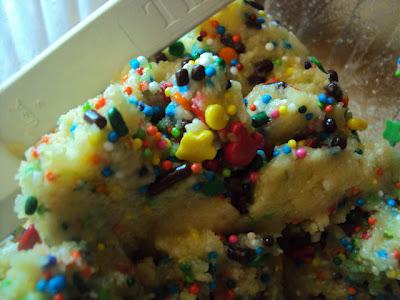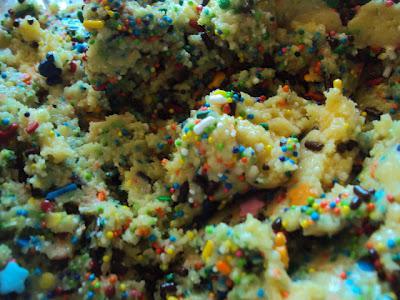 So now, you get out a cookie sheet and you do not have to oil it or grease it. The cookies already have oil in them, so you do not need to grease it! Just ball them into about 1 inch cookie dough balls and spread them out on the cookie sheet.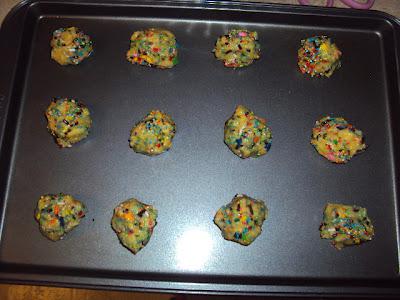 Bake for 10 minutes. 
I made two pans, but I only took a picture of the one pan. The other pan was a lot bigger and fit most of the rest of the dough on it. I have some left over that we can just eat or make some more cookies out of. I put it in the fridge. After they are all done baking, they turned out so cute!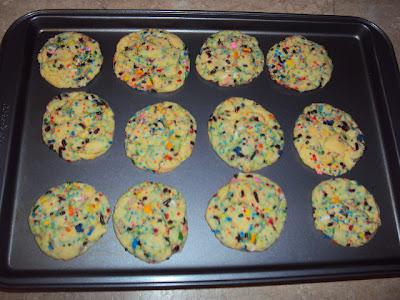 WAY colorful. As you all know, if you read my blog regularly, I post TONS of result pictures of the food or projects that I do. So... I am going to post TONS of pictures. Not like 50, not like 25 pictures, but a lot. I took quite a few. Some I took with my iPhone and they look AWESOME!!
So, these are my cookies :) Wicked delicious too.
These are all my OWN photos. If you want to use them in any way... please please please post the link to my blog. I never steal and I wouldn't want to be stolen from. 
Now, these are from my camera...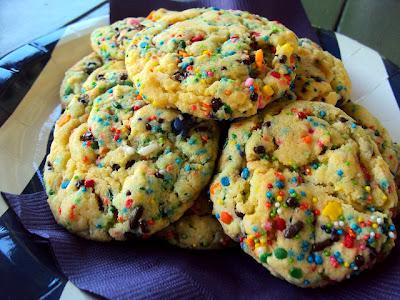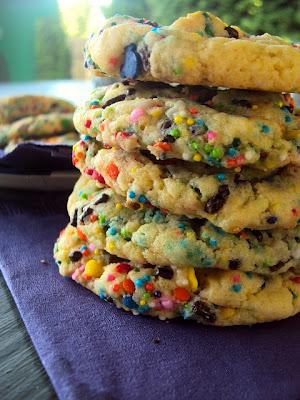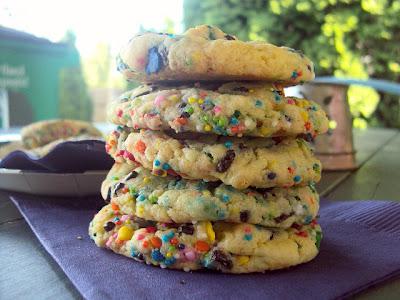 This one is taken with my iPhone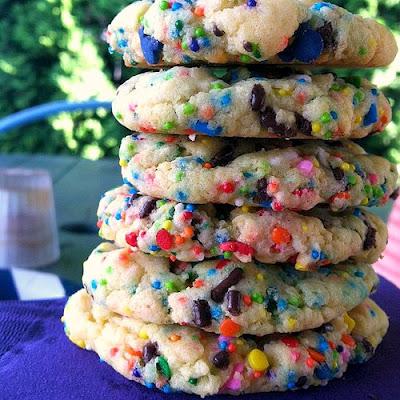 Yeah. I can't believe my iPhone quality!
The rest were taken with my camera.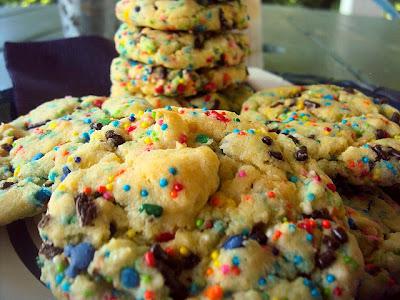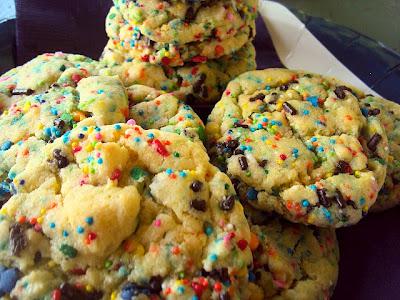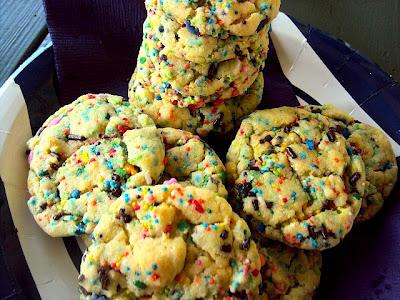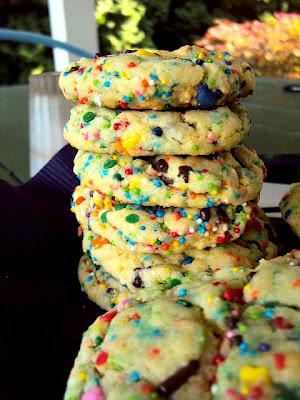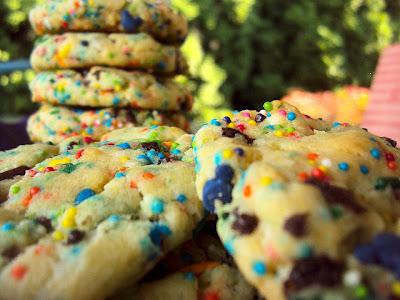 And the last picture...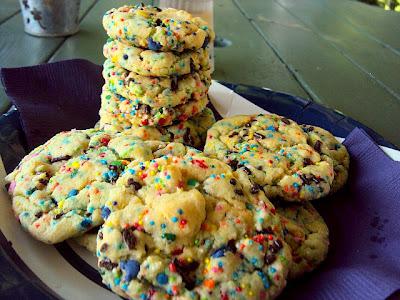 Ohhh man!! They are so delicious! I love the colors!
So, I tried something new today! And I went picture over board with the tons of colorful pictures. 
But, you know what? This is my blog and I can post as many pictures as I want. ha! 
I hope I didn't bore you with the many cookie pictures. I wish I could just post one, but I won't let myself.
I hope you enjoyed the pictures and I hope you try the recipe! 
Please leave comments!
xoxo