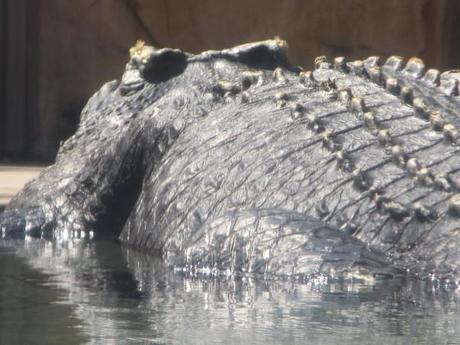 I've heard of cage diving with sharks, but never cage diving with crocs. This was one for my bucket list! These weren't just any crocs, they were salt water crocs – the largest species of crocs in the world.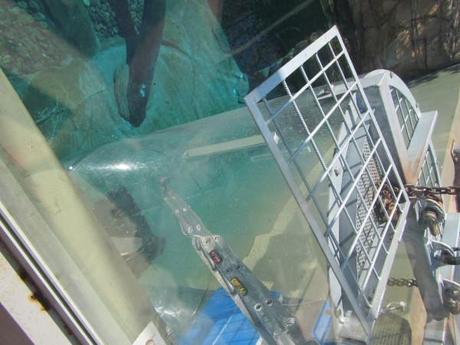 Cage diving with crocs is offered at Crocosaurus Cove in Darwin. It's the only one of its kind in Australia and one of only a few places in the world where you can go cage diving with crocs. The acrylic cylinder in which you are lowered is aptly named the Cage of Death. For surely that would be your fate without it.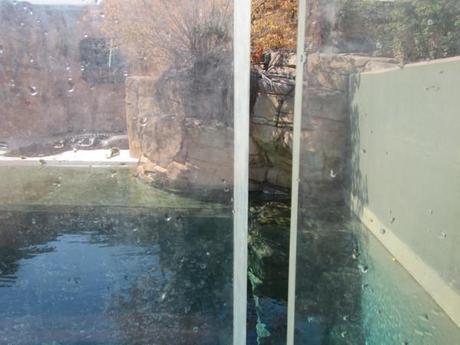 View from inside the "Cage of Death"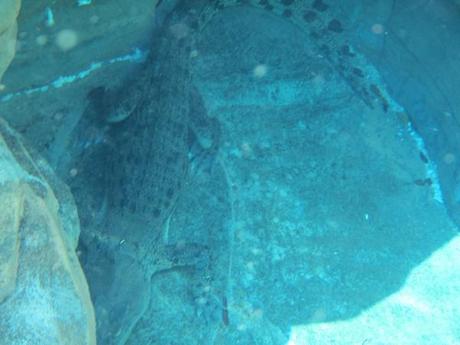 Thankfully Bess was more interested in her beauty sleep than she was in attacking me.
A crane lowers you into three different croc enclosures, where you spend approximately 5 minutes each. The first enclosure was Houdini and Bess'. The croc handlers warned me that Houdini was the jealous type and may attack me through the cage – a rather daunting prospect, which I filmed with my Canon PowerShot D20:

I guess I must not have seen like a threat to him as he didn't even move. I couldn't decide whether that was a good thing or not. Bess (pictured above, under water, Houdini is featured in the video) stirred a little bit to let me know I was disturbing her beauty sleep, but didn't protest too much.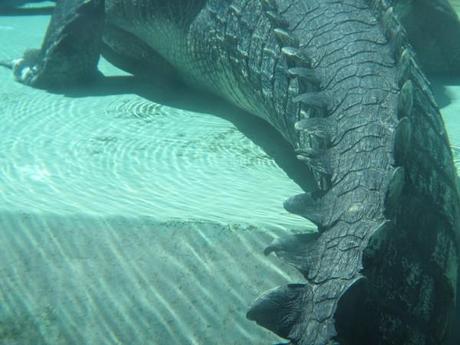 Next up it was time to visit Denzel, another huge croc who didn't take kindly to visitors. We got along just fine and he even posed for photos, which I also took with my Canon PowerShot D20, which is waterproof up to 10 meters – and croc proof!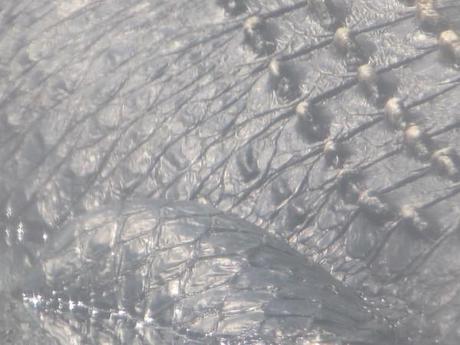 Finally, it was time to visit Chopper (very top photo). Being lowered into an enclosure with a croc named
Chopper
is one of the most daunting things I've ever done. He got his name for a reason. He's feisty and has even lost his front foot in a battle with another croc. Plus, he was having a bad day – he just found out earlier that day that he had been dethroned from his title of
3rd Largest Saltwater Croc in Captivity
to 4th largest. Lucky for me he choose to sulk instead, or perhaps he didn't view me as a worthy competitor. Either way, I was definitely more interested in him than he was in me. It's the closest to a croc that I've ever gotten!
My cage diving with crocs experience was relatively mellow, but every dive is different. Had the crocs been feisty like they can be on some dives, I might have peed in my swimsuit. Regardless, I felt privileged to be so close to saltwater crocs, knowing that I wouldn't be their dinner – although I did get to feed them, but that's another story!
Know Before You Enter the Cage of Death at Crocosaurus Cove:
The Cage of Death holds between 1-2 people.
The entire experience is ~15 minutes long, ~5 minutes in each enclosure.
I'm 5'8″ (175cm) and the water came up to my neck, if you were shorter you would need to tread water.
Advance reservations are required.
Visit Crocosaurus Cove for more information.
Thank you to Crocosaurus Coveand for Tourism Northern Territory for hosting me and proving me with such a unique, fun experience. As always, all opinions expressed are my own.
I flew from Frankfurt to Singapore with Qantas airlines, who kindly upgraded me to Premium Economy, which was wonderful, thank you! From Signapore to Darwin I flew with JetBlue.