Anthony's Restaurant Rating:
41/100 X
Welcoming:3/10 Menu Choices: 6/10 Food Presentation: 2/10
Food Temperature: 3/10 Food Taste: 4/20 Service: 3/10
Ambiance/Music: 7/10 Architecture/Interior: 6/10 Air Quality: 7/10
Total: 41/100

More about:
Rouge
Cafe Rouge, located in the heart of Leicester Square, is celebrating its 25th anniversary this year. One of the landmark cafes of the city, this French-style bistro and restaurant serves breakfast, lunch and dinner all day, all week. With more than 115 different Cafe Rouge restaurants around the UK, this place cannot be missed and they say is a must try… let's see.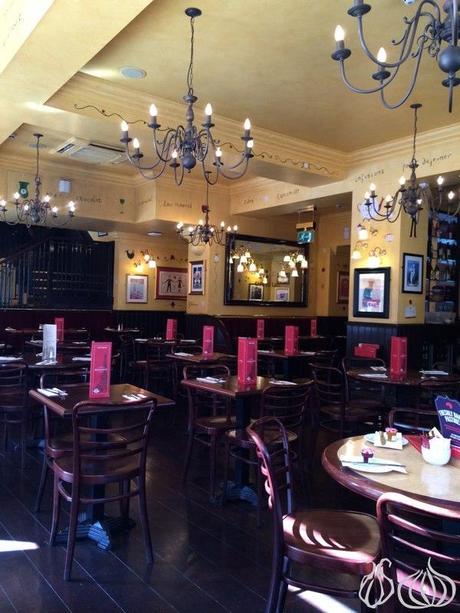 Waking up early on a beautiful Sunday morning, my friend and I decided to go out in search for a nice place to have a hefty English breakfast. Coincidence led us here, since the Covent Garden subway station was closed and we had to stop at Leicester Square. Cafe Rouge popped up in front of us.
This place has a real French feel, transporting you to the streets of Montmartre and the Moulin rouge. You enter a space overtaken by wood and decorated with yellow and red colors. The floor is covered with real brown wood and filled with square and round tables from the same material. Look around and start discovering the menu written on the yellow walls, as well as the big chandeliers hanging from the ceiling. It's kind of a childish spirit, bizarre and fun at the same time.
One thing that encouraged me to go in were the large letters decorating the glass facades, French words and a old style typography reflecting the place's offerings.
Before even ordering, you will notice the touristic ambiance of the place. Busy waiters, some unwelcoming, others unprofessional. Just eat and leave, others are waiting.
Two mochas please: what we received was more of a hot chocolate drink. A good first impression that left me wondering if the food is going to be as bizarre as the drink.
The breakfast menu:
Pain perdu
Petit pain with sausage or bacon
Five choices of eggs
Pasty bites
Omelette
English breakfast
Vegetarian breakfast
Four choices of croque sandwiches
A kids menu
Hot drinks
We ordered:
Pain Perdu £5.95: The signature French toast topped with banana, warm chocolate sauce, toasted hazelnut crunch and whipped cream.
Eggs Benedict £6.95: Free range poached eggs on toasted muffins, with rich hollandaise sauce and smoked ham, served with sautéed spinach and rosemary herb potatoes.
The English Breakfast £7.95: A traditional English breakfast with free range scrambled eggs, outdoor reared pork and horn sausage, back bacon, baked beans, chestnut mushrooms, roast tomato, rosemary herb potatoes and toast.
All tables are setup with a small plate, a long spoon and a portion of Bonne Maman jam.
Unappetizing and dirty plates just landed on our table…
Food was below acceptable:
Eggs Benedict plate was not appetizing at all, the eggs were too white, the sauce too creamy, too oily and it had a thick consistency. The English muffins were not cooked enough, not toasted enough, and a bit too chewy for what they are. As for the taste, the sauce is too sour and the ham is too fatty. With that are offered some sautéed spinach as well as potato wedges.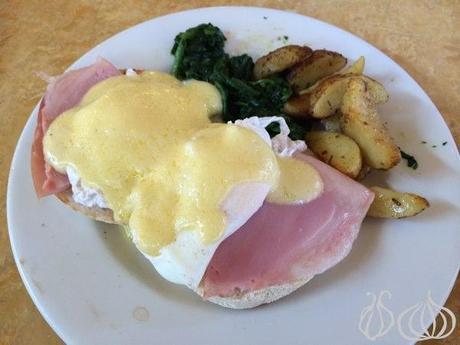 The English breakfast plate is richly filled, generous and good for more than one person, but the individual parts are unacceptable. The potatoes contain too much garlic, the mushrooms were served cold, the eggs were hard, dry and have a dull taste and the sausage and bacon are typically English and were nothing to write home about. Was it a good reflection of a typical English breakfast? For an amateur. Would I recommend it or order it again? No.
The French Toast: Here was the huge deception. Two thick slices of bread, served cold, lacking juiciness, or with no juiciness to be more precise, covered with cold bananas and one of the most bizarre whipped creams I've ever tried. A lemony, sour, thick, acidic and hard whipped cream we usually use for pasta. The bun should have been sweeter, softer and filled with milk and sugar and here it's not. The cream is off putting. The chocolate is far from being tasty… Mix it all together and you find yourself in front of an inedible mountain of inedible things, like a volcano ready to explode.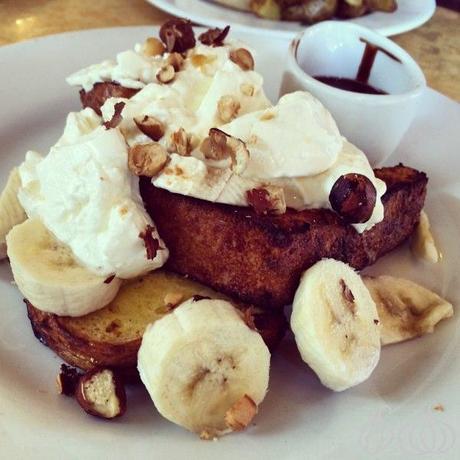 I dreamed of a good English breakfast and left hungry and unhappy:
We ordered bread that took forever to arrive and was served without any butter
The plates looked awful, dirty, badly presented and spilling from all sides
The food was not even close to being a French fine quality
The service was bad
The coffee was not tasty
The only good thing, was that we got free internet. Thank you.
Maybe I made a mistake of choosing a French place in the British capital. I've heard a lot about Cafe Rouge and was honestly expecting something much better. A total deception that cost us £30.
























Pages  [
1
]  [ 2 ]