Hi guys,  I'm guest posting over at This Lil Piglet about a spectacular Canadian-based charity called Cadbury's Bicycle Factory.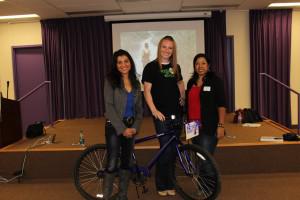 Aditi, Heather & Myself with one of the actual bikes
This charity donates bicycles to children in Ghana to help make their lives easier. To do this post, I even got the opportunity to interview Heather Moyse, the Canadian gold medalist in bobsledding, who has now become a cyclist.  Heather has graciously become the ambassador for the Cadbury's Bicycle Factory and she has a lot to say about it!
I would tell you all about it, but I've already done so in the guest post, so go on over and check it out…..oh and by the way, if you love chocolate and Cadbury's products, there's a little extra incentive (hint hint giveaway) after the post!