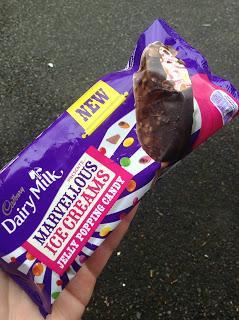 Cadbury have extended their "Marvellous Creations" brand into everything now from pot desserts to ice cream, so it was only a matter of time before they did an ice cream stick too. The first (and only) variety in the range is this Jelly Popping Candy stick, and so far it only seems to be available in The Co Op. I paid £1.60 for it recently and it's described as a "Vanilla flavoured ice cream swirled with raspberry sauce, candy coated milk chocolate pieces and strawberry jelly pieces, covered in milk chocolate with popping candy". Phew, what a mouthful!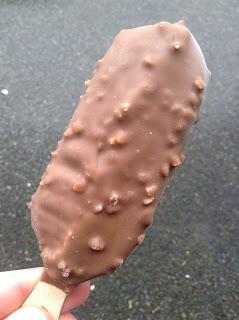 It looks like a nobbly Magnum gone wrong...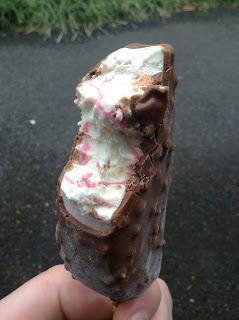 Biting into it I could taste the popping candy, it's nice and crackly, not tame like some popping candy chocolates can be. The sauce, jelly pieces and candy pieces add some interesting flavones and textures, although because the ice cream was still quite solid they lost their flavor a little. Still, it's an interesting and fun combination regardless.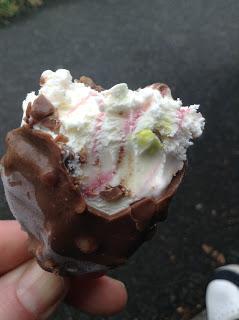 Overall, this ice cream isn't going to be challenging the Magnum crown in terms of yumminess anytime soon, but it's certainly a nice change if you like to live a bit more dangerously. I imagine kids will enjoy this more than the adults, and it'll be nice to see some other varients in the range. Please can you do a peanut butter ice cream, Cadbury?!


8 out of 10.