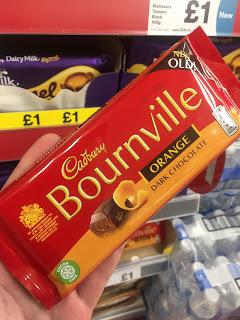 It's that time of year when all the new products are being launched - hurrah! Let's celebrate with another Spotted In Shops post...
First up is the above bar of Bournville Orange Dark Chocolate which I spotted in Iceland Foods. It costs £1, is Dairy Free and has a "New Old!" label on...because this isn't the first time Cadbury have made this bar. It was around many years ago (2009!) along with an Old Jamaica Bournville, just before Cadbury were taken over by Kraft.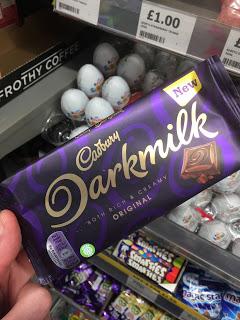 Other new developments from Cadbury are their Darkmilk range; a rich and creamy chocolate with a higher percentage of cocoa than Dairy Milk (but still containing milk, obviously). Currently available for £1 from Tesco in an Original variety...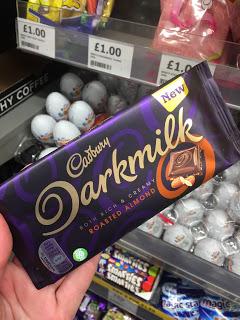 Plus Roasted Almond. Does this sound like your kind of thing? Let me know in the comments!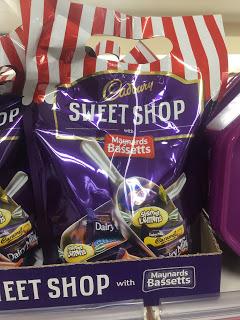 A rather strange product Cadbury have launched is this Sweet Shop style bag of chocolates, that includes Dairy Milk, Caramel, Fudge and Eclairs...plus Maynards Bassetts Sherbet Lemons?! Spotted at Iceland Foods.
Cadbury Screme Egg hasn't made an appearance yet this year (however there's still time!), instead we've got Goo Heads! They're basically mini Creme Eggs without the orange yolk centre. A similar product was available several years back - caramel filling with red colouring under the name Dead Heads, but presumably they were just a bit too gruesome!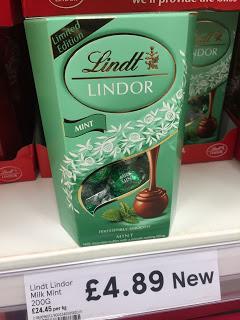 Lindor are going minty this Christmas and have launched a limited edition mint variety...yum! Available at Tesco.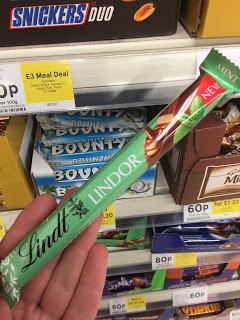 If you want to watch your portions they've also made it into a smaller bar, which is available at Tesco, Sainsbury's and The Co Op.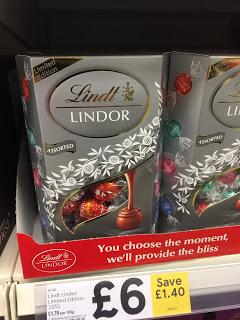 Lindt have also launched this limited edition Assorted Lindor pack, with Milk, Dark, White, Coconut and Strawberry, etc. Available at Tesco.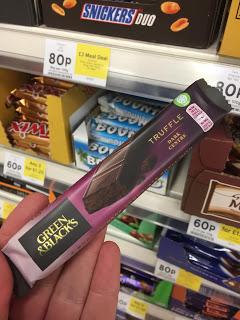 Mondelez have already expanded the Green and Blacks range with Velvet Edition, and now they're making truffle bars too. Available in Dark and Milk chocolate varieties at Tesco, unfortunately not Dairy Free.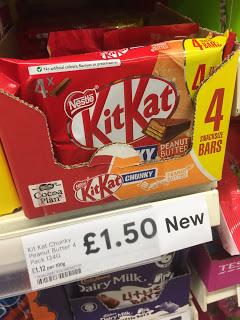 If you love Peanut Butter Kitkat Chunky you can now get them in multipacks at Tesco!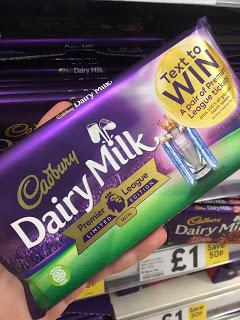 I'm not quite sure what the above Premier League Limited Edition Dairy Milk is exactly, has anyone tried it? Available at Tesco.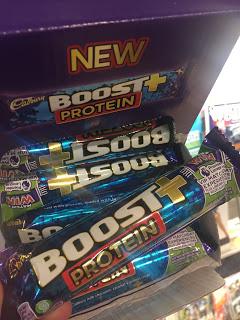 Another new product in Cadbury's ever-expanding range is this Boost Protein Bar, available at WH Smiths.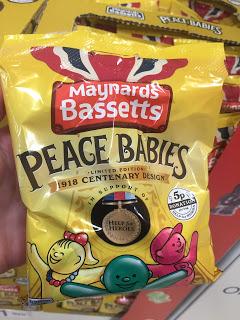 Mondelez brand Maynards Bassetts have launched a Peace Babies Centenary Design Limited Edition, with 5p from every pack donated to Help For Heroes. Available at Tesco.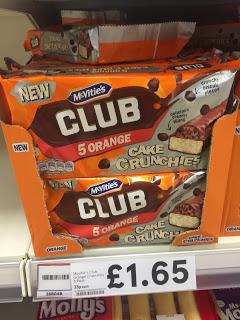 McVitie's have added an Orange Club variety to their Cake Crunchers range, perfect for any chocolate orange fan! Spotted in Tesco.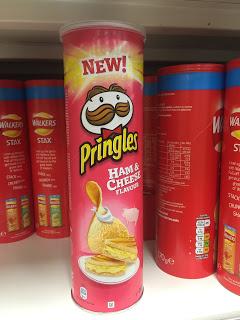 A new flavour of Pringles...Ham and Cheese! Spotted at Tesco.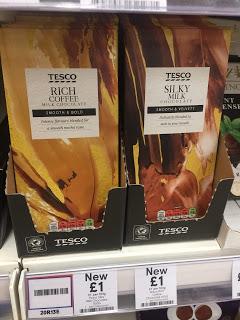 Tesco have added a few new varieties to their Chocolate range...Rich Coffee and Silky Milk.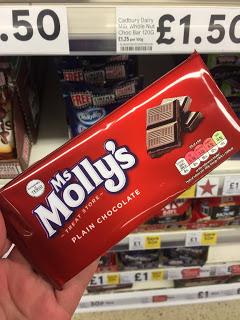 Tesco have also rebranded their Value Chocolate as Ms Molly's. Presumably it's meant to sound a bit posher!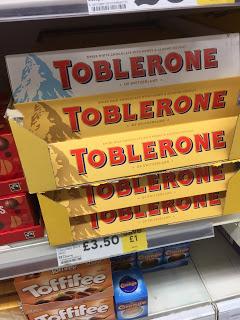 Tesco are now selling White Chocolate Toblerones for the festive season!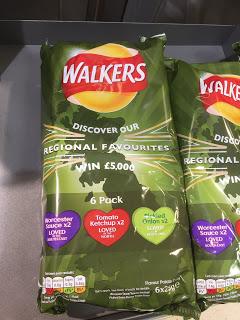 Walkers are doing Regional Favourites multipacks of their crisps - apparently the North loves Tomato Ketchup the most! Spotted in Waitrose for £1.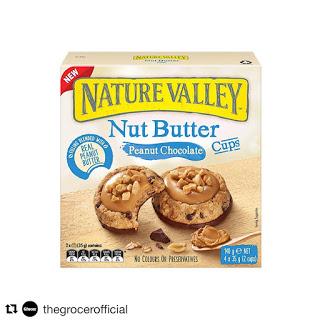 Not available in shops just yet but Nature Valley are launching some new Nut Butter Cups in both Peanut Butter and Almond Butter varieties. Who's excited?! Credit to The Grocer's Instagram for the above photo.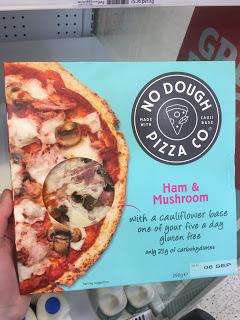 Low carb pizzas are now available at Sainsburys! With a cauliflower gluten free base they come in Ham and Pineapple flavour as well as Vegan Margherita. Both cost £4.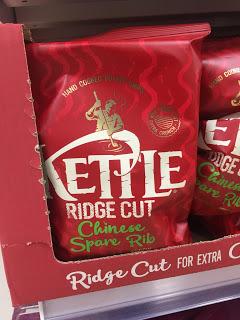 Kettle Chips have added some new Ridge Cut flavours to their range, in Chinese Spare Rib...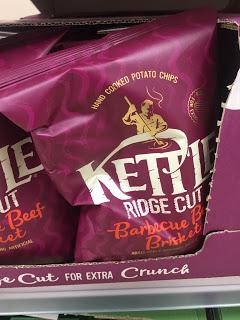 Plus Barbecue Beef Brisket, and Jalapeno Jack. All sound pretty delicious! Available at Tesco.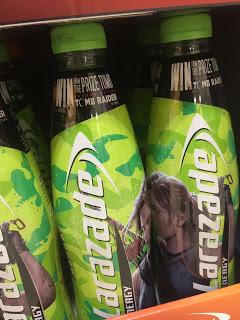 Lucozade has temporarily been renamed as Larazade to promote the new Tomb Raider film, and they've also launched a limited edition "Apple Croft" variety. Available at Tesco.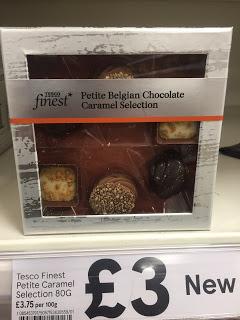 Also new at Tesco is this Finest Petite Belgian Chocolate Caramel Selection...featuring Salted Caramel, of course!

Well that's all for today folks, but do stay tuned for more Spotted In Shops since there's so many new products being launched at the moment!