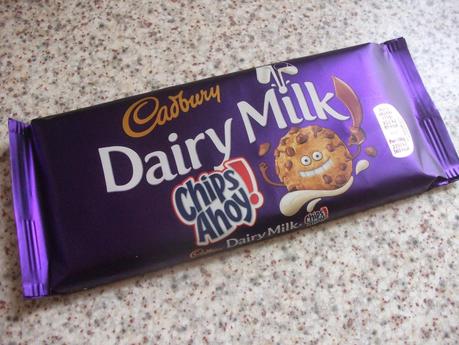 The new products from Cadbury this year keep on rolling in...with the latest addition to the Dairy Milk range being this new variety with Chips Ahoy! Cookies. It's an odd addition since most UK folks have never heard of Chips Ahoy! cookies before - they aren't even sold over here! Maybe Mondelez are planning to launch them soon though.
The bar contains a biscuit flavoured cream filling, with pieces of chocolate chip cookies embedded within - it's somewhat similar to the Dairy Milk with Oreo bar in fact.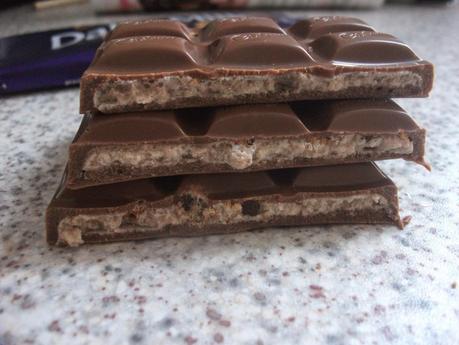 The chocolate smelled very biscuity, and according to the wrapper the filling is "biscuit flavoured" so I don't know if they've mixed biscuit paste with it as well as the cookie pieces.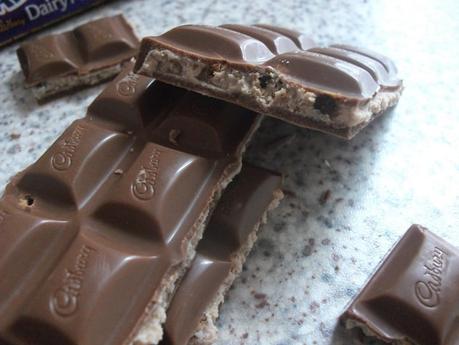 It tasted good, in fact very good and I would say it even surpasses the delicious Dairy Milk with Oreo! The filling was very dense and creamy with a rich biscuity flavour, with the cookie pieces bringing a nice crunchiness and the chocolate chips adding further to the texture. I've never tried Chips Ahoy! cookies before so I can't say if these are like the real thing, but they're certainly very tasty.
Overall, this is a welcome addition to the Dairy Milk brand and one I hope sticks around. Although, I do think it might have some competition with the Oreo variety since they're both rather similar bars. I hope next time Cadbury bring out a new variety they choose something without biscuit, such as coconut filled Dairy Milk, or Peanut Butter Dairy Milk (they've already done this in other countries!)...now that would be a real winner!


RATING: 8 out of 10.


Price: £1 at Tesco.
Allergy Information: Contains wheat, gluten, milk, soya. May contain nuts.
Suitable for vegetarians?: No - possibly due to e-numbers.
Nutrition (per 3 chunks): 85 Calories, 5.4g Fat, 8g Carbs, 7.3g Sugars.