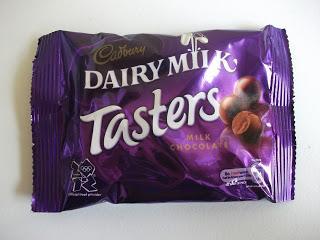 Dairy Milk Tasters are nothing new, but despite this, many people may never have heard of them. This is because they have limited distribution and seem to pop up in the most random of places.
I found these in B&M Bargains for 39p. B&M always seem to be selling them so they must be a permanent line there. The packaging has been updated recently, it's a lot more curvy and sleek and less "retro looking" like it used to be. Contrast the above pic with this one from Jim's Chocolate Mission in 2008: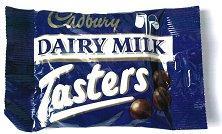 Tasters are basically bitesize balls of Dairy Milk chocolate with a slight glaze coating them. This makes them slightly more firmer to the bite than regular Dairy Milk, and presumably stops them scuffing during transport. They looked very clean and glossy: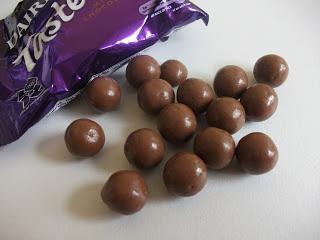 Biting into one, the glaze was definitely noticeable - the chocolate was much firmer than regular Dairy Milk. It tasted delicious and creamy, of course, as Dairy Milk always has. In this bitesize form though it's even more addictive, and I was soon overcome with the "Cadbury Buttons effect", where you can't stop popping them into your mouth one after the other!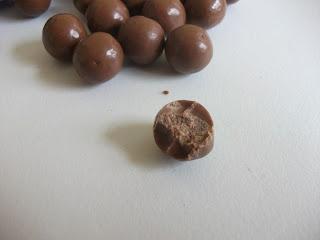 I really enjoyed these, and one bag made for a nice hit of creamy Dairy Milk chocolate. I can see why they're called "Tasters", though; they give you a taste for Dairy Milk and leave you wanting more! I couldn't help but wish they made them in larger bags.
Overall, I think Dairy Milk Tasters are an overlooked gem in Cadbury's product range. I mean sure, Cadbury already make bitesize chocolates like Dairy Milk Buttons, Twirl Bites, Wispa Bites, Dairy Milk Chocos etc. But Tasters are somehow different and special thanks to their specific "ball" like shape. If you see these in shops I would recommend giving them a "taster" (har har) - they're a nice way of eating Dairy Milk, plus they may not be around forever.
Apparently, Tasters also used to be available in a Fruit and Nut version, which sounds EPIC! Please bring them back, Cadbury?!
Price: 39p at B&M Bargains.
Ingredients: Suitable for vegetarians.
Allergy Advice: Contains milk. May contain nuts and soya.
Nutritional Information (per bag): 235 Calories, 13.3 g Fat (8.2g Saturates), 25.5g Carbohydrate (25.3g Sugars).