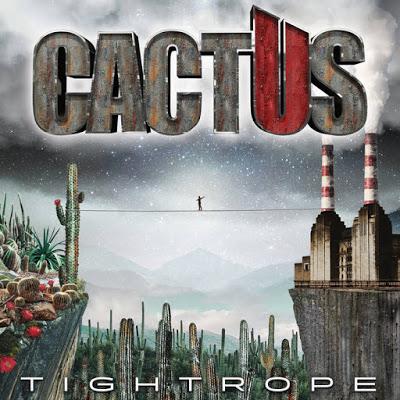 At first, I was delighted. There I was scrolling through my phone & I caught word of a new CACTUS album. Now you have to understand that speaking to you now is Ray. Ray is the grizzled veteran who, in 1972 was the kid sitting in his sweltering bedroom with a $49 Kimberly guitar. And on that warped, 4-pickup (I shit you not) axe, Ray would sit for hours trying to emulate CACTUS' Jim McCarty, slashing through the raw, dangerous jail yard rawk of "Parchman Farm."Those first 3 CACTUS albums ('70-'71) coalesced with others by SABBATH, GRAND FUNK etc into the caustic, feedback-drenched blueprint of Ray's musical messenger RNA. Ex-VANILLA FUDGE rhythm section Tim Bogert & Carmine Appice & blues-belter Rusty Day filled up the heavy-ass lineup.
After a 4th album in 1972, CACTUS went into a longterm hiatus but re-emerged in 2006 with the shockingly-titled "Cactus V." Lineup the same time except now present were Jimmy Kunes (ex SAVOY BROWN, lead vox) & Randy Pratt (harmonica), with Rusty Day having died in 1982. Results? Blistering. Like they'd never stopped. One of my albums of that year.
Another 10 years came & went and CACTUS released "Black Dawn." Some badass title but the album was even more killer than that. By this time, Tim Bogert had retired from music & was replaced by Pete Bremy but the train had a full head of steam and was rolling, rumbling & kicking ass. Another world class heavy blues rock masterpiece on the mantle.
With that, we skip ahead 5 more years & word of another new CACTUS album was coming down the road. For me, though, huge orange warning flags were being waved with the news that, due to health reasons, Jim McCarty was stepping aside. He was being replaced by a guitarist I knew nothing about, Paul Warren. Add to that the fact that not only had another bassist (Jimmy Caputo) stepped in for Bremy, but that Tim Bogert had recently died.The CACTUS I'd known and loved seemed to be slipping away.
Well, I've been spinning the new CACTUS album "Tightrope" and...with that, I now offer a complete apology to Carmine Appice and his entire band of merry men for ever doubting them. From the get-go, the title track announces that this is indeed CACTUS & your ass is grass. Or kicked. Paul Warren wastes no time in letting you know Jim McCarty ain't the only one with a 6-string acid tractor to contend with. Jimmy Kunes is roaring, Appice & Caputo lay down the rhythmic dirt and when Randy Pratt's harmonica sleaze-slides into the mix, all is right with the rockin' world. The slow, seething groove of "Papa Was A Rolling Stone" sidles in and you may be thinking, "Interesting choice for a cover." Imagine my surprise when I leaned that Paul Warren's first recorded performance was on the TEMPTATIONS 1972 #1 single of this! What a way to start a career and what a great new version to bring it forward some 49 years later. Warren also contributes co-lead vox to this number.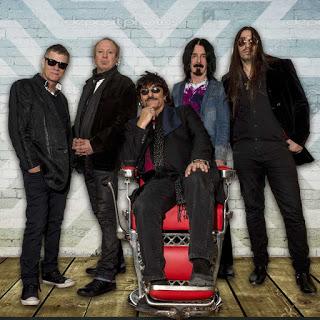 On and on it goes, through 12 tracks in total and not a bad one in the bunch. "All Shook Up," "Primitive Touch," "Third Time Gone," there's just no filler, it's all killer. What I'm most impressed with is an interesting kind of duality here. In one sense, there's no question of the CACTUS pedigree. Everything I talked about in the first part of this review is there, ingrained in the DNA of the music and the players who have brought it forward. In a second sense, the production (handled by Warren, Appice & Pratt) lends an updated, scintillating feel that makes this an album all rock fans would love across the board.
That's all a great enough report card for this newest rekkid by CACTUS but the band decide to put an exclamation point on their work with the last 4 songs. "Elevation" begins this with an insistent mid-paced stomp, highlighted by some of Warren's most scalding solos. Then comes "Tightrope's" piece de resistance, the 7 1/2 minute "Suite 1 And 2:Everlong; All The Madmen." I know that's some kinda title but it's also some kinda song. You can start with the concept of "southern rawk epic" and then expand upon that about tenfold. Tying the whole thing together, then, are "Headed For A Fall" & "Wear It Out."For this pair, the familiar hands of Jim McCarty take up an axe and join CACTUS for a wonderful celebration of old and new and always bluesy hard rock that still pack a grade A wallop in 2021.
And, that's the beauty of "Tightrope."It's an excellent introduction of CACTUS' new guitarist Paul Warren as a player & songwriter.
It's a textbook study in drumming by master Carmen Appice & world-beating efforts by all the band members. More than that, though, it's as good a rock album as is out there and, on the wings of that, a mandatory purchase.
CACTUS:
Carmine Appice - drums, percussion, background vocals
Jimmy Kunes - lead & background vocals
Paul Warren - guitar, piano, background vocals, co-lead vox on "Papa..."
Jimmy Caputo - bass
Randy Pratt - harmonica
www.cactusrocks.net