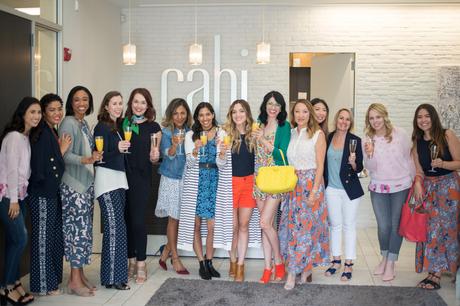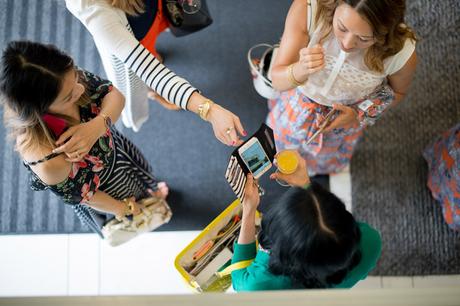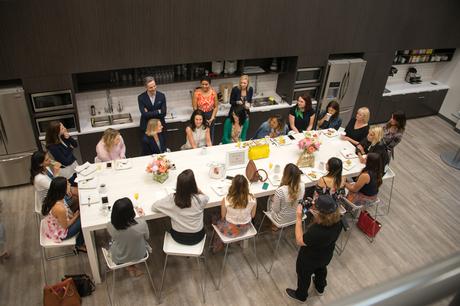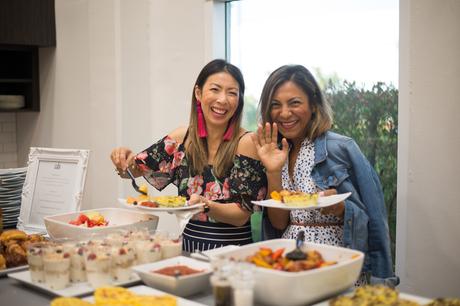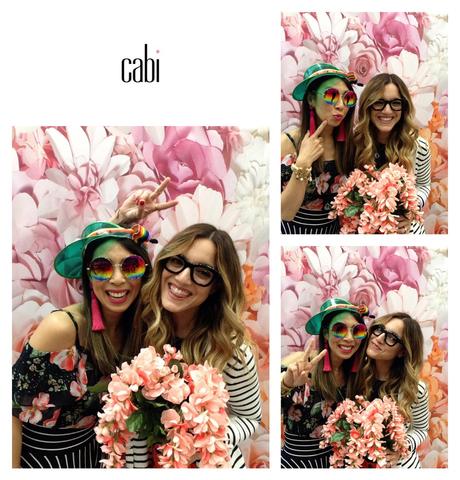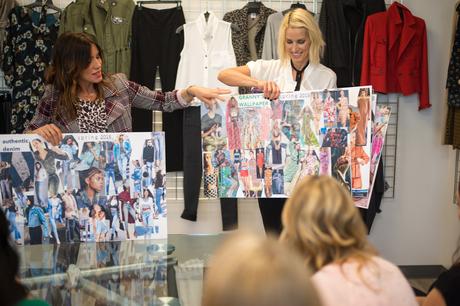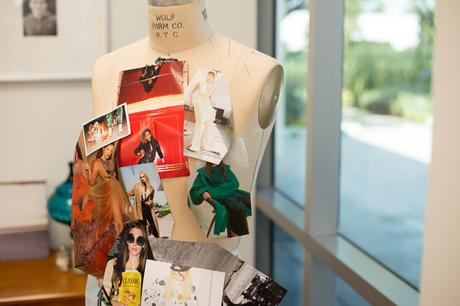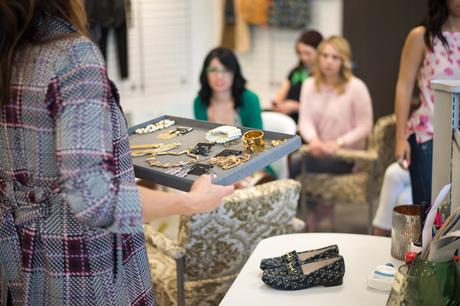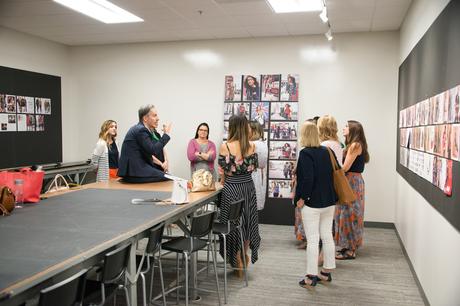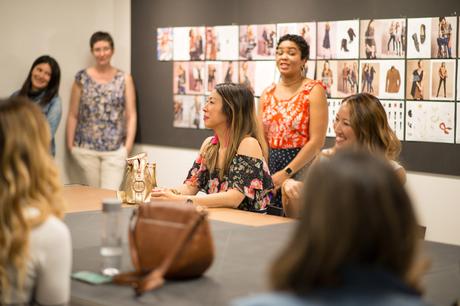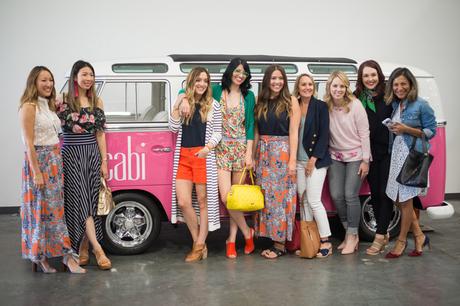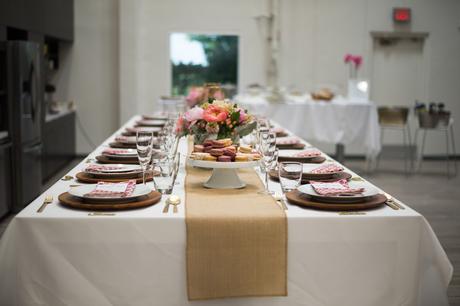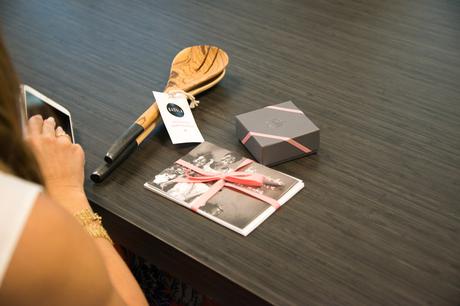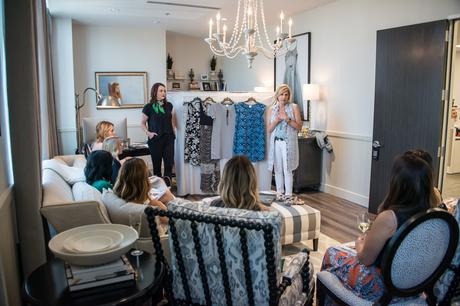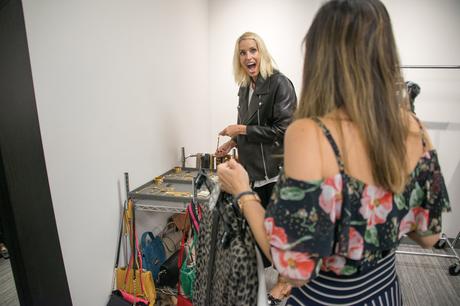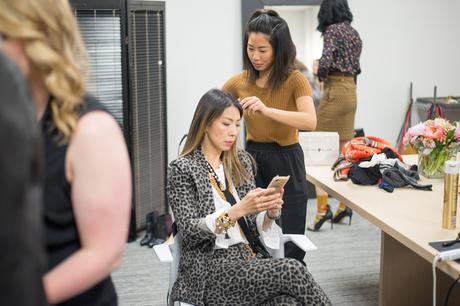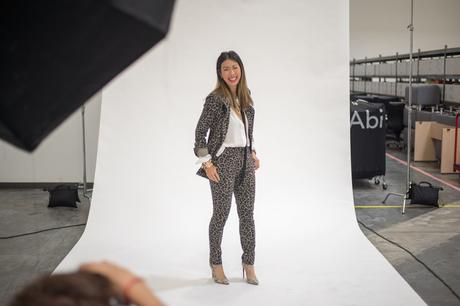 Last month, I was THRILLED and HONORED to attend #CABIbloggerDay. A group of us flew out to LA and got a behind-the-scenes look at CABI Headquarters. It was such an amazing day with wonderful people! I wanted to share a quick recap of our day, and you'll get a sneak peek of the CABI Fall Collection from our photo shoot!
Breakfast and Photo Booth //
We started the day with a FABULOUS breakfast spread, and I mean FAB.U.LOUS!! Breakfast is my favorite meal of the day, and they just blew my mind with all of the delicious food. Plus, it took place in their break room which is absolutely gorgeous. How does any work there? I'd want to hang out in the break room all day! And what Blogger Day wouldn't be complete without a photo booth?! LOL! I was having some much fun with Lisa of Stilettos and Diaper Bags and the props!
We chatted with the CABI president (Kimberly Inskeep), Fashion Director (Becky Jantzen), and Creative Director (Daniele Trussardi) to name just a few! It was SO fun to hear about the creation of the brand.
Behind the Scenes of the Fall Collection //
This was my FAVORITE part of the of the day! We chatted with Becky and Kat about their design process from the mood boards (they are showing us Spring) to creation. They have their own pattern makers in-house who make the "samples" and then they are sent out for manufacturing. A lot of pieces are inspired by something vintage. Y'all KNOW I went crazy for that! In fact, the chic red jacket for the Fall Collection was inspired by a vintage DIOR jacket. So cool right?!
All of it was so fascinating! And we got to see and touch the beautiful Fall line, AMAZING jewelry, and shoes too!
Behind the Scenes of the Lookbook and The Notion //
This year, they shot the lookbook in London. It is so well done! All the models are beautiful, and the clothing was styled perfectly. Since Fall is my favorite season, I wanted ALL of the pieces especially the patchwork fur vest! The Notion, the CABI magazine, ALWAYS has the best style tips and shows the pieces styled in different ways.
BTW, with my hoarding tendencies, I used to keep all of the lookbooks and The Notions for outfit ideas. I've gotten better, but they are an excellent resource for style ideas!
Fashion for Philanthropy //
We watched a short film on the Heart of CABI Foundation Week which highlighted all of the special ways the CABI is empowering women.
I've mentioned it before, but CABI is such a wonderful organization that gives back to the community and pay it forward in so many ways. I LOVE brands that do this, and it inspires me to do more. W.E. are CABI is a program that benefits other women entrepreneurs around the globe. For every new CABI stylist, they donate a small business loan in her name to a woman entrepreneur in a developing country. The beauty of that is the dignity. The person receiving the loan is paying it back, and it's not given as charity. So, she is building something for herself and her family. What an amazing thing! It's giving me goosebumps again just writing this out. That is just ONE of the many ways that CABI gives back.
Business Opportunities //
We got to experience a home show by Hannah, a CABI stylist. She was so great at explaining everything, and made me realize that I needed about five more Spring pieces! LOL! She was that good! Basically, it's like shopping and working with friends and enjoying yummy hor d'oeuvres and champagne!
Fall Collection Fashion Shoot //
We ended our day with a professional photo shoot! We picked out an outfit, got "styled by Becky" (she is amazing!) and got hair and makeup done! It was so surreal! Even though I shoot photos for the blog, I was intimidated with the all of the people on set watching. It was all eyes on me, and I hate photos!! LOL! Anyhow, it was SO FUN! I loved seeing what everyone picked out! The gals looked fabulous!! I can't wait to see the final pictures!
Hope you enjoyed my #CABIbloggerDay recap and CABI Headquarters behind-the-scenes photos! Thanks for taking the time to read it! It was so wonderful to see the heart of the brand after working with them for so many years! I LOVE them even more after this wonderful day and made some amazing blogger friends. This was such a pinch me moment as I would never have gotten to do this with my normal day-to-day!
Happy Friday Friends! We're gearing up for Seattle next week! Let me know of any family friendly ideas for the trip! Happy Weekend y'all! Don't forget to enter the Nordstrom $1000 Giveaway! (Scroll down below!)