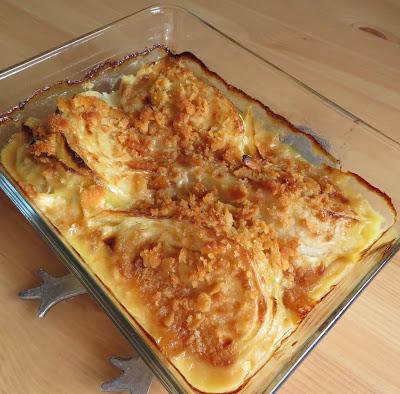 I found myself with a half of a white cabbage in my refrigerator that I wanted to use up but I didn't feel like making a coleslaw or anything like that. I wanted something comforting and delicious.  Todd's not fond of coleslaw.  He doesn't like eating anything that has hard vegetables in it.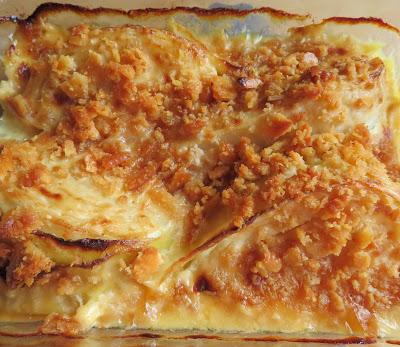 In North America you might not be entirely familiar with the term white cabbage  . . .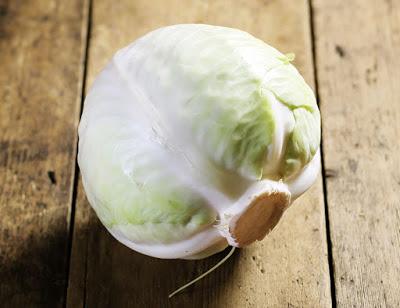 Its just a cabbage . . .  I had never heard of it being called white cabbage before moving over here to the UK.  We only had a few varieties of cabbage back home where I am from.  This type, which we just called cabbage, red cabbage and savoy or crinkly cabbage, and oh yes . . . chinese cabbage.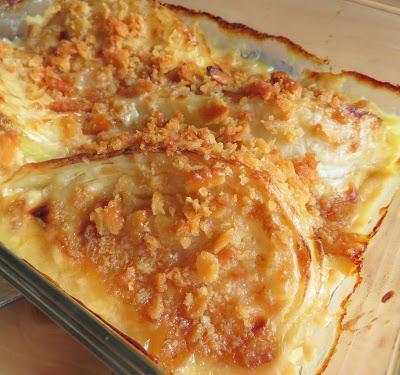 I was quite surprised when I saw all of the different cabbages that are available here in the UK.  There is a pointed type which has a large round end and is rather elongated, tapering to a point.  This is called Sweetheart Cabbage.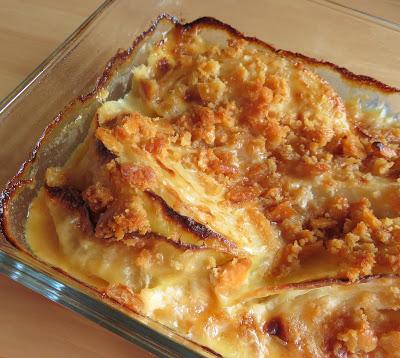 January King, which becomes available in January has dapples of purple and a somewhat turquoise tinge to it and then the savoy which is quite crinkly leaved . . .  with dark green outer leaves, becoming pale green as you get near the center.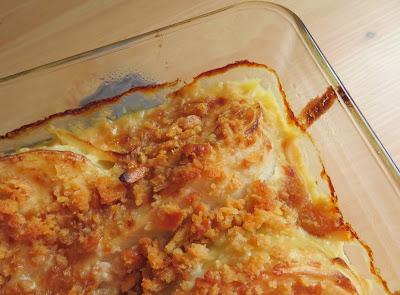 Spring greens which is kind of like a loosely leafed cabbage, which are like loosely leafed cabbage, usually bought cut into strips and ready to saute or steam at home.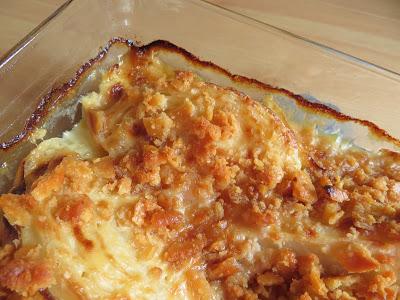 I could go on and on, but I won't.  My cabbage that I used today was a white cabbage. It is my favorite of all the cabbages.  I love it raw in salads and I love it cooked.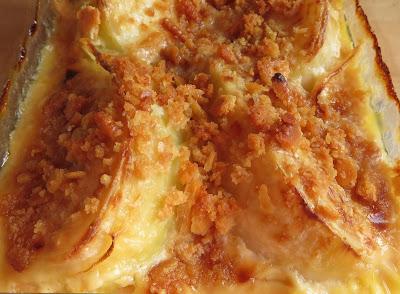 It is beautiful shredded and then sauteed in butter with a bit of sugar, salt and pepper.  I like to toss the shreds with buttered noodles  . . .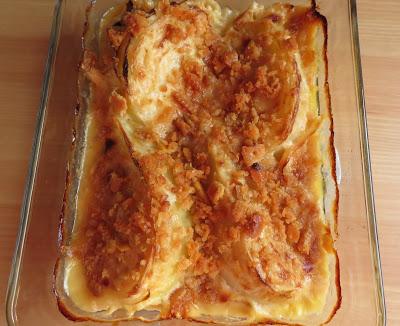 I love it fermented as sauerkraut . . .  so good and very good for you.  Today I did a gratin using a half a white cabbage.  Sized for two people.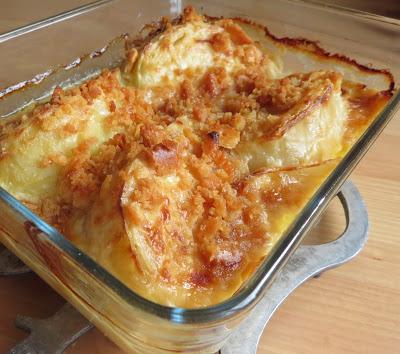 I was inspired by a recipe by Nigel Slater from his Green Tender Book, 1.  His recipe served 4 and involved a whole cabbage. I had half a cabbage and so I cut the recipe in half and in all truth, half of the recipe would probably serve four.  It is that generous.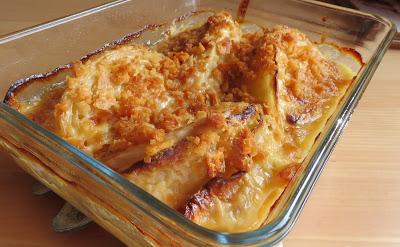 Cut it through the core, so that the wedges stay intact. I am one of those people who are quite fond of the cooked core of cabbage so long as it isn't woody.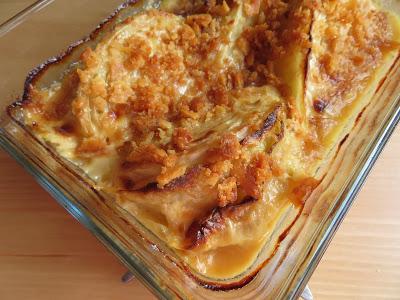 You will need to pre-cook the cabbage for a time in some boiling salted water.  He suggested only a few  minutes, but I think it takes a bit longer than that.  Perhaps my pieces where thicker than his. I would simmer it for 4 to 5 minutes and then drain it really well.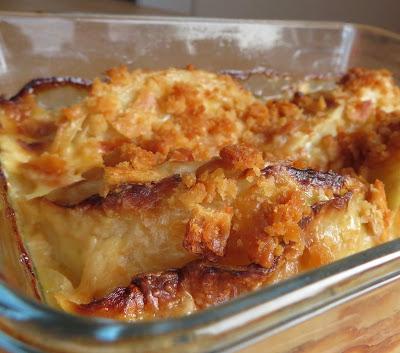 You then make a simple cheese bechamel sauce.  He mentioned mustard in the title of his recipe, but there was no mention of it in the recipe.  I do make a ham and mac casserole that has mustard in the sauce, and thought it would go well with cabbage and so I added a tablespoon of Dijon mustard.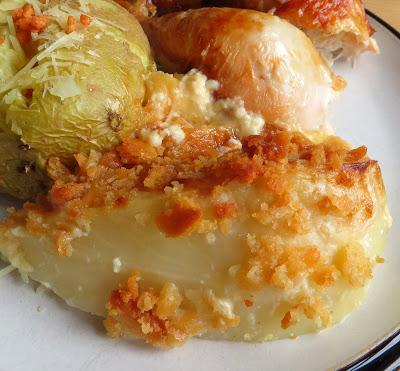 This added a fabulous flavour!  It really perked it up.  I also used a strong cheddar cheese.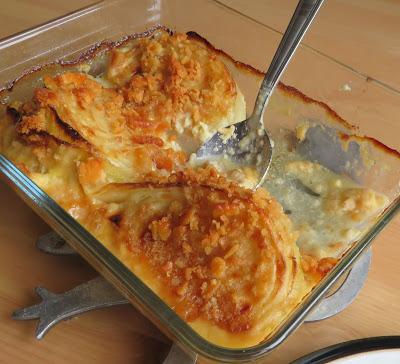 He just sprinkled bread crumbs on the top.  I wasn't sure about that.  If I did use bread crumbs I would add a touch of butter to them.  I used crushed crackers mixed with a bit of butter instead with most delicious results!
Yield:
2
Author:
Marie Rayner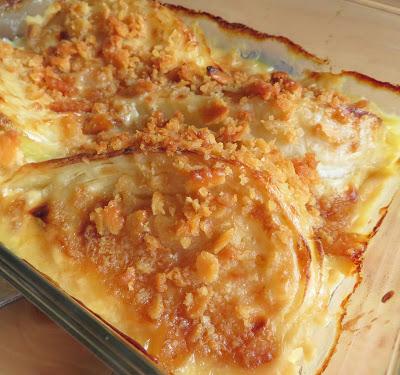 Cabbage, Cheese & Mustard Gratin for two
Rich and delicious this is a wonderful way to serve white cabbage.  Inspired by Nigel Slater from his Book Tender 1.
ingredients:
250ml whole milk (1 generous cup)
1 whole clove
1 dried bay leaf, broken
1 1/2 TBS butter
1 1/2 TBS flour
salt and white pepper to taste
1 TBS Dijon mustard
60ml double cream (1/4 cup)
75g grated strong cheddar cheese (2/3 cup)
1/2 medium sized white cabbage
1/2 TBS melted butter
8 round crackers, crumbled
instructions:
How to cook Cabbage, Cheese & Mustard Gratin for two
Add the clove and bayleaf to the milk. Bring just to the boil, then set aside to infuse for about 15 minutes. Remove the clove and bay leaf and discard.
Cut your cabbage into 4 thick wedges, keeping them intact via the core.
Bring a pot of lightly salted water to the boil. Add the cabbage wedges and bring back to the boil. Boil for several minutes, then drain very well. Set aside.
Melt the butter in a saucepan until it begins to foam. Whisk in the flour and allow it to cook for a vew minutes until it starts to smell a bit nutty. Pour in the milk slowly, whisking continuously until the mixure has thickened nicely. Whisk in the cheese and allow it to melt. Whisk in the cream and Dijon mustard. Season to taste with salt and white pepper.
Preheat the oven to 180*C/350*F/ gas mark 4. Butter a shallow baking dish large enough to hold the cabbage and lay the cabbage wedges into it. Pour the cheese sauce over all. Mix together the cracker crumbs and butter and scatter over top.
Bake for 45 to 50 minutes until golden brown and a the tip of a knife slides easily into the cabbage.
Did you make this recipe?
Tag @marierayner5530 on instagram and hashtag it #EnglishKitchenCreated using
The Recipes Generator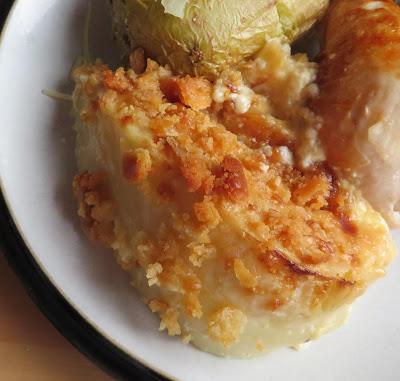 His only took 45 minutes max to cook, but mine took about 15 minutes longer.  I wanted to be able to insert a knife easily into it. Like I said Todd doesn't like hard vegetables and cabbage is one of those vegetables that really benefits from a long slow cooking, which almost turns it buttery.  This was just perfect.