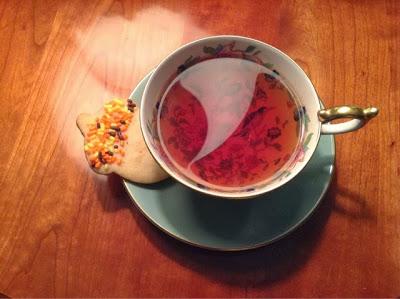 I found it hard pressed to read even one novel in September, what with the start of a new school year and the implementation of four brand new initiatives. For me, Summer ends with a resounding crash as I'm catapulted ahead into Fall; gone are lazy days of reading and cycling and dining and sleeping in the mid-afternoon. 
But with the arrival of autumn comes a blessed respite from Illinois heat and humidity. The days of thick, heavy dampness are replaced with fresh air tinged with a smoky edge...and the smell of just baked cookies because I can turn my oven on once again.
I'm sitting with my cup of Earl Grey tea tonight, and one of the cookies I baked this weekend, finishing a wonderful mystery called The Last Winter of Dani Lancing. The review is coming shortly, but first I want to give you the recipe for my all time favorite cut-out cookie, the one I look forward to making every October since I first made them for my son in 1993. They are called Spice and Easy cookies, and I haven't seen the recipe anywhere, even online, since I first found it in a magazine twenty years ago.
Spice and Easy Cookies
4 cups flour 2 tablespoons ground ginger 4 teaspoons  baking powder 1 teaspoon black pepper 1 teaspoon salt
1 and 1/3 cups of unsalted butter 2 cups sugar 2 eggs
Cream butter and sugar together. Add eggs and beat until fluffy. Sift dry ingredients into mixture and beat until blended. Chill for several hours. Roll out dough and cut into desired shapes. Bake at 350 degrees Fahrenheit for 10-12 minutes. (Frost if desired. I just put sprinkles on the top of mine for color.)
The surprise is, of course, the black pepper. Nicely spicy, undefinably yummy, I suggest you put down your book and make some straight away.
They are the perfect accompaniment to our reading passion.