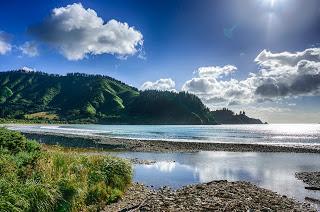 After a little detour north along nice Kapiti coast, we finally reached Wellington – our gate to the South Island we heard so much praise of. Originally we were booked in for a night ferry, but thanks to our last hosts we knew that there was a good chance to get a place earlier by getting into a standby list. So we thought we should try our luck and have a look at the city while we wait. And, surprise: an hour later, Sammy was parked in the belly of the ship and we were on our way. They seem to have more room than expected in most ferries, so if you have the time, it is worth just going there and take a chance to get the ferry you want.
It's a very scenic tour, three and a half hours on the sea, but never losing sight of the land. The ship has everything you could possibly want, restaurant, café lounge, an outside viewing deck and even private cabins. We had a nice lunch (typical kiwi: fish & chips for Kay and Nachos for me) on board and enjoyed the views while the ship made its winding way through the Marlborough sounds. It was cloudy but still beautiful, the water a shimmering blue in spite of the rain and the hills illuminated by small rays of light.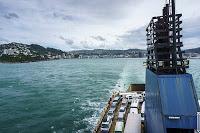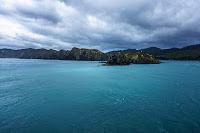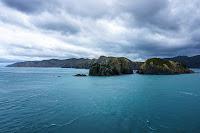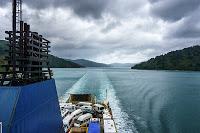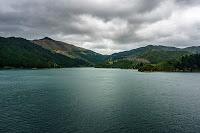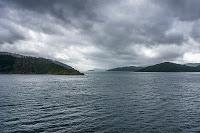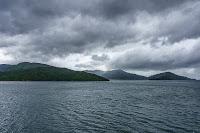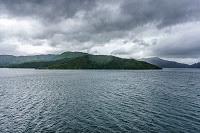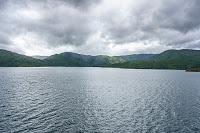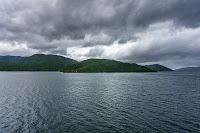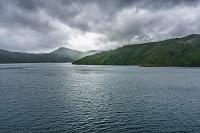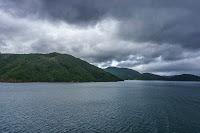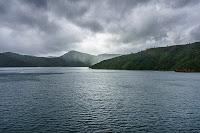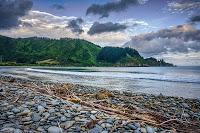 The South Island really feels much different from the North. More open. A bit wilder. The green hills look the same from afar, but at a closer look, the flora is another one: Less palm trees, more needle forest, less 'exotic' for us and more resembling Europe. The hills look just a little bit steeper and with a clear view, there are always Mountains to be seen in the distance.
Close to Picton, where the ferry terminal is, we found a secluded little camp site at the coast, at Robin Hood Bay. It revealed its full magic in the morning, when the rain had stopped and the sun, still low in the east, made the green of the hills and the blue of the ocean glow bright.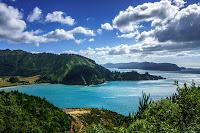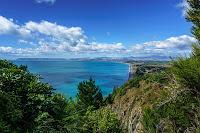 Photos from Colonial Knob Walkway, Porirua (North Island):