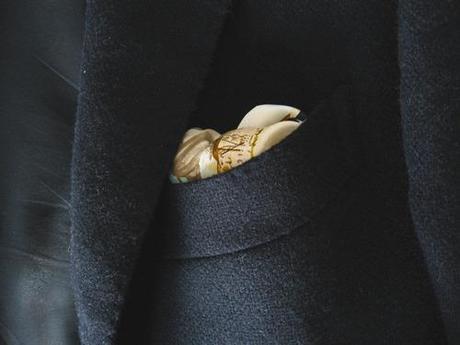 I'm ready to declare Rubinacci's Victory pocket square to be the most intelligently designed square ever invented (a small, possibly trivial accomplishment, but an important one in our world nevertheless). That's because it solves a few problems.
First, it's generally true that white squares are easiest to wear, if we're to go by color only. Most solid white squares, however, are thinly woven linens, which more or less require the Presidential fold. The problem with the Presidential is that it can often seem too studied, at least to my eye. It fails to give the important impression that one stuffed a handkerchief into their jacket without ever having given it more than a second of thought, which is why a well executed puff will always looks more rakish. A solid white or cream square made from silk, on the other hand, is too reminiscent of prom or cheap entertainers. Thus, we're left with either solid white linens, which are easy to match but look a bit studied, or a large world of patterned silks, which take a bit of thought before choosing in the morning.
Rubinacci's Victory, however, gives the best of both worlds. It has large swaths of cream, white, and light blue so that it can easily complement any tie or shirt, and being silk, it gives the most ideal puff when stuffed into a pocket. If one gets bored with the light blues and creams, the square can be twisted a way to show whatever other colors are present at the border. The colors themselves are also broken up with a light design, thus preventing any mistaking that one bought this square at a cheap tuxedo rental shop. This is easily the most versatile square I've come across, and even more than the solid white linen, I'd argue, this is the one square to have.
A close second would be the Rubinacci's tan Samurai square, which they made for the occasion of their Tokyo shop's opening. Like the light blues, whites, and creams in the Victory, the slightly darker, parchment tans in the Samurai square will complement any tie or shirt, and it carries enough of a pattern to remove this from being a single-colored silk. The only downside is that the borders aren't as differentiated in color, but the ground of square is versatile enough to compensate for that.
I don't think this reliance on light blues, whites, creams, and tans is by accident. In fact, if you look at most Rubinacci pocket squares, the centers are almost always dominated by these colors. The centers, of course, are the parts that peek out the most from one's pocket, which is why I think these were all made by intelligent design. 
It used to be that Rubinacci's squares were only available in Naples, unless one was willing to pay exorbitant fees for shipping. Luckily, at the moment we have two retailers with more accessible inventories and prices. The first is Exquisite Trimmings, who discounts VAT for customers outside of the EU, and the second is A Suitable Wardrobe, who has literally every Rubinacci square in every colorway possible. Except for the parchment-colored Samurai anyway. I bought that one last week.