by appointment with Adelina Anthony 
January 16, 2013 @ 8pm pst
Live Stream begins at 7:45pm
Unfortunately the network connection wasn't strong enough. I will post video as soon as it's finished. Until then, here are highlights:
"My work is always Spanglish. It wasn't choice, it's just in my DNA."
"We know what the [email protected] tongue can do out there…it can slash."
"I owe my career to my 4th grade teacher."
"I don't allow for passive audience."
"If trauma stays in our bodies untouched, it is toxic."
"For the little life that I have, I would like to put my energies towards this audience that isn't represented."
"I thrill in fact that I can do things and say some things [onstage], but it's not how I want to carry myself in life."
"It's the wonderful tightrope we walk with each other. A community can own you and a community can disown you."

"All of a sudden I had names and images and terms for my experience."
"I still remember vividly in my 7th grade History class full of Xicanas learning about 'The Mexicans'."
"Take the activism home."
"One would hope that art has taught us how to reflect."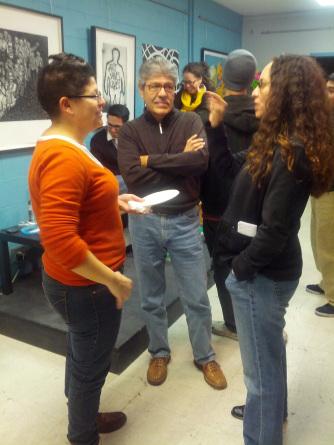 Karen Anzoategui, Tom Sandoval & Adelina Anthony post-talk
"When you meet someone who is extremely rigorous, that is an artist."
"The community is only as strong as the strength of individuals."
ON MENTORS
"I wish that I had mentorship early in my career."
"Beautiful thing about mentees…they come with something."
"Mentorships have to be a two-way street."
——
@ EAST LA REP's office, 1350 San Pablo St. LA CA 90033
(in the Legacy LA compound – parking available in the gated lot)
by appointment, is held on select dates during EAST LA REP's Office Hours, and features a special guest(s) discussing topics of particular interest. It is moderated by Juan E. Carrillo, Creative Director for EAST LA REP. It is open and free to the public and streamed live via Beyond the Blurb with Cindy Marie Jenkins beginning at 8pm pst.
For our upcoming appointment we are proud to present:
Adelina Anthony, artist, activist, teacher, director and producer
Here are five topics Adelina is currently thinking about:
1. The relationship of health in an artist's life.
2. It's in the details – honoring work with specificity, yes, you can make a career as a Xicana-jota-feminist-qpoc-etc.
3. Making the process a conscience one.
4. Finding and understanding the role of mentorship.
5. Staying creative even when nobody's calling you for a gig.
If any of these have piqued your interest, the appointment is set, we just need you to share and shape the conversation. See you there or see us online.
EAST LA REP is collaborating with Cindy Marie Jenkins and streaming live by appointment with Adelina Anthony on her site, Beyond the Blurb @ 8pm pst. If the tech Gods are not on our side, we promise to record and post the appointment on Beyond the Blurb and it will be included on the EAST LA REP YouTube channel.
http://www.youtube.com/user/TheCMJstories
http://www.youtube.com/user/EASTLAREP
About Adelina Anthony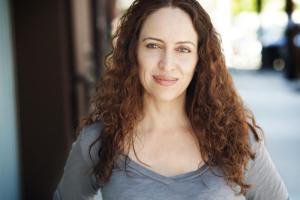 She's a critically acclaimed and award winning queer Xicana lesbian multi-genre artist, cultural activist, teaching artist, director and producer. Her most popular solo works include: Mastering Sex & Tortillas!, Bruising for Besos, La Angry Xicana?!, La Sad Girl…, and La Chismosa!!! These and other solo works in development address colonization, feminism, trauma, ancestral memory, gender, health, race & ethnicity, immigration, sexuality, land & environment, and issues generally affecting the LGBTQA/two-spirited communities. She has nearly 20 years of stage experience and has garnered Best Actress nominations and awards. In 2012 she has focused making a transition back into film, not merely as an actor, but as a producer-writer-director. She was selected as a Film Independent Project Involve Fellow for 2012-13. This summer, along with her partner, Marisa Becerra, they co-founded AdeRisa Productions, LLC a company dedicated to producing bold, entertaining, and high caliber queer people of color films. To this aim they are executive producing a short film by Ofelia Yánez entitled, The Good Kind. The month prior they produced Adelina's first short film as writer-director, Forgiving Heart. She is in the process of producing her first feature film, Bruising for Besos (based on her critically acclaimed solo play which premiered at the LA Gay & Lesbian Center and extended twice during her run). In June 2013 she and D'Lo will be world-premiering her play, The Beast of Times (made possible through a 2010 NPN Creation Fund Award). The summer of 2013 also takes her to San Francisco where she and Sharon Bridgforth will be teaching artists for TEATRO QPOC, a safe space for queer people of color and allies to study performance. This is a program/space Adelina designed when she was an Artist-in-Residence for the City of Los Angeles. Next summer it will be made possible through partial funding from cihuatl productions (a Member of Intersection for the Arts).
For more information:
http://adelinaanthony.com/
http://www.aderisaproductions.com/
http://www.facebook.com/AdeRisaProductions
Office Hours @ EAST LA REP
1350 San Pablo St.
Los Angeles, CA. 90033
Wednesday evenings…7:30-10:30
Hosted by Juan E. Carrillo
The office is open just for you.
Come to the library if you want a quiet area to work in.
Come to our office if you want to socialize, share, or create.
Come to the "big space" if you need room to fly.
Meet new people, find a home, network or just hang out.
Contact Juan: 323-649-9981 or [email protected]
http://www.facebook.com/pages/East-LA-Rep/146024318804172?ref=hl
http://www.facebook.com/groups/20082319957/
EAST LA REP a creative center that puts the people, art, culture and history of East L.A., front and center