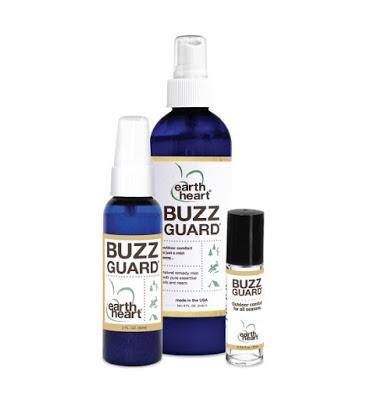 When Spring comes so do the insects that love to annoy our dog until we started using Buzz Guard All-Natural Insect Repellent. While our dog doesn't like the heat, he does enjoy being outdoors for short periods of time. With his thick coat, insects were drawn to him almost the moment he stepped outside. Now, with Buzz Guard All-Natural Insect Repellent he can enjoy more time playing and less time scratching. Just spray Buzz Guard into your hands, then rub it onto your dog before letting them outdoors. Be sure to cover your dog's stomach, legs, and ears, and you can spray it on their bandana and bedding as well for extra protection.
This award-winning Earth Heart mists for dogs, created with safe and healthy essential oils and neem. We've tried a variety of products to protect our dog and few have worked as well as Buzz Guard to repel mosquitoes, flies, fleas, no-see-ums and ticks. And, Buzz Guard protect your dog's for up to five hours; that a lot of play time!
Buzz Guard has a light fresh scent and leaves no oily residue on clothing or fur.
Protecting your dogs from these pest helps prevent them from making them sick, as well as carrying them into the house. The same is true for when you go camping. The last thing you want is to be attacked by fleas or ticks while sleeping in your tent. Because Buzz Guard is created from all-natural ingredients we can also use it as an insect repellent when we're hiking in the woods or enjoying a picnic.
Made in the USA, and packaged in a BPA free container, Buzz Guard also can be used with puppies as young as eight weeks old. One thing we like is that it not only protects our pet and us from pest; Buzz Guard does not leave behind any greasy residue or smell like chemicals!
To view the entire collection of Earth Heart products and order Buzz Guard All-Natural Insect Repellent visit Earth Heart Inc. website