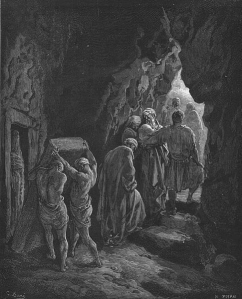 "So Abraham bought the plot of land belonging to Ephron at Machpelah, near Mamre. This included the field itself, the cave that was in it, and all the surrounding trees." (Genesis 23:17 NLT)
What a peculiar situation we find Abraham in as the 23rd chapter of Genesis unfolds. The man to whom God had promised the entire land of Palestine (Genesis 15:18) now stood negotiating with the sons of Heth for a burial plot in which to inter his beloved Sarah. His descendants had been given by God all the land from the Wadi el Arish river of Egypt to the mighty Euphrates; yet Abraham did not actually possess so much as a parcel of land the size of a burial plot! He indeed possessed great wealth, we know this (e.g, Gen. 13:2, 24:35), but his feet trod upon ground which, at the time, belonged to others.
"Here I am, a stranger and a foreigner among you. Please sell me a piece of land so I can give my wife a proper burial."(Genesis 23:4 NLT)
I am a foreigner and an alien among you, Abraham honestly says to those who currently occupied the land. He was living in a country which he had immigrated to, a land wherein he had no natural inheritance. The only One Who really does own any part of this Earth (Psalm 24:1) had deeded the land to Abraham and his descendants, but Abraham was not to take it by force. So, he negotiates to purchase a piece of the land which he really already owns. Verse 9 of Genesis 23 shows us that Abraham already had in mind a specific section in which he desired to bury Sarah: the Cave of Machpelah. It belonged to a certain man named Ephron, andyours it would be from him that Abraham must purchase it.
The generous gesturing of the sons of Heth, even Ephron himself, which is described in Verses 6-16, might leave us quite impressed by the absolute magnanimous offerings which they present to Abraham. "Bury your dead in the choicest of our graves", they tell him (v. 6). It appears that these most noble gentlemen are proposing that Abraham take from them whatsoever he wishes, no charge attached. But those familiar with the customs and commercial protocols of the Oriental marketplaces, ancient and modern, tell us that such ostentatious pretense is a mere formality with no such actual intention of a one-sided transaction occurring at all. Take it, it's yours, even though it is worth 400 shekels of silver, Ephron says. The price has been stipulated, a price that is agreed by those familiar with the culture to be grossly exorbitant. Nevertheless, the price has been stated and Abraham can in no way accept this piece of land without rendering the amount; lest his honor and reputation be forever damaged.
Verse 17 defines the parameters of the property in question, even mentioning the trees and specific borders that would differentiate the limits of the field from its environs. No doubt about it that this chapter of Genesis was to serve as a perpetual legal document articulating that the Cave of Machpelah, the resting place of the Patriarchs, had been acquired with all propriety.
So, what can be learned by examining such a relatively mundane chapter of Scripture? What applicable truths can the modern child of God glean from this description of Abraham's purchase of the Cave of Machpelah? First, we see that there is a dignity with which the servant of God should behave in all of his dealings with those of this world. Any other man in that assembly would have doubtlessly haggled and dickered over the amount quoted for the field, as was likely Ephron's expectation and reasoning for setting the initial price so high. But Abraham refrains from doing so, silently agreeing with Ephorn' assertion: What is 400 shekels of silver between me and you, indeed. The price was unfair, but in Abraham's economy it was no great loss. Any attempt to secure a lesser amount could have later been construed as duplicity on the part of Abraham. I wanted 400 for it, but that silver-tongued Abraham talked me down to 250, Ephron might have claimed. Since Abraham paid the exact price requested, no such dishonesty could ever be attributed to him. It is certainly not a violation of God's will to be shrewd in our business dealings, but we must always bear in mind that God is the One upon Whom we rely and we are merely stewards of any finances which come our way. Our character is of far greater importance than our treasure; for we cannot serve God and money.
The paradoxical nature of Sarah's burial was not likely lost on Abraham. For it was only in her death that he had actually acquired even one small portion of the Land of Promise. He would later join her there (Gen. 25:10) and it would only be then that he would cease to be a stranger and foreigner and would take up permanent residence therein. It really is not much different for us. God has promised unto the Christian blessings in heavenly places (Ephesians 1:3, 2:6), the fullness of which we will not see in this lifetime. Those blessings were secured by Christ through His death, and it is only after our own death that we shall enjoy them completely. Like Abraham, we have those promises now, but until we pass from this life to the next, we shall remain strangers and sojourners in a land that is not our own.
"Beloved, now we are children of God, and it has not appeared as yet what we will be. We know that when He appears, we will be like Him, because we will see Him just as He is. (1 John 3:2)
To Jesus Christ goes all glory. In service to Him,
Loren
[This post was originally published April 5, 2010]
[If you do not know the Lord Jesus Christ or you are not certain where you are headed when this life ends, I invite you to read the article "Am I Going To Heaven?"]
**Unless otherwise indicated, all Scripture quotations are taken from the New American Standard Bible (NASB) © The Lockman Foundation and are used by permission.
Scriptures marked (CSB) are taken from the Christian Standard Bible  (CSB) Copyright © 2017 by Holman Bible Publishers. Used by permission. Christian Standard Bible®, and CSB® are federally registered trademarks of Holman Bible Publishers, all rights reserved.
Scriptures marked (NLT) are taken from the New Living Translation (NLT) Holy Bible,New Living Translation, copyright © 1996, 2004, 2007, 2013, 2015 by Tyndale House Foundation. Used by permission of Tyndale House Publishers Inc., Carol Stream, Illinois 60188. All rights reserved.
Scriptures marked (KJV) are taken from the King James Version of the Holy Bible, Public Domain.
Advertisements
&b; &b;