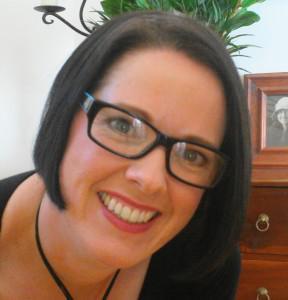 Sporting my new GlassesUSA frames
My natural zoom function is rapidly disappearing.  According to my optometrist friend, by the age of 45, most people have lost their ability to zoom and require glasses to read smaller print.   Also, by the age of 40 you need 30% more light to read than you needed at 20.   These days I find it hard to read a wine bottle in anything but a well lit environment.  A vitamin bottle is almost impossible for me, at night it is impossible.    I've had to start wearing reading glasses when on the computer.  Mind you, the benefit is that I no longer squint and notice my face is way more relaxed as I read, particularly after spending hours in front of my computer (so I'm hoping this will translate to less wrinkles – I never said I wasn't vain!).
I've perused a few online glasses websites in the past and mention their virtual mirror options in The Finishing Touch, but haven't, purchased any in this manner.   Fortunately, I was approached by GlassesUSA who sell glasses online and they offered to send a pair of my choosing to review.
I was really interested in testing the virtual mirror option and see how accurate it is as compared to trying on a frame in person.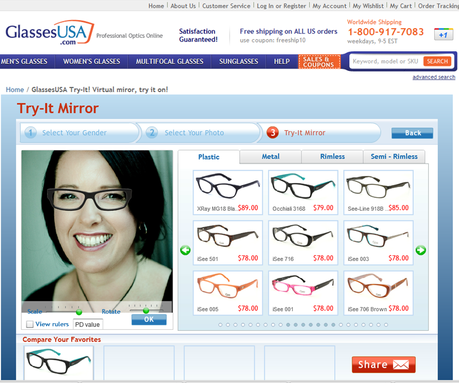 Trying on the frames I bought in the virtual mirror
Their virtual tool is easy to use, just upload a photo of you looking directly into a camera, then you can resize the photo so that it is the correct size to try on a range of frames.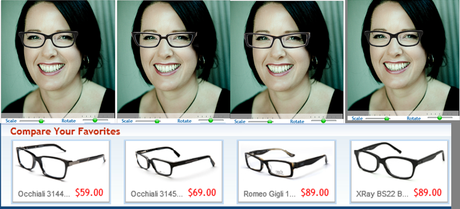 discount eyeglasses from Glasses USA
I went through lots of different eyeglasses options and chose 8 pairs to compare.  I then made these two composites and put them on my Facebook page and asked for opinions on which were the best.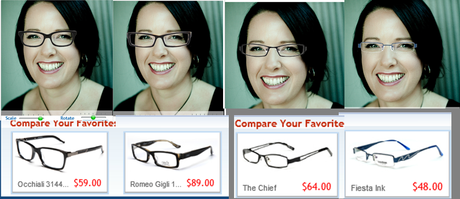 Then I narrowed the field down to 4 pairs and solicited opinions once more based on the feedback from the first two photos.
The ones that were considered most flattering shape wise, when I looked at the details about them, discovered they're tortoise shell, and so not a flattering colour for me,  so I went back and chose another, similar pair in a flattering colour.  The ones I chose are the Link Occhiali 3168 as I liked the turquoise detail on the temple.
Then all I had to do was fill in a quick online form, using my prescription details and press a button.  Less than 2 weeks later they arrived in the post.
So what do you think?  They seem a little squarer than the picture, but the quality is good for the price and the lenses are easy for me to see through.  I don't need a fancy prescription so can't comment on the lenses in particular, but if you want discount eyeglasses they're a great option to try.
Besides their high quality frames and lenses, GlassesUSA offer:
110% lowest price guarantee and a 100% satisfaction guarantee
A generous refer-a-friend program (You can get $30 for each first purchase a referred friend makes – and use the $30 towards your next pair of glasses)
A Facebook page and Twitter feed with exclusive discounts for fans
A fun virtual mirror that allows you to "try on" your glasses before you buy them. You can even send the pictures to your friend!
Specials for Inside Out Style readers:
Take $25 off any order of glasses with Transitions lenses with the code: Trans25
Take 10% off any order. Code: Blog10