You may be surprised to hear this, but I find nothing more sophisticated and fashionable than a crisp, white button up blouse! They immediately remind me of American fashion designer and icon, Carolina Herrera who is famous for her starched white collar! Most people think of white button-ups as boring, but I think of them as a staple—timeless and a perfect canvas to add whatever other trends you are experimenting with at the moment. I had to laugh yesterday when I walked into the office and saw that Annie (my co-worker for the website and fellow blogger) was wearing one, because so was I! It was the first day of summer and I figured I would fight the morning June gloom with a white shirt so bright it almost hurt my eyes again the gray skies!
I also opted for my traditional blouse because of all of the menswear inspired looks I have been seeing lately. From Kirsten Dunst, dressed in a Patrik Ervell suit (yes, an actual menswear suit! tailored for her), to Chloe Sevigny who always gives the tailored look a much needed, fashion update, celebrities have been right on track when it comes to a look I have always loved. Men always look so good when they actually make the effort to look nice, so why cant those clean and tailored lines look good on us women too? The answer is they can—we've just been doing it all wrong before!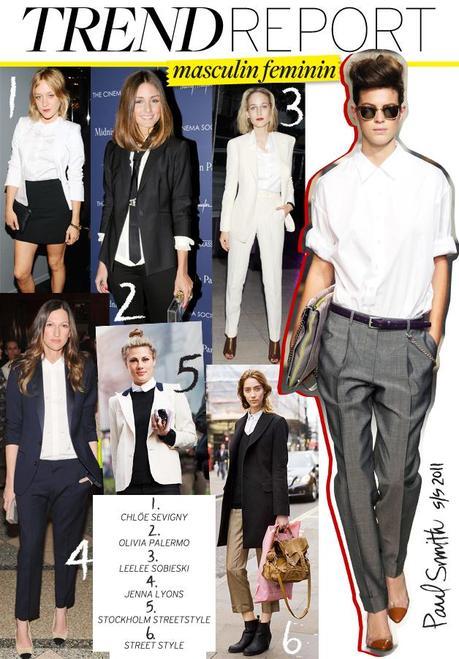 Masculin Feminin Trend Report via Who, What Wear
Instead of baggy "boyfriend style" jeans or sweaters, we should adopt what truly makes menswear special—the tailored silhouettes, fitted cuts, and simplistic accents that all fall under a very minimal, yet sophisticated look from head to toe. While I have always been far more interested in menswear than your normal fashion-minded gal, lately I have been getting inspiration to update my simple suit-like pieces with a feminine fashion twist. One of my favorite blogs to read, Because I'm Addicted, has posted a few times about street-chic fashionistas and editorial campaigns showcasing the "top-button-buttoned" look. Seem a little conservative for your taste? Well, I thought so too until I tried it! However, my look still didn't feel quite the way I wanted it to, it was still missing something.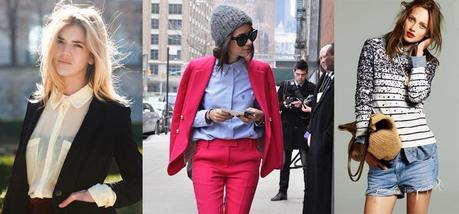 All photos feature different ways to style a button up blouse with the very top button buttoned! Photos from different posts, courtesy of Because I'm Addicted- (check out her blog- its awesome!)
Still thinking along the concept of menswear, I thought of adding a plate style necklace and tucked it right under my collar to create a bow-tie effect. And what do you know- it worked! Suddenly my "boring" white blouse had a unique "menswear meets geek chic" appeal that I didn't intend on when I put the necklace on, but I instantly fell in love with! When I got to work, I experimented with a few other 1928 styles to see how versatile the look was.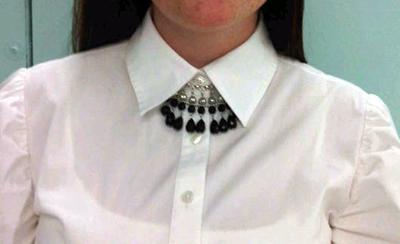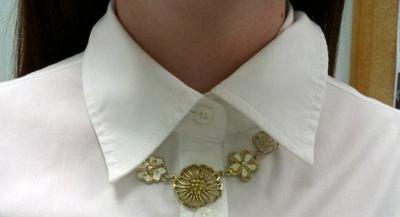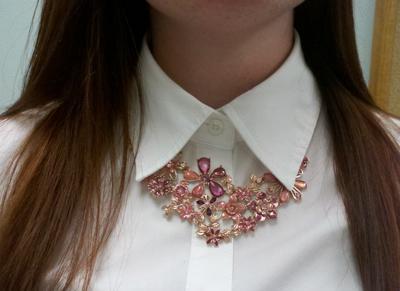 Next I'll be experimenting with a colored or striped button up blouse to see if I can get that same effect. Would you try this look out? How else have you styled a classic white blouse before?
""